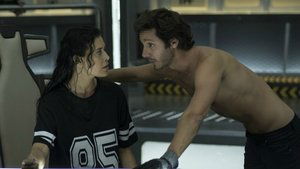 1x1 – Lo real
Seven gamers are recruited by the Neodimio Corporation to play an extreme game on the Terra formed moon of Calisto. Aboard "Colonus", which is both a spaceship and a game console, they compete against each other for the glory and for a privileged spot in the well-being of Destiny City. But everything changes when Ferrán, the most veteran player, discovers the sinister truth that hides within the game.
1x2 – Peón a Reina
While Ferrán disappears in Calisto, Lila is determined to keep on playing and she seals a strategic alliance with an unpredictable rival. From the subsoil of the arena, a mystery is about to come to light to challenge the continuity of the game.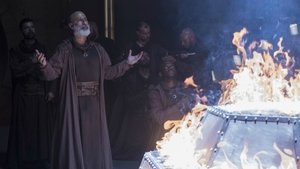 1x3 – Dejá Vu
Lila puts her army at risk, willing to do anything to find the whereabouts of Ferrán and she gets some unexpected help. Inpar is still taking care of the survivors of the arena and comes to the rescue of a new warrior. Almorás scores his first victory and he seems determined to challenge his god.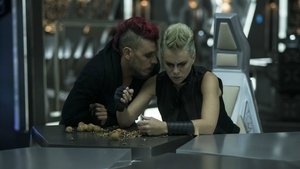 1x4 – Caballo de Troya
Mefisto puts a new strategy into practice to win the game, while Lila discovers the best-kept secret of the "Colonus" spaceship. Inpar decides to reveal himself to protect Enira's life and, unintentionally, ends up putting the safety of his people at risk. A new player is obliterated and he confirms the final destination of all the participants of the game.
1x5 – Perder para Ganar
Lila tries to discover who Inpar is, but a surprise confrontation cause a delay to her plans. Mefisto gets new information to dominate the game, while a new threat approaches the spaceship. On Earth, the Neodimio Corporations stumbles upon the only truth that could change all their plans on Calisto.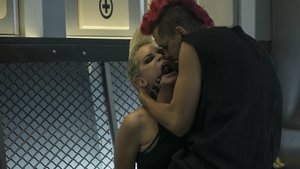 1x6 – Tiempo Fuera
Lila allies with the least-expected of players, but the past of the warriors of the arena puts her strategy at risk. Mefisto lashes out at Altea, exposing himself, once again, beyond the limits of the game. The Neodimio Corporation is forced to take drastic measures to restore order in Calisto.
1x7 – El Apostador
Enira manages to capture her enemy and gets ready to fulfill the mission entrusted to her by her goddess. Lila anxiously awaits the restart of the game without imagining that she is about to lose the only thing that really matters to her. Mefisto challenges the Neodimio Corporation without considering the consequences.
1x8 – Bienvenido a Casa
Mefisto resorts to Lila to continue on the game and he will soon learn how far a mother's desperation can go. Inpar, along with Enira, believes to be approaching the end of his adventure in Calisto. An old acquaintance of Sonia arrives at the "Colonus" spaceship.
1x9 – Control de Daños
Aboard the unknown spaceship, Inpar and Enira discover a new threat that's looming over them. Lila is punished for breaking the rules of the game, while Altea learns that Mefisto is still a dangerous player. Meanwhile, Almorás, confused by his memories, wants to meet Sonia.
1x10 – Reinicio
The game restarts. Ferrán tries to convince Lila to join forces to beat Neodimio, but Lila would rather follow her own plans. Sharma starts to regain control over S.O.N.I.A. while Inpar learns that it won't be easy at all to get back to Earth.
1x11 – La Pieza que Falta
Sharma rewrites a part of Sonia's code, but still cannot figure out how to make the "Colonus" spaceship to return to Earth. Despite the pleas from Ferrán, Lila isn't willing to forget the past that easily. Mefisto is back into action and terror seizes the arena.
1x12 – Expansión
Mefisto carries out his strategy and he is about to reach his goal. Lila decides to use Enira to face Hull and S.O.N.I.A. begins to reveal her preferences in the game. Ferrán decides to play his only card left to return to Earth. Inpar and Enira decide to go rescue the scavengers, without suspecting that a new danger is about to disembark on Calisto. Lila discovers Mefisto's strategy with his warriors and the game seems to be coming to its end.