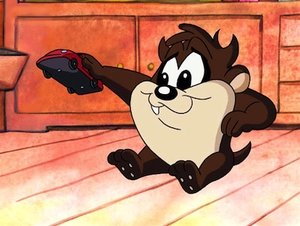 1x1 – Taz in Toyland/A Secret Tweet
When Taz keeps breaking most of his toys, Granny gives him a new one. When he thinks he broke it Granny says thats the toys job. B) Granny plans a surprised birthday party for Tweety. Tweety thinks everybody doesn't like him then he searches for the answer.
Gesehen von 2 Usern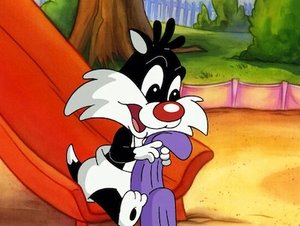 1x2 – Comfort Level/Like a Duck to Water
"Sylvester learns to live without his ""blankey."" Daffy overcomes his fear of the swimming pool."
Gesehen von 2 Usern
1x3 – School Daze/Things That Go Bug in the Night
"The babies play pretend school in preparation for the real thing. Bugs must find the courage to discover what's making scary noise s outside."
Gesehen von 2 Usern
1x4 – The Creature from the Chocolate Chip/Card Bored Box
"Sylvester eats all of Granny's cookies then makes up a cookie monster to blame. Faced with nothing to do, the babies use a cardboa rd box and their imaginations to make playtime fun."
Gesehen von 2 Usern
1x5 – Time and Time Again/May the Best Taz Win
"The babies learn the importance of telling time. Lola learns that she can't be the best at every sport."
Gesehen von 2 Usern
1x6 – Mine!/Sylvester the Pester
"Daffy learns a lesson in doing the right thing when he finds a purse filled with money. An attention-starved Sylvester won't let G ranny have any time to herself."
Gesehen von 2 Usern
1x7 – Cat-Taz-Trophy/Duck! Monster! Duck!
"Sylvester and Taz team up to win a toy racecar derby. Daffy ""reads"" the babies a scary story, only to end up frightening himself ."
Gesehen von 2 Usern
1x8 – The Brave Little Tweety/The Puddle Olympics
"Tweety takes a role in a play too seriously and begins to believe he's a real superhero. The kids take turns jumping over a puddle , but Sylvester is afraid of the water."
Gesehen von 2 Usern
1x9 – A Lot Like Lola/Mother's Day Madness
The babies compete to see who can make the best Mother's Day card for Granny.
Gesehen von 2 Usern
1x10 – Takers Keepers/To Tell the Tooth
"Daffy steals Taz's favorite toy, but he soon learns you can't just take everything you want. When Bugs loses a baby tooth, Daffy t ries to figure out how to scam the tooth fairy."
Gesehen von 2 Usern
1x11 – Spin Out/Snow Day
"Taz learns a tough lesson: He shouldn't spin after eating too much candy. The babies experience their first snowfall."
Gesehen von 2 Usern
1x12 – Shadow of a Doubt/Christmas in July
"Tweety ""sheds some light"" on what a shadow is. The babies pretend it's Christmas in hopes of getting Lola the stethoscope she wa nts."
Gesehen von 2 Usern
1x13 – Bruce Bunny/Leader of the Pack
"When Daffy starts making up hurtful rhymes, Bugs changes his name to Bruce. Daffy starts a secret password club for everyone excep t Bugs."
Gesehen von 2 Usern
1x14 – Flower Power/Lightning Bugs Sylvester
"The babies all want to pick the best flowers for Granny, but they end up destroying her garden. Sylvester learns to overcome his f ear of lightning."
Gesehen von 2 Usern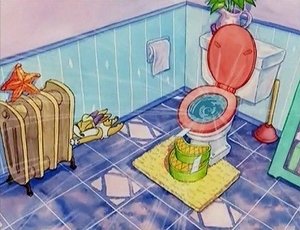 1x15 – Flush Hour/I Strain
"The babies learn the purpose of toilets. Petunia gets hooked on watching television and stops playing with her friends."
Gesehen von 2 Usern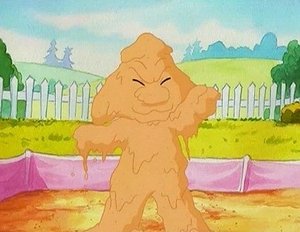 1x16 – The Sandman Is Coming/Some Assembly Required
"Daffy thinks the Sandman is a monster that throws sand in children's eyes. Bugs gets a new toy with assembly required and has to l earn to follow instructions."
Gesehen von 2 Usern
1x17 – All Washed Up/Did Not! Did Too!
Baby Taz will do anything to get out of taking a bath.
Gesehen von 2 Usern
1x18 – Tea & Basketball/Taz You Like It
"Sylvester wants to play tea with the girls, while Lola wants to play basketball with the boys. Taz discovers that pratfalls get hi m laughs and attention."
Gesehen von 2 Usern
1x19 – Band Together/War of the Weirds
"The babies learn about music and improvise their own orchestra. Marvin the Martian comes to visit, and the babies learn to accept differences."
Gesehen von 2 Usern
1x20 – The Harder They Fall/Business as Usual
"Bugs is embarrassed to admit he doesn't know how to skate. Bug and Daffy open competing lemonade stands."
Gesehen von 2 Usern
1x21 – Mr. McStuffles/Picture This!
"Daffy doesn't want to give up his old toy, even after he's outgrown it. The babies create their own endings to fairytales."
Gesehen von 2 Usern
1x22 – Hair Cut-Ups/A Clean Sweep
"Lola is afraid of getting her first haircut. Daffy tries to avoid cleaning up by sweeping his toys under a rug."
Gesehen von 2 Usern
1x23 – Daffy Did It!/Pig Who Cried Wolf
"Tweety blames Daffy for his mistake, and then has trouble living with the guilt of lying. Petunia fakes emergencies. But when a r eal one arises, no one believes her."
Gesehen von 2 Usern
1x24 – New Cat in Town/Magic of Spring
"Sylvester is jealous of the attention baby Pepe is receiving. Bugs' failure as a magician turns to success when he experiences the true magic of nature."
Gesehen von 2 Usern
1x25 – Who Said That?/Let Them Make Cake
"Daffy learns a swear word (represented by a sound effect) and must learn not to use it. Melissa wants cake, but she wants the othe r babies to bake it for her."
Gesehen von 2 Usern
1x26 – For Whom the Toll Calls/Cereal Boxing
"Petunia and Tweety learn how to call long distance ... and amass a huge phone bill. The kids become obsessed with getting the priz es from boxes of sugary cereal."
Gesehen von 2 Usern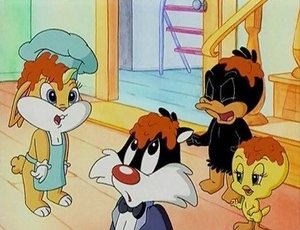 1x27 – Mind Your Manners/Petunia the Piggy Bank
"The babies learn proper dinner etiquette when preparing to dine out with Granny. The kids start getting an allowance, but only Pet unia thinks to save for something special."
Gesehen von 2 Usern
1x28 – Pastime for Petunia/Pouting Match
"Petunia has a difficult time finding a hobby that doesn't imitate the other babies' interests. Lola tries pouting to get what she wants, and soon all the babies are doing it."
Gesehen von 2 Usern
1x29 – Wise Quacker/Yours, Mine... and Mine, Mine!
"Bugs gets laughs doing hurtful impressions of the other kids, but he takes the jokes too far. Daffy thinks if he shares his old to ys, Granny will buy him all new toys."
Gesehen von 2 Usern
1x30 – Loose Change/Act Your Age
"Sylvester is upset when Granny paints the bedroom, but he learns the importance of change. The kids try to see who can act most li ke a baby, while vying for Granny's attention."
Gesehen von 2 Usern
1x31 – Who's Your Granny?/Tattletale
Gesehen von 2 Usern
1x32 – Yoke's on You/Baby Gate
"Daffy and Melissa team up to play jokes on the other babies. Melissa spreads rumors about the babies, and Bugs goes ""undercover"" to find the truth."
Gesehen von 2 Usern
1x33 – Never Say Try/Pair O'Dice Lost
"Sylvester is a bad dancer and finger painter, so he believes he'll never be good at anything. Daffy feels defeated whenever things aren't going his way."
Gesehen von 2 Usern
1x34 – Melissa the Hero/Trouble with Larry
"Melissa brags about helping Petunia to the point of self-aggrandizement. Petunia invents an imaginary friend to help her always ge t her way."
Gesehen von 2 Usern
1x35 – The Littlest Tweety/In Bugs We Trust
"Tweety is tired of being overlooked because of his diminutive size. Bugs uses the babies' money to buy different toys than he prom ised."
Gesehen von 2 Usern
1x36 – Cool for Cats/Time Out!
"Sylvester believes a commercial that says eating Chewy Chomps will make him cool. Bugs, Daffy and Taz are disciplined by having a ""time out"" in the corner."
Gesehen von 2 Usern
1x37 – Present Tense/Neat and Sloppy
"The Baby Looney Tunes pitch in to make an Arbor Day gift for Granny, while Baby Lola, who suggested that they do so, tries to make Granny a present on her own. Lola ends up saving a living tree all by herself, doing the planet a world of good. A study in contra sts enlivens this odd couple's antics: Baby Daffy is the compulsive mess maker, and Baby Sylvester is the cleanliness freak in this unique episode."
Gesehen von 2 Usern
1x38 – Tell-A-Photo/Move It!
"As Granny assembles her photo album, the babies gather around to reminisce about all the happy times they've spent together. Overh earing Granny making a call to Manny the Mover, Baby Bugs and Baby Lola jump to the conclusion that they're all moving away from Gra nny's house. This triggers vivid memories of adventures all the Baby Looney Tunes have enjoyed at Granny's. In the end, Manny the Mover is revealed to be Granny's personal exercise trainer, to the great relief of the babies."
Gesehen von 2 Usern
Quelle:
themoviedb.org