1x1 – Der gebrandmarkte Ritter
In a time when outlaws and mercenaries serve as justice, and law and order is but a dream in a kingdom that hasn't seen peace in half of a lifetime, a shadowy figure enters a keep whose inhabitants have given themselves to the life of violence and debauchery that encompasses the desperate and evil alike. Wielding a massive iron sword, the figure persuades the miscreants to abide his dilemma, and leaves with a skin of water and bottle of spirits, freeing a sprightly fairy as passively as he would seemingly free his bladder. Rumors that he is known as the Black ...
Gesehen von 2 Usern
1x2 – Die Ritter der heiligen Kette
Guts is still coming to terms with his fateful encounter with the monk and his daughter when he is confronted by the Holy Iron Chain Knights. Their commander berates him about his many sins is declares he is to be brought to the Holy See.
Gesehen von 2 Usern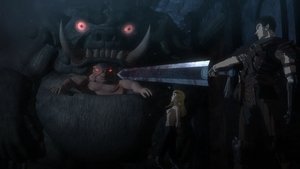 1x3 – Die Nacht der Wunder
Guts and Puck are taken aback by Farnese's inability to see the elf. However, Farnese's refusal to accept anything beyond what she considers to be real in her world is about to be sorely tested.
Gesehen von 2 Usern
1x4 – Offenbarung
Guts is awoken by a nightmare of his former lover, Casca being burned at the stake. He sees his demonic and malformed son warn him of a holy land. So, Guts goes back to the house of a blacksmith friend, Godo, who took in Guts and Casca after their betrayal at the Eclipse Ceremony. At the house, Guts finds that Casca wandered away from the house and disappeared during an excursion out of her cave sanctuary. Guts demands that she be found, but is admonished by Godo and his daughter, Erica. Both of which say that he left them to pursue self-destructive vengeance, thus ...
Gesehen von 2 Usern
1x5 – Der Turm der Vergeltung
While searching for Casca, Guts learns that an admirer has followed him. Meanwhile, the refugees from midland continue to suffer while Luca tries to conceal Casca's whereabouts.
Gesehen von 2 Usern
1x6 – Das nächtliche Bankett am Scheiterhaufen
Know what this is about? Be the first one to add a plot.
Gesehen von 2 Usern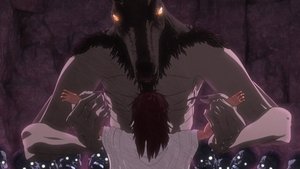 1x7 – Die schwarze Hexe
Guts is finally close to finding Casca, but Casca has caught the heretics' eye, and the Holy Iron Chain Knights are also homing in on the heretics' location...
Gesehen von 2 Usern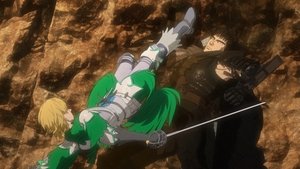 1x8 – Wiedersehen im Bordell
Guts battles two powerful opponents. Isidro and Casca make an escape.
Gesehen von 2 Usern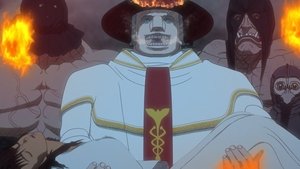 1x9 – Der Blutfluss der Toten
Casca unveils her hidden powers, which attracts the attention of Mozgus. Guts is nearing Casca, and Luca meets a new entity.
Gesehen von 2 Usern
1x10 – Hell's Angels
Luca learned all about the strange, egg-shaped demon, while Guts fought against Mozgus' followers.
Gesehen von 2 Usern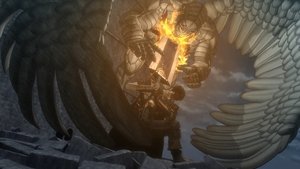 1x11 – Der Schatten der Idee
Guts is approaching Mozgus, while the strange blob is approaching the castle.
Gesehen von 2 Usern
1x12 – Klammerer und Zeterer
While the daylight is nearby, Guts and the crew have to defend themselves from the strange blob creatures. Nina runs into Luca.
Gesehen von 2 Usern
1x13 – The Rent World
After encountering his old foe, Guts continues to look for Griffith.
Gesehen von 2 Usern
1x14 – Winter's Courney
Serpico recalls his history with Lady Farnese. Guts gets a visit from a mysterious, but dark presence.
Gesehen von 2 Usern
1x15 – Banner of the Flying Sword
Griffith expands his army. Mule Wolflame meets Sonia.
Gesehen von 2 Usern
1x16 – Forest of Demonic Beasts
Guts and crew are confronted by a mysterious person in the woods. Can they trust her?
Gesehen von 2 Usern
1x17 – Spirit Realm
After reaching the witch's house in the forest, Guts and crew know where they have to go next after speaking with the witch.
Gesehen von 2 Usern
1x18 – Fight for Survival Against the Demonic Legion
Shortly after reaching the village, demonic creatures are on their way. It's up to Guts, Serpico, Isidro and Schierke to hold their ground.
Gesehen von 2 Usern
1x19 – The Arcana of Invocation
After Schierke managed to create a strong magical barrier, two strong creatures show up. Can Guts and Serpico defeat them?
Gesehen von 2 Usern
1x20 – The Corruption of Qliphoth
Guts and crew venture into the Qliphoth to rescue the trapped villagers. Once inside, they're met with a parade of nightmares, and must fight for their lives against hideous creatures.
Gesehen von 2 Usern
1x21 – The Berserker Armor
While Guts is suffering from his heavy injuries, the only hope to defeat his strong opponent is to equip the mysterious armor hidden in the Witch's house.
Gesehen von 2 Usern
1x22 – A Journey Begins in Flames
Guts puts on the Berserker armor and proceeds to fight Grunbeld.
Gesehen von 2 Usern
1x23 – Proclaimed Omens
After a heavy battle, Guts and his crew reside on the beach, learning more about the consequences of the new armor.
Gesehen von 2 Usern
1x24 – City of Humans
After arriving in a big city, Guts, Isidro and Schierke all go their own way for the rest of the day.
Gesehen von 2 Usern
Quelle:
themoviedb.org