1x0 – Class of Beverly Hills
The Walsh Family moves to Beverly Hills, where the twins, Brenda and Brandon, meet new friends during their first week at West Beverly High School; Brandon falls for the most popular girl in the school while Brenda pretends to be a college student to romance a young lawyer.
Gesehen von 9 Usern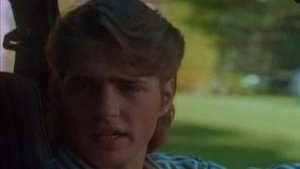 1x1 – Hollywood Highschool
The Walsh Family moves to Beverly Hills, where the twins, Brenda and Brandon, meet new friends during their first week at West Beverly High School; Brandon falls for the most popular girl in the school while Brenda pretends to be a college student to romance a young lawyer.
Gesehen von 9 Usern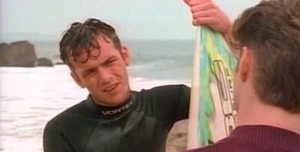 1x2 – Sehnsucht hinter Masken
Brandon meets and befriends surfer Dylan McKay, a mysterious loner who lives in a fancy hotel suite and hangs out at the beach with his surfer friends that include teenage alcoholic Betty. Meanwhile, Brenda feels she's living in poverty when she gets to know Kelly, and her insecure friend Donna Martin. Steve tries to hang out with David after mistakenly thinking that David's father is a wealthy TV show producer. Also, Andrea asks Brandon to write an article about being new in Beverly Hills.
Gesehen von 8 Usern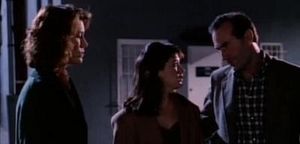 1x3 – Jeder Traum hat seinen Preis
Shopping with Kelly and Tiffany, Brenda wishes she had their kind of money. But Tiffany is a shoplifter, and when she stashes stolen clothes with Brenda, the police get involved and Brenda must clear her name.
Gesehen von 8 Usern
1x4 – Herzensbrecher
Brandon finds mixed blessings when Sheryl, his former girlfriend from Minnesota, comes for a visit, and who falls victim to the fast nightlife of the city. Meanwhile, Brenda develops a crush on her math teacher which affects her even more when she's asked to baby-sit for his two wild children for the evening in which Brenda asks Kelly and Donna to tag along with her.
Gesehen von 8 Usern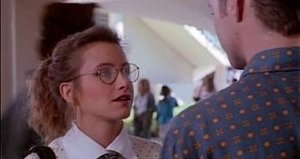 1x5 – Der Gegenspieler
Brenda botches her third try to get her drivers license, but she goes out anyway to rescue Kelly from a bad date, and in the process, loses Brandon's car. Meanwhile, Brandon decides to try out for the school's basketball team where he suspects that some students are brought into the school from out of district for the sole purpose of winning games and he asks Andrea to look into it.
Gesehen von 8 Usern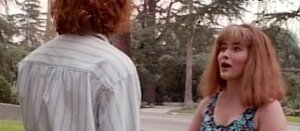 1x6 – Man lernt nie aus
Close to failing history, Brandon (at Steve's persuasion) resorts to cheating from a copied term paper, which leads him to debate honesty vs. an unfair teacher, as well as his friendship with Andrea when she catches him cheating. Meanwhile, Brenda and Kelly both have the hots for Dylan, so Brenda tries dying her hair after he states his preference for blonds. But she comes out with ugly orange streaks.
Gesehen von 8 Usern
1x7 – Die perfekte Mutter
Brenda becomes fascinated by Kelly's hip mother Jackie. But Brenda is unaware about Mrs. Taylor's alcoholism and drug use which makes life hard for Kelly. It's not until at a West Beverly High Mother/Daughter beauty pageant that Brenda finds the truth which gives her a renewed appreciation for her own mother. Andrea blossoms at the pageant while writing an article about it. Also, Jim becomes hooked on playing his new electronic keyboard in singing old songs.
Gesehen von 8 Usern
1x8 – Alte Liebe
While Jim and Cindy celebrate their 17th wedding anniversary, Cindy finds herself attracted to photographer Glen, her old college boyfriend and matchmaker, which resurrects old jealousies from Jim. Meanwhile, Brenda and Brandon participate in a study on twins in America. Also, David is determined to become the new DJ on West Beverly High's radio station and after the dim-witted Scott blows his spot, Donna overplays her part, and Steve gets stage fright.
Gesehen von 8 Usern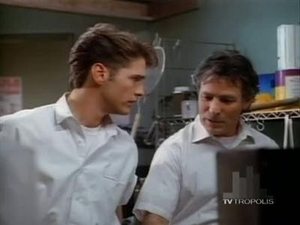 1x9 – Das Sorgentelefon
Brenda finds herself in a crisis when she gets to know an unseen student date-rape victim from Andrea's volunteer help line. Meanwhile, Brandon gets tempted by an older woman, named Nina, who specializes in health massage solutions.
Gesehen von 8 Usern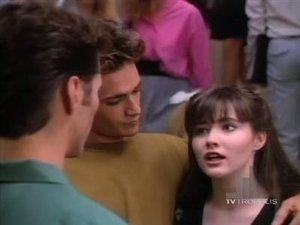 1x10 – Nichts mit Romantik?
When Brenda finds herself falling in love with Dylan, it results in Brandon's wariness and Jim strongly opposed to it due to Dylan's lifestyle and his father who gets indicted for corporate financial fraud. Meanwhile, Steve meets a woman who will be speaking at an AIDS seminar at school which leads everyone into discussing condoms.
Gesehen von 8 Usern
1x11 – Erst nippen, dann kippen
Cindy and Jim get an interesting proposition from an eccentric, swinging couple while spending a weekend together in Palm Springs. With their parents away, the twins throw a house party and Brandon falls victim to the West Beverly High party scene when he ends up drinking a few too many tequilas, gets into a car accident, and is arrested for drunk driving.
Gesehen von 8 Usern
1x12 – Mutter werden ist nicht schwer
Brandon learns some pitfalls of parenthood when he starts dating Melissa, a senior girl who has a six-month-old baby. Meanwhile, Brenda and Kelly win free skydiving lessons on a radio call-in show. After a few days of skydiving practice, they decide to set aside their fears of falling and take the plunge, literally.
Gesehen von 8 Usern
1x13 – Leichen im Keller
Brenda throws a slumber party and invites Kelly, Donna and Andrea over for the night. But the evening turns sour when Kelly's venomous girlfriend, Amanda Pacer, joins the party and starts a game which brings out secrets that threaten the friendships between all of them. Meanwhile, Brandon and Steve go out together for a night of cruising and club hopping in which they end up getting duped by two girls who steal Steve's car.
Gesehen von 8 Usern
1x14 – Die andere Seite der Welt
The Walshes allow a young Latino girl named Karla Montez, (their maid Anna's niece) to use their address so she can attend West Beverly High School. Brandon becomes intrigued with Karla, but he suspects that she's hiding something due to her wariness and a strange man following her around. Later, when Jim arranges a party for one of his clients, Brandon causes a scene when he finds Karla at the party serving drinks and thinks she's being used as cheap labor.
Gesehen von 8 Usern
1x15 – Auf nach Palm Springs
During Presidents' Weekend, the gang goes to Palm Springs, where Dylan and Brenda plan to meet at a hotel for some time alone. But Brenda forgets the name of the hotel where she's supposed to meet Dylan. Meanwhile, David, wanting to fit in with the gang, ditches Scott and their trip to Magic Mountain to take Steve, Kelly and Donna to his grandparents' house, which is supposed to be empty. And Brandon stays home to help Nat at the Peach Pit, and discovers a secret that an apparently sarcastic boy named Curtis has been hiding.
Gesehen von 8 Usern
1x16 – Lockender Ruhm
A right look at the right time and in the right place in a local park gets Brandon a role on a TV series and he gets to work with the teenage lead actress Lydia Leeds, while becoming an instant celebrity at school. But Brandon learns that Lydia may only be using him to get back at her own boyfriend and co-star on the show. Meanwhile, Brenda becomes another celebrity when she plays the role of singing waitress Laverne while covering for Brandon at his job at the Peach Pit.
Gesehen von 8 Usern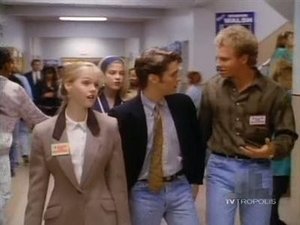 1x17 – Alles nicht so einfach
Brenda, tired of being treated like a teen, moves out on her own into a shabby apartment owned by a hippie stand-up comedienne. Meanwhile, Brandon runs for junior class president against a fellow candidate, Michael, and has to deal with Kelly and Andrea vying to manage his campaign.
Gesehen von 8 Usern
1x18 – Wird schon nicht so schlimm sein
Brenda is filled with horror when she discovers a lump in her breast, which calls for a biopsy. Meanwhile, the upcoming SATs put extra pressure on everyone, especially Andrea and Steve during a study night together when an intimate moment happens between them.
Gesehen von 8 Usern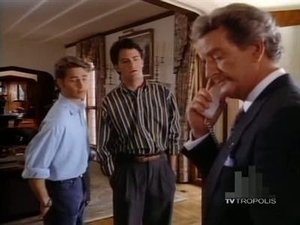 1x19 – Scheußlich, dieser April
As Brandon interviews Roger, the school's tennis star, he discovers that Roger's golden-boy appearance hides deeper demons. When the gang gets their SAT scores back, Donna becomes deflated by her low SAT score, which reveals her learning disability.
Gesehen von 8 Usern
1x20 – Von Kindern und Hunden
Brandon gets more than he bargained for when he and Steve volunteer to coach a Little League baseball team made up of spoiled little kids with smart mouths who are playing Peach Pit owner Nat's misfit team. Meanwhile, Jim (recovering from a back injury) howls at Brenda's request to keep a stray dog.
Gesehen von 8 Usern
1x21 – Frühlingserwachen
Everyone scrambles to get dates for the big annual spring dance. Kelly asks Brandon to the dance, offending Steve who has nobody while Andrea ponders whether or not to go to the dance. At the dance, Brenda and Dylan become more intimate and end up sleeping together for the first time, and David shows off his cool dancing. Also, Steve reveals to Brandon that it is his birthday but does not feel cheerful at all because his mother recently told him that he is adopted.
Gesehen von 8 Usern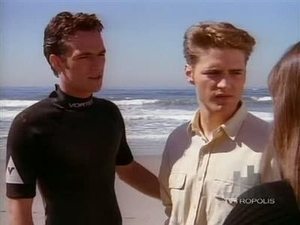 1x22 – Eine schwere Entscheidung
The Walshes excitement over Jim's promotion is short lived when he reveals that it means moving back to Minnesota. Steve gets upset with Brandon over him leaving as well as other problems. Meanwhile, Andrea offers herself to Brandon as a goodbye present, while Brenda faces the thought of moving away from Dylan.
Gesehen von 2 Usern
Quelle:
themoviedb.org