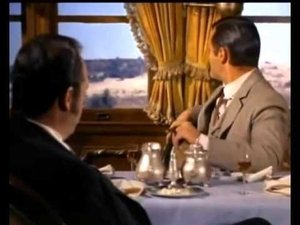 1x1 – Rebellion im Big Valley
As the powerful Barkley family and surrounding Valley community face the prospect of losing their land to a ruthless railroad baron, a mysterious stranger arrives with life-changing news for the family.
1x2 – Ein General und 40 Gewehre
As Heath settles into life in the Valley, his authority is questioned by the men employed to aid him in a huge cattle drive, which is further complicated by the arrival of a former general with plans of his own.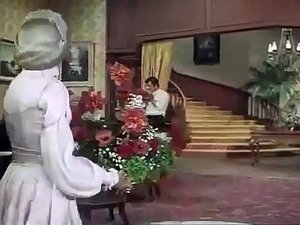 1x3 – Victorias Reise in die Vergangenheit
The Barkleys prepare for the unveiling of a statue dedicated to family patriarch Tom, prompting Victoria to visit Heath's birthplace and learn about Tom's secret past.
1x4 – Die Lloyd-Bande
A handsome stranger saves Audra's life during a horse stampede and she quickly becomes attached to him, unaware of his involvement in a series of robberies in the Valley.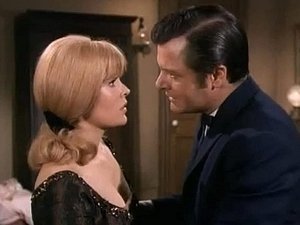 1x5 – Die Odyssee des Jubal Tanner
The arrival of an old friend of Victoria and Tom's causes trouble in the Valley, due to the man's claim on a plot of land which has been earmarked as the location of a new dam.
1x6 – Revolte der Minenarbeiter
As unrest grips a distant mining town where the Barkleys have financial interests, Heath travels to the place in an attempt to diffuse the situation.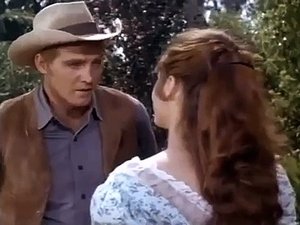 1x7 – Romanze mit Heath
The return of a Spanish nobleman with a claim to land in the Valley which is already occupied becomes further complicated by a romance between Heath and the nobleman's daughter.
1x8 – Ein ungeratener Sohn
The sociopathic son of a neighbor, recently returned from away, stirs up serious trouble for the Barclays.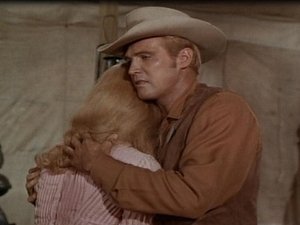 1x9 – Erdbeben in Stockton
A powerful earthquake strikes the Valley, leaving Victoria trapped underground with a disgruntled ex-Barkley ranch hand and a young pregnant Native American girl.
1x10 – Anklage gegen Korby
Jarrod agrees to defend a murder suspect, despite the fact that Heath witnessed the killing. The case involves the defense of a man from a reviled family and the death of a respected benefactor.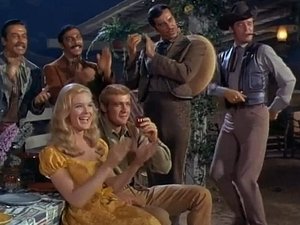 1x11 – Vertrauen gegen Vertrauen
When a visiting Mexican rancher friend's herd comes down with a dangerous infectious disease, he proves stubbornly unwilling to acknowledge the situation, much less cooperate with the Barkleys.
1x12 – Die Nacht des Wolfs
When Nick is wounded by a rabid wolf, he leaves home without explaining himself to his family outside of Heath.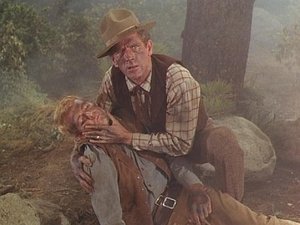 1x13 – Matt Bentall
Heath lashes out at the Barkleys' new timber camp foreman, who was the sadistic commandant of the Confederate prison camp where Heath was held. The timber crew also resent the foreman - especially two brothers sworn to kill him.
1x14 – Das verkaufte Land
The Barkleys find themselves butting heads with a group of Irish settlers who have inadvertently illegally settled on Barkley land due to a fraudulent sale they were duped into.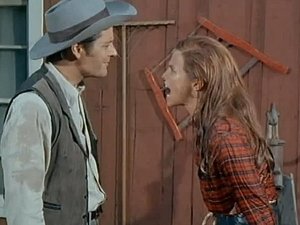 1x15 – Die Bewährung
Jarrod arranges for the girlfriend of a murderous outlaw to be released from jail so she can spend Christmas with the Barkley family. The family has mixed feelings about sharing the holidays with her. She's a wildcat and, with her boyfriend still on the loose, she defiantly vows to re-join him at the first opportunity, causing chaos in the Barkley household.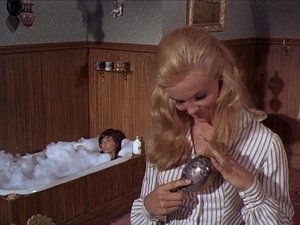 1x16 – Ein seltsamer Heiratsantrag
When a group of criminal rawhiders ambush Heath, they bring him to the Barkley home to claim they rescued him to ingratiate themselves.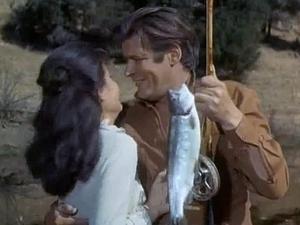 1x17 – Nick Barkleys neue Freundin
After a whirlwind courtship, Nick proposes to a beautiful "partygirl" Eastern socialite. Her interest in him soon disappears when she experiences the slow paced life on the ranch-and becomes obsessed with Heath.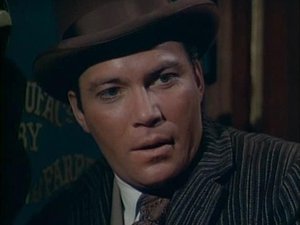 1x18 – Zu viele Blüten
When an old law school friend of Jarrod comes to visit, a following Secret Service agent tells Jarrod that he is suspects his friend is a counterfeiter.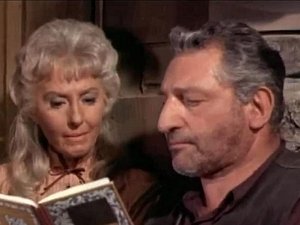 1x19 – Sprachberatung für Banditen
An outlaw gang leader orders his men to kidnap a teacher so he can learn to read and write for a special purpose. His men nab Victoria by mistake-she pretends to be the school marm to buy time for the Barkley boys to find her.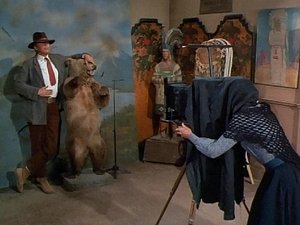 1x20 – Jarrod für Keno
Pardoned after a long imprisonment for a crime he didn't commit, a man has Jarrod's help in adjusting to being free again. The man is hired to work at the ranch and after having doubt planted by one of the hands, his fear of returning to prison may lead to the death of the man who was the Prosecuting Attorney in the his case- Jarrod.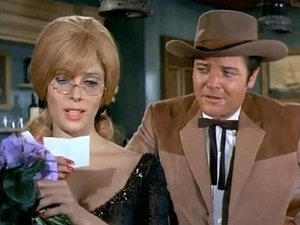 1x21 – Barbary Red
Nick celebrates his birthday at a waterfront saloon where he is drugged and shanghaied for sea duty. Jarrod suspects an old client of his, Barbary Red, is behind Nick's disappearance- Eugene and Heath help him investigate his hunch.
1x22 – Die Orangenplantage
Everyone except Heath extends a warm welcome to an aging cowboy who killed Tom Barkley's murderer- a result of the Barkley-Railroad War. The man, as it turns out, is a friend to no one, he enjoys range wars and will sell his services as a killer to either side- and he's looking for work.
1x23 – Gefährliches Spiel
Heath helps an old friend, Ward, and his wife Nora, after Ward becomes crippled in an accident partly Heath's fault. Tensions arise when Ward tries to guilt Heath into giving him $5,000 for a timber investment.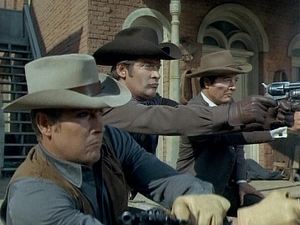 1x24 – Steckbrief für Jill Anders
A man arrives at the ranch looking for Heath and is shot by two trailing bounty hunters who claim he is wanted for murder. While the man is recuperating at the ranch, Jarrod travels to Coreyville to look into the murder charge and Heath comes to terms with an old grudge.
1x25 – Die Witwe Liberty
Heath is drawn to an alluring old girlfriend who is now married and part of a trick shooting act. When her husband is mysteriously killed in a gun "accident," Heath is accused of murder. Jarrod must use a new science to try to clear him but ends up sparring about it with the D.A.,an old law school colleague who is jealous of the Barkleys.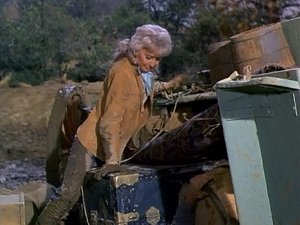 1x26 – Auf der Flucht vor Kopfgeldjägern
While travelling cross country, Victoria and Heath have an accident resulting in Heath becoming pinned under their heavily loaded wagon. Victoria seeks help and turns to a mysterious man who is being pursued by aggressive bounty hunters.
1x27 – Der Schatz im Stockton River
When a sunken Barkley riverboat is finally found, it's cargo of gold is missing and the late family patriarch is suspected to have stolen it.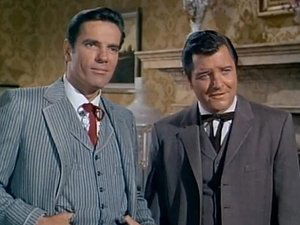 1x28 – Der Spekulant
Audra falls for a dashing but ruthless financier who has maneuvered many of the ranchers into taking out risky loans with him during a drought with the intention of potentially foreclosing on their land.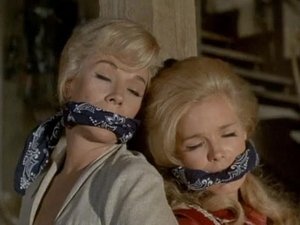 1x29 – Der neue Ladenbesitzer
A new couple's soon-to-be opened general store is invaded by criminals to be used for a tunnel to rob the Barkley's of their gold, and the couple's husband is apparently involved.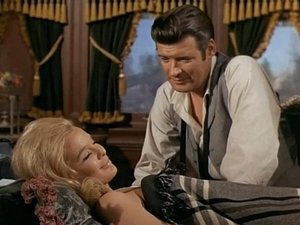 1x30 – Wer ist Dr. Travers?
On a train ride, Audra falls seriously ill and the only doctor available to treat her has a band of ruffians in pursuit for revenge.