1x1 – Episode #1.1
Bluestone 42 are a British bomb disposal unit in Afghanistan,headed by vain captain Nick Medhurst. They are called out to a routine road-side op with annoying,loud CIA liaison officer Carter but are caught in an ambush,which at least gets rid of Carter for them. In the event the 'bomb' is a Walkman, Back at base Nick tries to impress new chaplain Mary,whilst corporals Simon and Millsy argue over the paper work and female soldier Bird,to the amusement of Scots privates Mac and Rocket,bemoans the destruction of Arthur,the bomb-seeking robot,which ends up getting buried ...
Gesehen von 1 User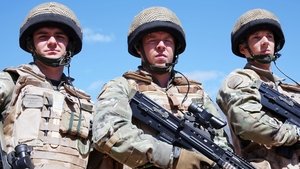 1x2 – Episode #1.2
Simon gets into trouble for breaking with procedure at a roadside op and is generally mocked by the others for liking 'The Thin Red Line' and acting like an old man. However when Millsy complains Nick is not giving him enough responsibility and a retraining session is called for,retracing the op, Simon proves the hero of the hour. Nick,like everybody else,is fed up with the dull food rations and learns about the local delicacy the Afhgan tiger gecko,one of which he catches in the hopes of impressing Mary. She finds it delicious - until finding out what it is, an ...
Gesehen von 1 User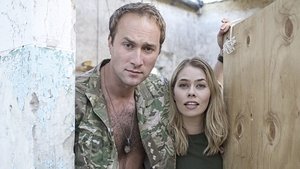 1x3 – Episode #1.3
Simon has written his memoirs 'A Foot In Death's Door' but it gets rejected by the publisher and Mary,who once worked in publishing,reads it for him and pronounces it as not being good. Undeterred Simon tries to take a publicity shot of himself but is undermined by the Scots privates. The company rescues Danish aid worker Astrid during a raid on a bomb factory and she is so grateful to Nick she offers him sex,which he refuses. Mary fails to realise this and goes for him so he decides to accept the offer after all since he may as well be accused of something that he ...
Gesehen von 1 User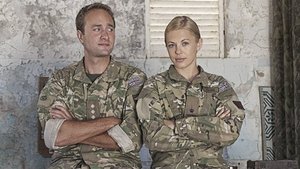 1x4 – Episode #1.4
Mary proves to be a superb poker player but admits to Nick that she was once a gambling addict who lost her ex-fiance's car so he tries to get in with her by talking about his own faithless ex-lover,though she mistakenly believes he is lying. Bird is promoted to Acting Sergeant at HQ but does not want to go so Mary persuades the lads to show their appreciation for her,resulting in her decision to stay. Meanwhile Simon,after much dithering,finally comes up with the ideal venue for his wedding .
Gesehen von 1 User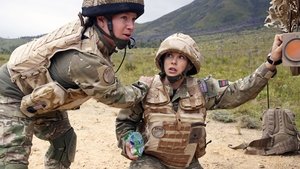 1x5 – Episode #1.5
Nick is unimpressed by another team,the Road Hoggs,led by jocular sergeant Hogg,who believes in superstitious rituals for his survival though Nick himself is lost without his own good luck charms,his Fisherman's Friend sweets. When they disappear he is nervous about going on ops minus them but regains some confidence when Mary gives him her Mint Imperials - until the lieutenant-colonel admits that he has a mascot he cannot do without. Simontries to win Mac and Rocket's respect by joining in their dangerous,home-made games but does so well they take revenge on him ...
Gesehen von 1 User
1x6 – Episode #1.6
When bomb sniffer dog Monty is ailing army vet captain Parekh arrives to cure him and Bird is instantly smitten,causing the over-protective Nick and the lads to warn him off her to avoid upsetting her. When he obeys Bird is annoyed so the boys have to bully him into dating her again. Simon is anxious to learn the waltz for his wedding reception but with Mary organizing a Mexican evening Nick wants to be an expert at the tango in order to impress her. Nick accomplishes his aim and takes to the floor with the padre but she halts the dance as it reminds her too much of ...
Gesehen von 1 User
1x7 – Episode #1.7
Whilst Nick is fretting over how he can seduce Mary in the two weeks before she goes on leave the base comes under a mortar attack. Finding themselves under siege Simon tries to persuade Rocket to apply for officer training,Bird and Mac eat the cheese sent by Simon's father and Mary,Millsy and Nick play Travel Scrabble,Nick being a bad sport regarding Millsy's superior vocabulary. Following the all-clear things revert to normal though the lieutenant-colonel's office is a shambles after a direct hit.
Gesehen von 1 User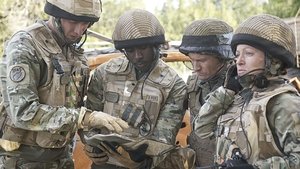 1x8 – Episode #1.8
Following the lads' suggestion for a stag night Simon stands up to his girlfriend, Charlotte,who has forbidden it - only for her to call off the wedding. However an urgent matter takes precedence when Nick has to defuse a bomb in a car parked outside a health clinic where a woman is giving birth. He is successful and suggests to Simon that he apologize to Charlotte as life is too short for regrets but Simon decides that he would prefer a stag night to being ordered about by a wife. There is a nice surprise for Nick too,thanks to Mary.
Gesehen von 1 User
Quelle:
themoviedb.org