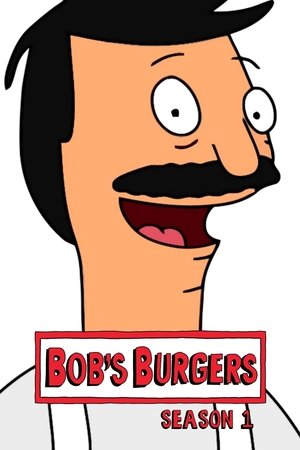 Trailer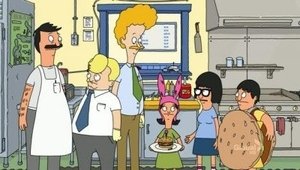 1x1 – Human Flesh
Bob rallies the team to cook up some business, so he sends middle child Gene to push samples in the streets, eldest daughter Tina to work the grill and youngest daughter Louise to staff the counter. The day takes an unexpected turn when the health inspector pays a visit because of a little rumor Louise started during "show and tell" at school.
Gesehen von 9 Usern
1x2 – Crawl Space
When Bob learns that Linda's mother is coming for a visit, he wants nothing to do with it. Linda has been cracking the whip at home, making sure every shelf has been dusted and every bed has been made. When she discovers a leak in the roof, she sends Bob to fix it, but he gets stuck in a wall, leaving Linda and the kids to entertain their guests and run the restaurant.
Gesehen von 8 Usern
1x3 – Sacred Cow
When a controversial documentary filmmaker places a live cow outside of the family restaurant to make a statement, Bob is livid when it starts to scare away customers. However, to everyone's surprise, Bob treats the cow like a member of the family.
Gesehen von 8 Usern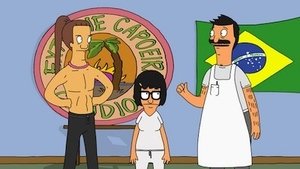 1x4 – Sexy Dance Fighting
When Tina develops a crush on the new martial arts instructor in town, she joins the class and ends up shirking her responsibilities at the restaurant. Bob finds out what's going on and decides to take matters into his own hands.
Gesehen von 8 Usern
1x5 – Hamburger Dinner Theater
Bob reluctantly lets Linda and the kids stage a musical murder mystery dinner theater in the restaurant, but on opening night, an abrupt interruption changes the play's creative direction.
Gesehen von 8 Usern
1x6 – Sheesh! Cab, Bob?
Tina is desperate to get her first kiss at her 13th birthday party. But after Louise breaks the deep fryer, Bob takes a second job as a late-night cab driver to pay for Tina's party. Things keep getting worse for Bob when the parents of Tina's crush refuse to let their son attend the party, and Bob has to do everything in his power to save his daughter's big day.
Gesehen von 8 Usern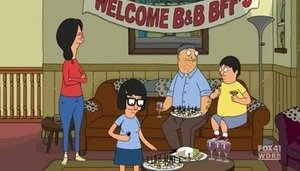 1x7 – Bed & Breakfast
With a long weekend approaching, Linda sees an opportunity to capitalize on the tourist traffic by starting a bed and breakfast. But when the reservations are filled by some shady character, Louise plants listening devices all over the house to keep an ear on what's happening.
Gesehen von 8 Usern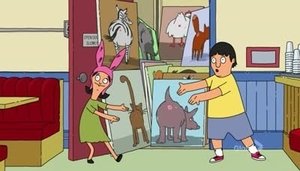 1x8 – Art Crawl
When Linda asks Bob to let her sister hang her paintings in the restaurant for Art Week, Bob finds he's forced to contend with the city's Art Council, a shady troop of intimidating old ladies who control the art exhibited around town. Meanwhile, Louise, Gene and Tina are thrilled by all the attention their own art receives in the restaurant.
Gesehen von 8 Usern
1x9 – Spaghetti Western and Meatballs
Bob and Gene bond over spaghetti western movies, which makes Louise jealous.
Gesehen von 8 Usern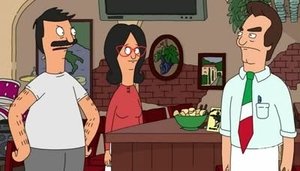 1x10 – Burger Wars
When Bob's eccentric landlord, Mr. Fischoeder, pays the family a visit, he informs Bob that his rival across the street, Jimmy Pesto of Jimmy Pesto's Pizzeria, wants to take over Bob's lease so that he can expand his gift shop. With little time and not enough money, the Belcher family must cook up some business or luck to save the restaurant.
Gesehen von 8 Usern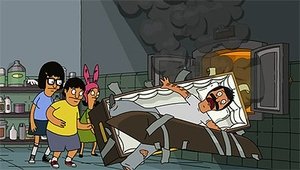 1x11 – Weekend at Mort's
Bob and his family are forced to spend the weekend at Mort the Mortician's while the restaurant is being de-molded. Linda and Bob double date with Mort and a female mortician he meets online while Tina babysits Gene and Louise in Mort's crematorium.
Gesehen von 8 Usern
1x12 – Lobsterfest
After the town's annual Lobsterfest is cancelled by a storm, Bob defiantly opens his doors for a festive celebration. When he wakes the next morning, Bob finds the restaurant in disarray and that the town has spurned him, but Bob won't let that deter him from further involvement in the celebratory weekend.
Gesehen von 8 Usern
1x13 – Torpedo
Bob's hero, a washed-up baseball player named Torpedo Jones, starts pitching for the local minor league team. Torpedo befriends Bob, but the dark underbelly of minor league baseball threatens to corrupt the Belchers.
Gesehen von 8 Usern
Quelle:
themoviedb.org