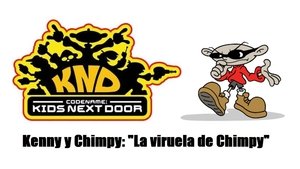 1x1 – Folge 1
When the KIDS NEXT DOOR attempt to stop a birthday party for their arch-enemies, the goody-goody DELIGHTFUL CHILDREN FROM DOWN THE LANE, but a surprise, and a monstrous guest stands between them and the greatest birthday cake ever!
1x2 – Folge 2
In "Operation: I.-S.C.R.E.A.M. (Important - Secure Creamy Refrigerated Edibles Avoid Meltdown)", the KND catch wind of some ice cream men who refuse to give ice cream to kids, so they interrogate them and get the password to their ice cream factory, only to be in for a major surprise from their arch-nemeses, the Delightful Children From Down the Lane. In "Operation: C.A.N.N.O.N. (Cannon And Naptime Not Occurring Normally)", Numbuh 1 leaves with his parents for a day, leaving the other KND behind. In no time, they are bombarded not only by villainous adults, but also ...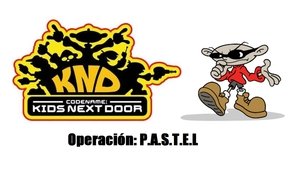 1x3 – Folge 3
When the thousands of hamsters that supply the THE KIDS NEXT DOOR tree house with power all go on vacation, the KND are left vulnerable to attack by GRAMMA STUFFUM and her army of living food.
1x4 – Folge 4
In "Operation: P.I.R.A.T.E. (Pirates Invade Respiratory And Treats Extracted)", a crew of candy-robbing pirates invades the KND's tree-house and make off with all its candy, including Numbuh 5's special stash, which Numbuh 5 refuses to give up, so they just take her with it. Now the other KND members have to save her and the candy, too. In "Operation: C.O.W.G.I.R.L. (Crazy Old Woman Goes Incredibly Really Loco)", in trying to outrun Mr. Wink and Mr. Fibb (from the show's pilot, "No P in the OOL"), the KND encounter an old woman named Lasso Lass, the sole remaining ...
1x5 – Folge 5
When the Treehouse is flooded with disgusting turnips, the KIDS NEXT DOOR journey to the source and battle a monster turnip with designs on moving up the food chain.
1x6 – Folge 6
In "Operation: O.F.F.I.C.E. (On Fourteenth Floor Is Corporate Evil)", Numbuh 4's father takes his son to work on "Take Your Girl To Work Day"... even though Numbuh 4's father has no daughters. Numbuh 4 isn't really too keen with all of this, but then discovers that Numbuh 4's father's boss has plans to lure his employees' screaming daughters into a rocket bound for a one-way trip to Pluto with various Rainbow Monkey merchandise! In "Operation: A.R.C.T.I.C. (Am Really Cold That Is Certain)", the KND head to the frigid north to uncover a rumored weather control device ...
1x7 – Folge 7
The Delightful Children from Down the Lane infect Treehouse headquarters with a strain of gigantic lice.
1x8 – Folge 8
A pesky fly finds its way into Treehouse headquarters and garners five different reactions from the Kids Next Door operatives.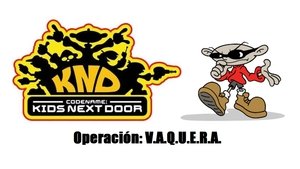 1x9 – Folge 9
A kids' cable network executive believes the Kids Next Door would be perfect for a show on his 'kid-centric' network, but when the exec's nefarious motives are revealed, the KND decide not to follow the program.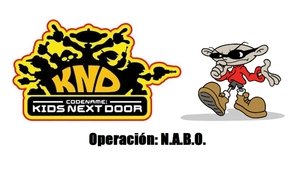 1x10 – Folge 10
Operatives from the KND International organization are neutralized; Numbuh 2's little brother will do anything to hang out with his big brother.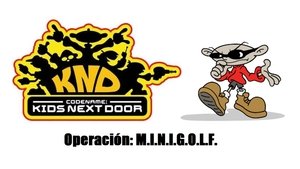 1x11 – Folge 11
In "Operation: P.I.A.N.O. (Pesky Instrument Advances New Operative)", the Kids Next Door attempt to stop a shipment of pianos - otherwise known as kid torture devices. Numbuh 4 is injured when he goes against orders during the mission and is stunned to find out that his temporary replacement is a hamster! In "Operation: Z.O.O. (Zoologically Obsessed Octogenarian)", the owner of a zoo where the attractions are kids instead of animals captures the Kids Next Door. They are forced to work together with the Delightful Children From Down the Lane, who are also imprisoned, ...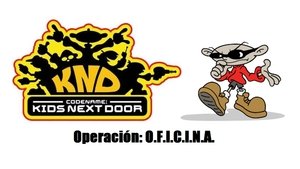 1x12 – Folge 12
When an exhausted Numbuh One takes a much-needed nap, practically every villain known to the Kids Next Door attacks Treehouse headquarters.
1x13 – Folge 13
In "Operation: G.R.O.W.-U.P. (Getting Really Old Will Upset Plans)", the Delightful Children From Down the Lane get help from their father to destroy the KND once and for all. Not only do they almost defeat their archenemies for good, but they also manage to make Numbuh 1 an adult and they demolish their tree-house, too. Now with their leader gone (now that he is an adult, he went to get a job) and their faith, too, the remaining KND are forced into an all-out war with their most dangerous foe of all time.