1x1 – Episode 1
When an insensitive tweet threatens Hampton DeVille's business, Jake and Matt are tasked with firing the employee who posted it.
Gesehen von 1 User
1x2 – Episode 2
Matt creates an impressive presentation to pitch Hampton DeVille's arms dealing bona fides to the CIA, while Jake takes advantage of the company's internal whistleblower app.
Gesehen von 1 User
1x3 – Episode 3
After his surgery, Jake's coworkers butter him up in the hopes that he'll share his prescription painkillers with them, and visions of a ghost haunt a sleep-deprived Matt.
Gesehen von 1 User
1x4 – Episode 4
Hampton DeVille partners with a street artist who vandalized the company's headquarters to sell anti-corporate merch and profit off its protesters.
Gesehen von 1 User
1x5 – Episode 5
At the Hampton DeVille corporate retreat, business gurus teach Matt how to be a more confident person, and Jake finds love at a networking mixer.
Gesehen von 1 User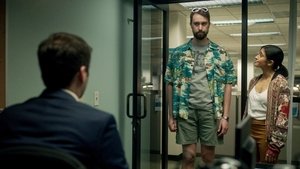 1x6 – Episode 6
Matt and Jake struggle to convince a coworker to wear a shirt on Casual Friday, and Christian seeks to strike a deal with a group of megachurches.
Gesehen von 1 User
1x7 – Episode 7
Forced to take charge of a meeting after Christian gets a call, John and Kate trap the staff in the conference room without their phones until they finish brainstorming.
Gesehen von 1 User
1x8 – Episode 8
As the staff obsesses over a prestige TV show, Jake resists their attempts to force him to watch, while Matt's life starts to eerily echo the events of the series.
Gesehen von 1 User
1x9 – Episode 9
John pressures Jake and Matt into helping him move a grandfather clock in his apartment, sabotaging their weekend plans.
Gesehen von 1 User
1x10 – Episode 10
Matt copes with his family trauma by throwing himself into the office holiday party, Christian questions his worldview, and Jake considers leaving the company.
Gesehen von 1 User
Quelle:
themoviedb.org