1x1 – Episode #1.1
London,1933:- panic-stricken jazz band leader Louis Lester asks his friend,music journalist Stanley Mitchell,to help him flee the country. Eighteen months previously Louis and his band are playing in a jazz cellar but Stanley sees their potential and persuades Nathan Schlesinger to book them at his Imperial Hotel. Whilst older patrons are shocked and walk out the band impresses bright young siblings Pamela and Julian Luscombe,their photographer friend Sarah and music agent Mr Donaldson,the latter negotiating a residency at the hotel and on whose advice Louis engages ...
1x2 – Episode #1.2
With Wesley gone Louis is disappointed at the band's lack of progress,then Mr Donaldson arranges for them to play at a funeral organized by reclusive Lady Cremone,a dedicated jazz fan and former globe-trotter whom Stanley interviews for his magazine. Back in London Pamela is attracted to Stanley's socialist views and Sarah and Louis begin an affair whilst Masterson asks Louis to tell Julian 'not to worry'. Thanks to Lady Cremone the band get a radio spot and a prospective record deal as well as playing a Christmas command performance for the Prince of Wales though ...
1x3 – Episode #1.3
Interviewed by the police about the attack on Jessie Louis tells them that he saw Julian fleeing the scene but Pamela is insistent he was in Paris and asks Stanley to contact him with the news as he was especially fond of Jessie. The band plays at the Imperial's Christmas dinner party but racist Germans walk out in disgust. However Jessie recovers from her coma after a visit from a kindly Donaldson,who has virtually talked her out of it. Lady Cremone throws a New Year party for her village and invites the band to play. Julian returns,claiming to have been in France ...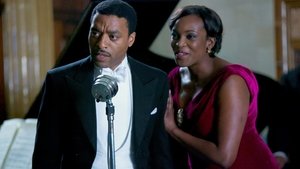 1x4 – Episode #1.4
Using Sarah's private photographs Stanley compiles a special edition of 'Music Express' glorifying Jessie's career and Masterson arranges a lavish wake where Louis is puzzled by Julian's passionate oration. Afterwards Masterson announces that he has bought 'Music Express' and intends to make it Europe's leading entertainment magazine with Stanley as editor under Lady Cremone and Sarah as staff photographer. Louis is again questioned by the police,who tell him that two complete strangers gave Julian an alibi for Jessie's murder. However at a function in the hotel for ...
1x5 – Episode #1.5
Hit by the scandal the hotel loses many of its residents and the band is forced to split up. Stanley and Sarah hide Louis in a house belonging to Stanley's assistant Eric whilst Stanley retrieves his passport from the hotel. He asks Lady Cremone to help but she has no desire to involve herself. However,when she learns that Masterson is offering a huge reward for Stanley's capture she wonders if he is covering for Julian,whom he describes as being like a son to him and who is accompanying him to America. Despite Louis's suspicions of her Pamela chooses to help and ,...
1x6 – Interviewing Louis
Quelle:
themoviedb.com