1x1 – Episode 1
Daria moves to a new town and high school. While her sister passes the psychological test, Daria has to take a special (low self-esteem) class a few weeks. She makes a friend there.
Gesehen von 5 Usern
1x2 – Episode 2
Brittany invites Daria to her party after getting help from her. She decides to go to spite Quinn. Jane accompanies her.
Gesehen von 6 Usern
1x3 – Episode 3
Daria and Quinn are forced by their parents to take a college prep course and visit their old college.
Gesehen von 6 Usern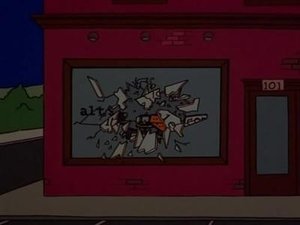 1x4 – Episode 4
Daria's pressured by her mom to take extracurricular activities. Daria joins in when a teacher starts a fund raising for a coffee house - the cyber cafe was burgled.
Gesehen von 5 Usern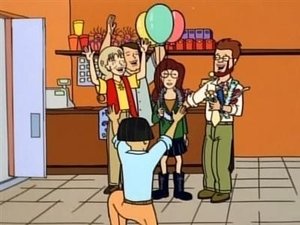 1x5 – Episode 5
Mrs. Bennett takes her economics class on a field trip to the Mall of the Millenium. Daria and Jane want nothing to do with this trip, but have no way out of it, however all is not lost when Daria discovers Quinn and the rest of the Fashion Club skipping school there.
Gesehen von 5 Usern
1x6 – Episode 6
Daria is roped into participating when a fashion business comes to Lawndale High.
Gesehen von 6 Usern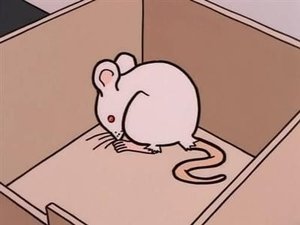 1x7 – Episode 7
Daria is partnered with the moronic Kevin for a science project.
Gesehen von 6 Usern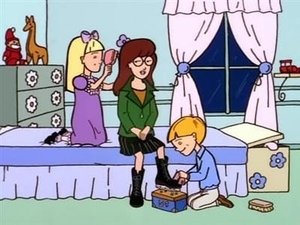 1x8 – Episode 8
Desperate to avoid a meeting with a family therapist, Daria substitutes for Quinn on a babysitting gig. The family she ends up sitting for are the sickeningly-sweet Lester and Lauren Gupty, who have raised their kids Tad and Tricia into brainwashed little angels that only watch The Weather Channel on television, and avoid any sugar and junk food. It will take an artist extrordinare(yes, Jane) to rescue Daria from this nauseous night, and the Gupty kids from the sheltered lifestyle they've become so accustomed to.
Gesehen von 6 Usern
1x9 – Episode 9
When a girl at school gets a nose job, conversation is on cosmetic surgery and looks.
Gesehen von 6 Usern
1x10 – Episode 10
Daria and Quinn get grounded for a month of reading, board games and harmonica after a "family court" rules on coming home late. Will Daria and Jane watch teacher/DJ roller hockey game despite curfew?
Gesehen von 6 Usern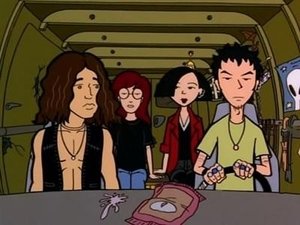 1x11 – Episode 11
Jane's brother Trent, who's also the lead singer of local grunge band "Mystik Spiral" is offered the chance to play in the upcoming Alternapaloosa tour. Since Daria harbor's an undeniable crush on Trent, Jane offers to pay for the gas in their van and take her for their attempted tour. The fashion club, and other Lawndale High students try to go to Alternapaloosa as well.
Gesehen von 6 Usern
1x12 – Episode 12
Jake takes the family camping for a relaxing weekend getaway... if they can survive it. Trent and Jane are forced to attend a family reunion.
Gesehen von 6 Usern
1x13 – Episode 13
After an obnoxious local celebrity dies on a visit to Lawndale High, everyone seeks counsel from Daria about being miserable while Jane is being strangely distant.
Gesehen von 6 Usern
Quelle:
themoviedb.org