1x0 – Pilot
When a documentary team visits the retirement home where he works,kindly,simple, middle-aged Derek is delighted as he loves reality TV - especially Secret Millionaire - and has 35,000 autographs. Douglas,his co-worker and landlord,is less impressed. In the course of the day Derek falls into a pond,sets up his friend Hannah with a date with a handsome visitor and takes the death of a resident to heart.
Gesehen von 4 Usern
1x1 – Episode #1.1
Councillors seeking to make cuts visit the home with a view to its closure. They are unimpressed by Dougie's lack of training,Derek keeping tadpoles in a chamber pot and the discovery of sex-mad home hanger- on Kev in bed with an elderly lady. Derek believes that a petition should be got up and takes to the streets to rally support though it has little effect. Dougie's outburst however is rather more successful.
Gesehen von 4 Usern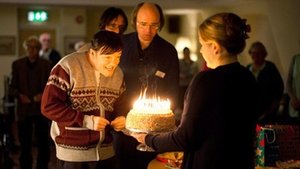 1x2 – Episode #1.2
Teen-ager Vicki arrives to work at the home as community service for stealing shoes from the shop where she worked. Obsessed with Victoria Beckham - whom she believes she resembles - she is initially reluctant to get on with her chores but the elderly residents win over her and she is thrilled when Hannah praises her work. It's Derek's fiftieth birthday and,as Hannah is giving him a party, he is anxious to ask for his favourite food and music. Dougie goes to the library to change the residents' books and takes Derek,who wants to look at books about cats,and Kev,who ...
Gesehen von 4 Usern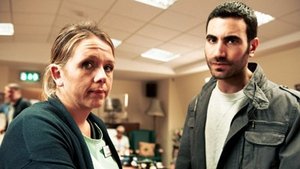 1x3 – Episode #1.3
Derek finds a baby bird that has fallen out of its nest and calls an ambulance but by the time it arrives the bird has died. Shelley,uncaring daughter of resident Marge,annoys Hannah as she clearly only visits to keep in with her mother so she can inherit her valuable ring. Hannah is dating Tom,son of another resident,but repeated crises mean she keeps standing him up. The latest emergency involves Marge who,aware she has not long to live,bequeaths the ring to Hannah and Tom so that they can afford to get married.
Gesehen von 3 Usern
1x4 – Episode #1.4
To raise money for the home Derek tries to sell autographs to a memorabilia shop but unfortunately cannot remember whose signatures they are. He cheers up as Dougie drives him,the residents and Kev for a day out on Broadstairs beach where,typically,Kev writes obscenities on crabs' shells. Back at the home Hannah welcomes new resident Jill Shaw and is less than pleased to find the old lady's daughter Rebecca is a former school-mate who looks down on Hannah for having a dead end job. When the day trippers return Rebecca is even more scathing but fortunately her mother ...
Gesehen von 3 Usern
1x5 – Episode #1.5
Hannah and the staff are planning a show for the residents. Derek is keen to try out his ventriloquism,despite his inability to pronounce the word,whilst Kev wants to put on his musical tribute to Duran Duran. Derek befriends new worker Deon,on Community Service for stealing trainers,who also bonds with fellow shoe thief Vicky. Come the night of the show Derek's act is appalling and Kev's contribution so bad the audience thinks it is a comedy and enjoys it for the wrong reasons. Fortunately Deon saves the day with his rap telling how he has come to respect the ...
Gesehen von 3 Usern
1x6 – Episode #1.6
Hannah tells Derek his long lost father Anthony has got in touch but Derek has no desire to see him,claiming that Anthony walked out on the family. Hannah is surprised that the usually placid Derek is so vocal in his argument. Resident Lizzie dies,causing Derek,Hannah,Dougie and Kev to reflect on their lives to camera. Anthony turns up at Lizzie's funeral and Derek,after initial rejection,is finally reconciled with him.
Gesehen von 3 Usern
Quelle:
themoviedb.com