1x1 – Episode One
BAFTA-winning sitcom Lyan's Boys script writers Sean and Beverly Lincoln are startled by US studio boss Merc Lapidus's offer to work on a remake in Hollywood. Sean persuades suspicious Bev, who is at least impressed by the grand, albeit fake, residence they get to use, despite the insufferably dull security guard. Their superb Shakespearian lead star Julian Bullard was supposed to be part of the deal, but Lapidus insists on a 'formality audition', which goes wrong on account of accent prejudices. The Brits are startled to hear the studio intends to sign up sitcom (...
Gesehen von 4 Usern
1x2 – Episode Two
Sean and Beverly are still reeling from the network's decision to cast Matt LeBlanc as the star of their show. But when they meet him at a swanky LA dinner party at Merc's house, Matt couldn't be more charming or flattering about their show. Unfortunately, over time the natural animosity between Matt and Beverly rises to the surface, and Beverly learns just how much you don't want the former Friend as an enemy.
Gesehen von 4 Usern
1x3 – Episode Three
Beverly can't stand Matt, and the feeling is mutual. As it's all she can do not to throttle the star of her show, she tells her husband, "He's yours." Sean and Matt end up spending the day together, including an extended adventure in Las Vegas. Soon the two guys are bonded, leaving Beverly feeling excluded by her husband's new bromance. Later, in a confrontation with Matt, Beverly learns just how "big" a star Matt LeBlanc actually is.
Gesehen von 4 Usern
1x4 – Episode Four
Sean and Beverly have to retrieve Matt from a seedy bar outside of LA so that the paparazzi waiting outside won't see him driving home drunk. What follows is an all-night road trip which takes the trio from a run-in with a paparazzo to Matt's ex-wife's house and finally to his son's bedroom, where Matt is forced to confront the mess he's made of his life. The transformative evening even manages to bring Matt and Beverly closer together. The question is: for how long?
Gesehen von 4 Usern
1x5 – Episode Five
Sean's infatuation with the lovely "Pucks!" actress Morning Randolph is given an opportunity to blossom when Matt invites the two of them to a charity benefit. Sean realizes that his attraction to her may be, in fact, mutual. Meanwhile, Beverly and Carol share a joint and commiserate about the men in their lives. At the end of the night, Sean has a difficult choice to make, and Beverly learns that she has more to worry about in regard to her husband and the actress than even she realized.
Gesehen von 4 Usern
1x6 – Episode Six
Convinced that Sean is having an affair with Morning, Beverly packs a bag and leaves, intending to head back to London. However, in her distress, she is unaware that she's driving on the left side of the road. Beverly doesn't realize her mistake until she has a head-on collision - a collision which leads her down a road with even more dire consequences.
Gesehen von 4 Usern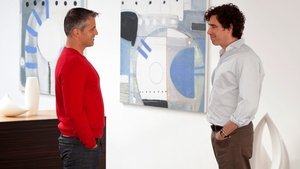 1x7 – Episode Seven
A final goodbye between Matt and Sean takes an unexpected turn involving a missing Jaguar, a red-nosed reindeer, and the smell of cinnamon.
Gesehen von 4 Usern
Quelle:
themoviedb.org