1x1 – Höhere Mächte
Als Rechtspsychologin hat Kristen schon viel erlebt, aber ihr neuester Fall hat es in sich: Sie soll für einen Gerichtsprozess einen Killer beurteilen, der angeblich besessen ist – zumindest behauptet das sein Verteidiger. Nach kurzer Zeit wird Kristin von dem Fall abgezogen. Doch dann kommt ein Vertreter der katholischen Kirche zu ihr und bittet die junge Frau um Hilfe. Gemeinsam versuchen sie, Licht in die Abgründe dieses Falles zu bringen. (Text: ProSiebenFun)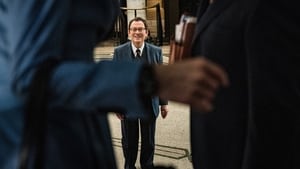 1x2 – 177 Minuten
David wird von der katholischen Kirche auf einen Fall angesetzt, bei dem ein junges Mädchen scheinbar von den Toten auferstanden ist. Kristen hilft ihm dabei. Kurz darauf erzählt der Staatsanwalt der Rechtspsychologin, dass Leland Townsend ihren alten Job erhalten hat. Kristen ist schockiert – und auch David fürchtet sich vor dem Schaden, den der manipulative Townsend anrichten wird. (Text: ProSiebenFun)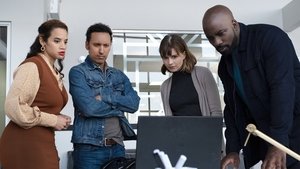 1x3 – Drei Sterne
Leland macht seine Drohung wahr und stellt Kristens psychologische Gutachten vor Gericht infrage. Dadurch soll ein 15-Jähriger nach Erwachsenenstrafrecht verurteilt werden. Als Leland im Zwiegespräch mit Kristen bestätigt, dass er mit seiner Einschätzung dem Teenager schaden will, ist für die junge Frau klar, dass sie ihren Nachfolger aufhalten muss. Zeitgleich untersucht sie mit David den Fall eines Mannes, der besessen zu sein scheint. (Text: ProSiebenFun)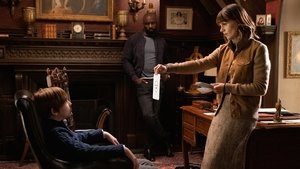 1x4 – Realität?!
Kristen besucht gemeinsam mit David und Ben einen Jungen, der immer wieder auf seine Familienmitglieder losgeht. Anfangs glaubt David, zu Eric durchdringen zu können, doch auf einmal reagiert er noch brutaler und wirft seine kleine Schwester in den Pool, um sie zu töten. Ein Exorzismus soll das Problem lösen, aber dann verschwindet Eric spurlos – und ein böser Verdacht kommt auf. (Text: ProSieben Fun)
1x5 – October 31
On Halloween night, Kristen and David are sent to assess an exorcism; Ben goes on his favorite show, where he debunks supernatural finds with fellow unbeliever Vanessa.
1x6 – Let x = 9
When the Catholic Church asks Kristen, David and Ben to assess the veracity of a local prophetess, Grace Ling, they are shaken when they see one of her visions come to life.
1x7 – Vatican III
When Bridget confesses to murder during her exorcism, Monsignor Korecki asks Kristen, David and Ben to investigate if the details match any open cases and if the woman really is possessed by a demon.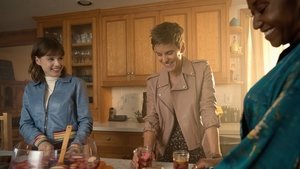 1x8 – 2 Fathers
When David recognizes one of the sigils in the Poveglia Codex from his father Leon's artwork, he and Kristen journey to a remote art commune to investigate its meaning and how it's related to David's family.
1x9 – Exorcism Part 2
David is shocked to learn he is being sued for inflicting severe psychological harm on Caroline Hopkins, after he assisted in her exorcism. The accusation leads him to question his future as a priest, especially once he develops a very close connection with his defense attorney, Renée Harris.
1x10 – 7 Swans A Singin'
Kristen, David and Ben are called to investigate an insidiously addictive Christmas song that's spreading among an increasing number of students, and the dangerous relationship between online influencers and their impressionable young followers.
1x11 – Room 320
After David is badly wounded, he is determined to fight off the menacing presence of death from his hospital bed.
1x12 – Justice x 2
Leland assists convicted serial killer Orson Leroux with having his conviction overturned; Kristen is called into court to testify while her daughter, Laura, undergoes emergency heart surgery; David witnesses a woman's evil instincts firsthand.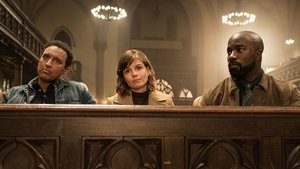 1x13 – Book 27
David, Kristen and Ben assess whether a pregnant woman is possessed when she claims one of the twins she's carrying is evil. Their investigation leads to a fertility clinic where they discover a connection to all of their encounters throughout the season. Also, Kristen questions one of her daughters' capacity for evil upon realizing that she also used that fertility clinic.
Quelle:
themoviedb.org