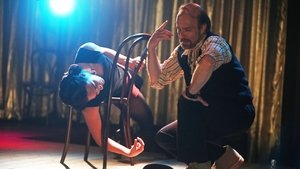 1x1 – Folge 1
Exploring the singular romantic and creative partnership between choreographer/director Bob Fosse and dancer Gwen Verdon.
1x2 – Folge 2
Rising Broadway star Gwen Verdon meets ambitious young choreographer Bob Fosse. Their lives will never be the same.
1x3 – Folge 3
As Gwen and Bob pursue separate projects, Gwen thinks back to the beginning of her career, and the circumstances that led her here.
1x4 – Folge 4
Bob's career takes some huge leaps, while Gwen struggles to overcome personal and professional setbacks.
1x5 – Folge 5
As old friends reunite for a weekend at the beach, new tensions emerge between Bob and Gwen.
1x6 – Folge 6
As Bob is pulled between multiple projects, he and Gwen begin rehearsals for Chicago, but the mounting pressure may prove too much to bear.
1x7 – Folge 7
Gwen fights to assert her own creative vision on Chicago, challenging Bob's increasingly dark approach to the musical.
1x8 – Folge 8
Gwen looks ahead to an uncertain future, as Bob tells the story of his life on film.
Quelle:
themoviedb.com