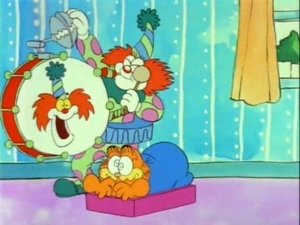 1x1 – Folge 1
Peace and Quiet: Garfield tries to sleep after watching TV all night; but Binky the Clown refuses to go away, believing he's at the home of a 97 year old woman to wish her a happy birthday. Wanted Wade: While Orson goes to shut off Roy's new stereo, which can't stop playing rooster crows, Wade Duck tears a law label from underneath Orson's sofa and fears he will be sent to prison for it. Garfield Goes Hawaiian: Garfield contracts a disease called the Hawaiian Cat Flu which makes him dance anytime something Hawaiian is mentioned.
Gesehen von 1 User
1x2 – Folge 2
Box O' Fun: With a cardboard box and his imagination, Garfield gets into a lot of trouble with Jon. Unidentified Flying Orson: Knowing Orson tends to believe everything he reads, Roy preys on a nervous Orson when he's absorbed in a book about alien invasion. School Daze: Jon gets fed up with Garfield's bad behavior and sends him to obedience school where the biggest obstacle is the trainer.
Gesehen von 1 User
1x3 – Folge 3
Nighty Nightmare: After consuming a whole pizza and being warned by Jon that he'll have nightmares from it, Garfield dreams he overeats and becomes too big to feed. Banana Nose: When Roy pulls a prank on his friends, they retaliate by calling him Banana Nose to the point he leaves the farm. Ode to Odie: Garfield recites a poem about Odie wandering away from home and encountering some tough dogs in the mean part of town.
Gesehen von 1 User
1x4 – Folge 4
Fraidy Cat: Garfield and Odie are spooked when the power goes out after watching a monster movie and they find out Jon is missing. Shell Shocked Sheldon: Orson and his friends convince Sheldon to return to the chicken coop to become fully hatched. Nothing to Sneeze At: Jon takes Liz out on a date but must put up with an allergic Garfield and his constant sneezing.
Gesehen von 1 User
1x5 – Folge 5
Garfield's Moving Experience: Garfield presses his luck with Jon too much and gets thrown out of the house. He decides to go live somewhere else and gets adopted by a rich girl. Wade, You're Afraid: Orson is fed up with Wade cowering over every little thing and hypnotizes him to be brave. Good Mousekeeping: A mouse, Floyd, encounters Garfield and takes for granted living with a cat who doesn't chase mice.
Gesehen von 1 User
1x6 – Folge 6
Identity Crisis: A dogcatcher thinks Garfield's a dog, Floyd starts meowing and the dog chasing Garfield works on his mouse impersonation. The Bad Sport: Orson convinces everybody to try a new sport called pig ball, unaware that Roy has put a bunch of fake rules in the game book. Up A Tree: Garfield gets thrown out of the house when Nermal comes to visit; hears a tree calling to him and jumps up it, but then can't get down.
Gesehen von 1 User
1x7 – Folge 7
Weighty Problem: Garfield tampers with a new scale leading Jon to believe he's 50 pounds overweight. As the Worm Turns: Orson tells a story about how Booker gave up hunting worms. Good Cat, Bad Cat: Garfield is at war with himself when his good and bad sides tell him what to do.
Gesehen von 1 User
1x8 – Folge 8
Cabin Fever: Garfield and Odie are stuck in a cabin during a blizzard with no food. The Return of Power Pig: A rumor says there's a monster on the farm; calling for Orson to make his return as Power Pig to destroy the monster. Fair Exchange: Garfield and Jon both dream about what it's like to be the other.
Gesehen von 1 User
1x9 – Folge 9
The Binky Show: Garfield goes on the Binky show to win presents for Jon's birthday. Keeping Cool: Bo tries to teach Orson how to keep his cool even though his brothers are coming. Don't Move! Garfield tells Odie not to move from his spot but due to events beyond his controls, goes on a long adventure.
Gesehen von 1 User
1x10 – Folge 10
Magic Mutt: Jon and Garfield go to a magic shop and Garfield gets into a battle with the magician's dog. Short Story: Booker's anxious to prove to everybody on the farm he's not too small to help. Monday Misery: Garfield is so desperate to escape Monday that he mails himself to Samoa.
Gesehen von 1 User
1x11 – Folge 11
Best of Breed: After seeing how many medals Nermal has won, pushes Jon to put him in a cat show. National Tapioca Pudding Day: Roy gives a box of booby trapped tapioca pudding to Orson telling him it's a national holiday, not counting on Orson to pass his gift along to his friends. All About Odie: Garfield puts together a presentation on Odie.
Gesehen von 1 User
1x12 – Folge 12
The Caped Avenger: Believing Pooky's been kidnapped, Garfield turns himself into a super hero and Odie becomes his sidekick in the search for the teddy bear. Shy Fly Guy: Wade encounters Fred Duck, whose teasing pushes him to try and overcome his fear of flying. Green Thumbs Down: Appalled at the grocery bill, Jon decides they should grow their own food.
Gesehen von 1 User
1x13 – Folge 13
Forget Me Not: Garfield gets hit with a lasagna pan and becomes a polite, health conscious feline. I Like Having You Around: Orson writes in his diary about Bo and Lanolin having a fight that caused Bo to leave the farm. Sales Resistance: Jon warns Garfield against buying anymore useless junk, but Garfield has trouble getting rid of a persistent elephant repellent salesman.
Gesehen von 1 User