1x1 – Folge 1
After almost getting killed by a pedophile serial killer, ex cop turned P.I. Frank Taylor, whose life fell apart when his son vanished, realizes that he can now see the dead, but the dead can also haunt him. One more boy needs to be found.
Gesehen von 2 Usern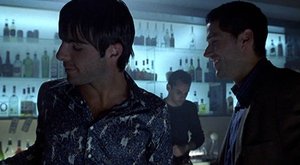 1x2 – Folge 2
Frank looks for a missing teenage girl with some ghostly assistance. His search takes him to an underground club and the band "Geievous Angels". Linda Rondstat provides a score, of sorts, with her beautiful old song "Long Long Time" which held some significance to the missing girl.
Gesehen von 2 Usern
1x3 – Folge 3
Frank hunts a serial killer who targets women in motels.
Gesehen von 1 User
1x4 – Folge 4
Frank's former police colleague asks him to look into a ritualistic murder that resembles the one he thought he had solved years before in New Orleans.
Gesehen von 1 User
1x5 – Folge 5
The ghost of a blind army veteran leads Frank to a crime scene, temporarily blinding him in the process.
Gesehen von 1 User
1x6 – Folge 6
Frank is accused of attempting to murder a woman he has never met.
Gesehen von 1 User
1x7 – Folge 7
Frank sees Jess with her colleague. Later, after a car accident on a dark country road, Frank is taken in by a young girl and her reclusive parents who turn out to be ghosts still caring for their daughter.
Gesehen von 1 User
1x8 – Folge 8
The ghost of a woman seeks her husband and the hitman he hired. Also, Frank's nemesis Simon, the serial killer from the first episode, returns.
Gesehen von 1 User
1x9 – Folge 9
Fellow lawyer Nicholas Trenton goes to Jess' house for a date and Simon invades his body. Trenton/Simon later attacks Jess and Frank is able to rescue her and eject Simon from the lawyer.
Gesehen von 1 User
1x10 – Folge 10
Frank befriends a ghost trapped in limbo between the world of the living and the afterlife.
Gesehen von 1 User
1x11 – Folge 11
Frank infiltrates a psychiatric facility in order to find a missing person.
Gesehen von 1 User
1x12 – Episode #1.12
Gesehen von 1 User
1x13 – Nexus
Gesehen von 1 User