1x1 – Ich bin Kuroko
While recruiting for the basketball club, the Seirin Private High school has managed to pick up some impressive players; a power house, former American player, and a member of the "Generation of Miracles.
Gesehen von 4 Usern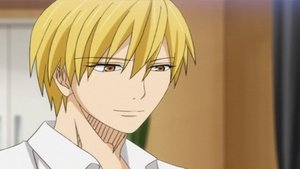 1x2 – Ich meine es ernst
Before anyone can become an official member of the Basketball Club, they first must do display courage. Afterwards, a surprising guest appears on the school grounds with a shocking offer.
Gesehen von 4 Usern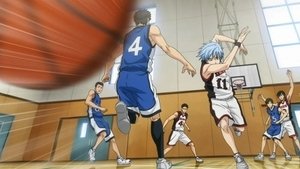 1x3 – Es ist besser, wenn ich nicht gewinnen kann
Seirin basketball club is playing a practice game at Kaijo High School, the school where Kise attends. After a display of power from Kagami, it forces the Kaijo coach to take Seirin serious.
Gesehen von 4 Usern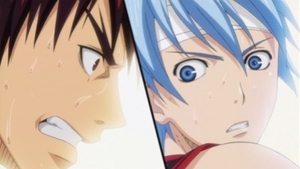 1x4 – Hoff du magst meinen Gegenangriff!
Kuroko gets injured in the second quarter during the match forcing the 2nd year players to show their team chemistry with shooting and defense. Halfway through the fourth quarter Kuroko comes back in and leads Seirin's balanced attack to tie up the score. With 12 seconds remaining the score is 98 all, and Kaijo has the ball. Can Seirin find a way to finally defeat Kise and Kaijo?
Gesehen von 4 Usern
1x5 – Dein Basketball
After a shocking 100-98 win, the Seirin team celebrates with steak. Kise seeks out Kuroko to learn why he left the middle school team after they won the championship. Kagami learns his skills will continue to evolve to where he can face the generation of miracles, but when Kagami, Kise, and Kuroko see some thugs harassing street ball players, they decide to intervene and see who is stronger in a 3-in-5 match.
Gesehen von 4 Usern
1x6 – Lass mich dir zwei Dinge erklären
The Inter-High Basketball Tournament begins with Seirin facing Shinkyo Academy. Shinkyo has brought in a foreign player who is taller than anyone and can score almost at will. To combat this, Kagami is forced to go through man-to-man defensive training and Kuroko is forced to go through endurance training. The foreigner sees Kuroko as a player and says the Generation of Miracles must be weak to lose to a team with a child on it. As the game progresses, Kagami promises the foreigner two things will happen before the game is through: 1) Kagami will block one of his shots and 2) Kuroko will give him a hard time because of his size and skills.
Gesehen von 4 Usern
1x7 – Du wirst etwas einmaliges sehen
After their win over Shinkyo, Seirin goes on to crush their next few opponents. Realizing too much confidence is brewing, the team is taken to watch a Shutoku match. After seeing how Shutoku, one of the three Emperor teams of basketball, dominates their opposition, the team realizes they have a long way to go if they are to improve and contend for the title.
Gesehen von 4 Usern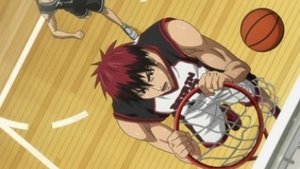 1x8 – Jetzt, da ich daran denke
Seirin takes on Seiho, a squad built around an invincible defense. The unorthodox manner in the way Seiko moves is finally understood, but it may be too late. Will Seirin's streak finally be shutdown?
Gesehen von 4 Usern
1x9 – Gewinnen
Seiho's freshman brags about how the previous year they were up by 20 at the end of one, so it's his goal to put them up by 30. Instead Kuroko and Kagami start using plays to get around the d. At the end of 1 quarter the score is tied at 19. Halfway through the second Kagami picks up his fourth foul. Kagami and Kuroko are both subbed out, and the seniors start using their specialty skills. In the fourth quarter a light concussion sends one of Seirin's seniors back to the bench. Kuroko subs in and promise to get revenge for Kagami. Seirin trails by 6 with just over 5 minutes to play. What will the final result be?
Gesehen von 4 Usern
1x10 – Ich kann das nicht haben
Kuroko has rejoined the game in the final moments, but it seems that one of the players has him figured out. Seirin is playing hard, but if they win, will they have the strength to play a 2nd game
Gesehen von 4 Usern
1x11 – Das ist es nicht
Seirin is holding their own against Shutoku, but in the 2nd half Midorima and Takao's abilities are unleashed, shutting down Seirin's game completely
Gesehen von 5 Usern
1x12 – Was ist "Sieg"
The pressure of the game is causing Kagami skills to rapidly increase; he continues to score keeping Seirin in the game. But his thoughts are turning darker and self-serving
Gesehen von 4 Usern
1x13 – Ich habe an dich geglaubt
Kagami begins to tire allowing Midorima to once again be a danger from the outside. However Kuroko's pass has evolved, and his shadow technique also reaches new heights, revealing his new Ignite Pass. Seirin rallies to take the lead with 3 seconds go setting up one final showdown between Midorima and Kagami, a showdown which Kuroko has expected and which will decide the game. Kagami wins it, but Midorima goes up for one last shot. Kagami is unable to stop it, but Kuroko is and Seirin takes the win.
Gesehen von 4 Usern
1x14 – Du siehst aus wie er
After winning the tournament, Seirin runs into old friends and a couple of rivals they had just beaten at a local restaurant. 3 of the Generation of Miracles are reunited at the same table, Kise, Midorima, and Kuroko. Midorima gives Kagami a warning about the 4th member of the Generation of Miracles, and Kuroko finds a dog that he adopts and that the team names Tetsuya #2. Seirin begins practicing for the next tournament when Kagami is approached by Aomine and Kuroko is approached by Momoi.
Gesehen von 4 Usern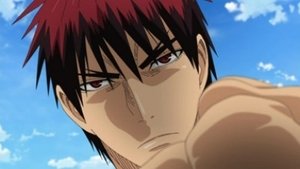 1x15 – Das ich nicht lache
Kagami is suspended from practice until the Tōō game after they learn he played against Aomine. Kuroko tells Kagami the story of the Generation of Miracles and how Aomine was the first one to bloom. The Interhigh preliminaries final league begin with Tōō vs. Seirin as the first match. Aomine falls asleep at school and wakes up just as the game is about to begin. He promises to make it by the second half. Seirin decides to go full out early on and get a big lead so Aomine can't catch up, but after Kagami wins the tip, Imayoshi steals the ball and goes on a fast break. Sakurai gets an early 3 to go up 3:0.
Gesehen von 4 Usern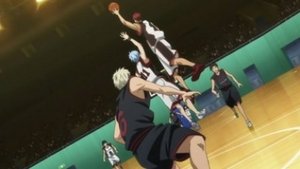 1x16 – Auf gehts
Even without Aomine, Tōō High gets out to an early lead because of the scouting and predictions Momoi has done. Momoi admits she can't predict Kuroko's play or Kagami's height, but she believes Tōō will get an easy win. After trailing by 10, Seirin starts breaking out new moves and cuts the lead down to 25 – 21 when Riko realizes Kagami is still injured. She pulls him off the court and tapes him up, admitting her own weakness at bringing out others potential and allowing Tōō to get up by 8 points again. Kagami is finally taped up fully with :51 seconds left in the 2nd quarter. Just as he is about to be inserted Aomine arrives. Tōō's coach tells him to get ready to play in the second half when Aomine pulls off his shirt and reveals he is already in full uniform and ready to go. The showdown between Kagami and Aomine is about to begin.
Gesehen von 4 Usern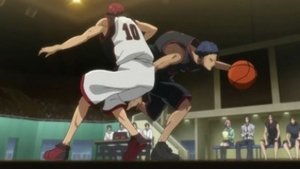 1x17 – Ihr seid alle Lächerlich!
The final 10 seconds of the first half feature a block from Kagami on Aomine and then a blocked fast break. During halftime, Seirin decides they must bench Kuroko so he can regain some strength, forcing Kagami and Aomine into a one-on-one battle. Aomine displays amazing speed but realizes he can't play honest ball against Kagami if he is to be successful. He breaks out solo street-ball movements that no one on Seirin can stop and then taunts Kuroko telling him to get ready to come on out.
Gesehen von 4 Usern
1x18 – Nein!!
Aomine's skills and erratic pace force Seirin to fall 20 points behind 5 minutes into the 3rd quarter. Kuroko is subbed back in and Seirin cuts the lead down to 15 points, but then Aomine intercepts the Ignite Pass. Kagami's strong leg begins to act up, so he is subbed out. Riko says that Kagami has avoided using his injured leg, and now his good one is about to collapse. As a result Kagami is benched for the rest of the tournament, all 3 days of it. With Seirin down by 40, Aomine begins taunting Tetsu about having never changed and not having improved. Kuroko's determination gives Seirin some slight new light, and his teammates begin to evolve with the determination to never give up. However Tōō Academy is simply too strong and Seirin falls 112-55.
Gesehen von 4 Usern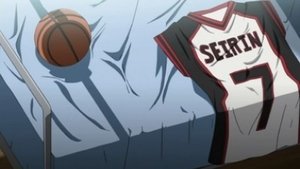 1x19 – Auf zu einer neuen Herausforderung
Seirin loses to Tōō High by an incredible margin. Back in the locker rooms Aomine defends Kuroko (who is being talked bad about by one of the bench warmers) and Kagami tells Kuroko that he doesn't think that working together will help them win anymore. Kagami is benched for the next two matches due to leg damage and Kuroko hits a slump, his passes becoming inaccurate. Seirin loses both games effectively kicking them out of the Interhigh tournament. Seirin's last chance of redemption is the Winter Cup but with nobody has recovered from their previous loss to Tōō High. With Kagami playing by himself again, and the unease between him and Kuroko things aren't looking so good. Seirin's former ace and founder of the basketball club shows up with words of encouragement for Kuroko and a challenge for Kagami.
Gesehen von 4 Usern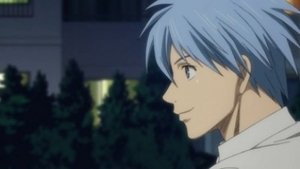 1x20 – Ich will nicht so sein
Know what this is about? Be the first one to add a plot.
Gesehen von 4 Usern
1x21 – Lasst und anfangen
Know what this is about? Be the first one to add a plot.
Gesehen von 4 Usern
1x22 – Ich werde gewinnen, auch wenn es mich umbringt.
Know what this is about? Be the first one to add a plot.
Gesehen von 4 Usern
1x23 – Nicht erwachsen
Know what this is about? Be the first one to add a plot.
Gesehen von 4 Usern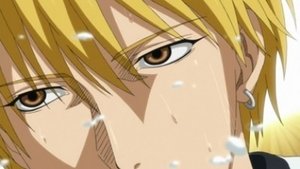 1x24 – Versteh' das nicht falsch
Know what this is about? Be the first one to add a plot.
Gesehen von 4 Usern
1x25 – Unser Basketball
Know what this is about? Be the first one to add a plot.
Gesehen von 4 Usern
Quelle:
themoviedb.org