1x1 – Unruhige Zeiten
At 4616 Melrose Place, a garden apartment complex in Los Angeles, a group of eight 20-something people try to get by in life any way they can. Alison Parker looks for a new roommate after her previous one leaves her in the dead of night without money for the rent. Billy Campbell arrives and charms his way into moving in with Alison, even though he gets on her nerves and has no money for the rent. At Alison's job as a receptionist at D&D Advertising, she finds herself receiving unwanted attention from her boss, Hal Barber. Michael Mancini is the building manager and an...
Gesehen von 3 Usern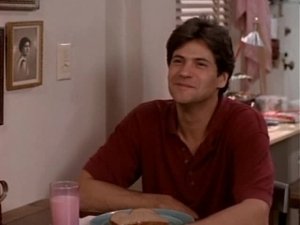 1x2 – Freunde und Liebschaften
While moonlighting as a taxi driver, Billy picks up a young dental student, named Marcy, and she practically moves in with him which frightens him and makes Alison jealous. Meanwhile, in a continuing cross-over from "Beverly Hills, 90210", Jake is still being pursued by Kelly who has a crush on him. When Jake gets arrested for getting into a fight at an unemployment office, Kelly bails him out of jail and still goes after him despite learning of his "colorful" police record. Jane experiences a crisis when Michael can't remember when he fell in love with her.
Gesehen von 3 Usern
1x3 – Befreiungsversuche
Jane feels lonely when Michael has no time for her when he comes home late every evening. So, Rhonda takes her out to Shooters where they meet two guys and proceed to go to the limits for a night on the town, until Jane loses her wedding ring. Billy finishes his first script and shows Alison. But she thinks it's awful and doesn't have the nerve to tell him the truth. Meanwhile, Jake finally decides to make a clean break when he invites Kelly over for dinner at his place and sets up a scene with an actress friend of Sandy's which makes him look very ugly to Kelly. ...
Gesehen von 3 Usern
1x4 – Büroromanzen
Alison starts dating a new co-worker who plans to steal her ideas for a sunscreen campaign that Lucy Cabot, Alison's supervisor and vice president of D&D, is working on. While working at a Cappuccino Shop, Jake meets Perry, a former girlfriend of his who persuades him to make a semi-legal deal with the rock group, "LA-Guns," in selling them a painting, which Jake shall paint. Meanwhile, Rhonda wants to help Matt in cooking a great meal at the homeless shelter where he works. But Rhonda angers him when she cancels her plans at the last minute when she has to teach ...
Gesehen von 3 Usern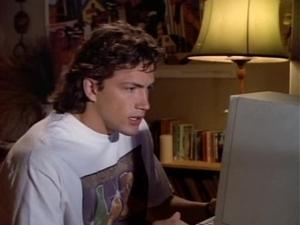 1x5 – Reifetest
Jane discovers that she's pregnant, but she doesn't want to tell Michael since he has previously told her that he doesn't want children so early in their marriage. So, Jane considers getting an abortion. Meanwhile, Billy tries to get a job as a column writer at a newspaper agency and decides to write an article on Bungee Jumping. So, he gets Jake and Matt to go out with him for the experience, but he himself chickens out at the last moment.
Gesehen von 3 Usern
1x6 – Jeder auf seine Art
Rhonda is reunited with her old friend, Theresa, who is now with a traveling dance troupe and who inspires Rhonda to try out for the company again since Rhonda flaked out at a rehearsal years ago. Meanwhile, Jake asks Alison to help him study for his G.E.D. He's embarrassed and asks her to keep it a secret. The next morning, the rest of the tenants see her leaving Jake's apartment and wonder if something romantic happened.
Gesehen von 3 Usern
1x7 – Seltsame Beziehungen
Sandy auditions and gets a small movie role in a horror flick. But Rhonda becomes concerned that Sandy may let success go to her head when she annoys Rhonda and everyone else. Meanwhile, Billy tricks Alison into going out with him to visit his parents, where his father puts pressure on Billy to help with the family business of selling furniture at his store.
Gesehen von 3 Usern
1x8 – Einsame Herzen
Sandy meets a guy while out shopping and goes on a date with him. After Sandy rejects him, he turns into an obsessed psycho, stalks her and even breaks into her apartment. Jake tries to help by beating the guy up, but Sandy gets angry at Jake's meddling with her life. Meanwhile, Alison wants to buy a new car, but has more problems selling the old one "Betsy," which she is attached to.
Gesehen von 3 Usern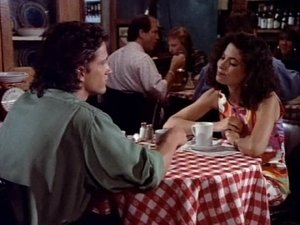 1x9 – Verantwortlichkeiten
Alison has some opinions about Billy's relationship with an older woman, who is a stand-up comedy actress, when she asks Billy to babysit for her 8-year-old son. Meanwhile, Jake and Sandy negotiate a date just to demonstrate that sex is not all they think about. When it fails, Jane and Michael play cupid to get them back together.
Gesehen von 3 Usern
1x10 – Überfälle
Billy gets robbed by some black hoods while driving his taxi around downtown Los Angeles one night. When the police don't take an interest in his case, he investigates himself to find the muggers, much to the worry of Alison, while racist comments from him make Rhonda angry and she has to teach him some lessons about black people in America. On Jake's birthday, he is visited by his long estranged mother Stella Rivers, who annoys him greatly. Meanwhile, Jane and Michael attend a boring Lamaze class.
Gesehen von 3 Usern
1x11 – Falsche Versprechungen
Jane's baby is checked via ultrasound and it turns out to be stillborn and she has to get an abortion, which is a emotional setback for her and Michael. Sandy tries to cheer up Jane with a little stray dog she found at the beach who runs away, while Michael confides his frustrations with his co-worker, medical intern Kimberly Shaw. Meanwhile, Billy and Alison go head-to-head over the right to privacy in the apartment.
Gesehen von 3 Usern
1x12 – Episode 12
Just as Alison's new career at D&D takes off, she meets a marine biologist named Keith Gray, and falls for him immediately. But she is hurt when she discovers that he is married. Meanwhile, Billy has some stress with paying off a $2,000 student loan that he took while at college and blew off, although his college tuition was paid by his parents.
Gesehen von 3 Usern
1x13 – Träume werden wahr
Alison continues her torrid affair with Keith, although she is under stress from her conscience and her friends because he is married and under major stress at work for arriving late and leaving early. Meanwhile, Matt gets beaten up on a dark street at night by gay bashers after he is followed by his assailants from a gay bar. When Matt's boss finds out that he's gay, he immediately fires him. So, Jake persuades Matt to sue his former boss. Sandy is discovered by a talent agent for a TV soap opera in New York and flies off to the east coast, leaving Melrose forever.
Gesehen von 3 Usern
1x14 – Schlußstriche
Keith's wife shows up and although he keeps reassuring Alison that he will divorce her, Alison decides to break up with him. Meanwhile, Rhonda finds a new roommate, named Carrie, after Sandy moves out. But she is overly hygienic and gets on Rhonda's nerves. Matt wants to hire a lawyer for the lawsuit against his former boss, but he has problems to pay the required advance of $5,000, so he tries borrowing from his parents, then selling his car, and more.
Gesehen von 3 Usern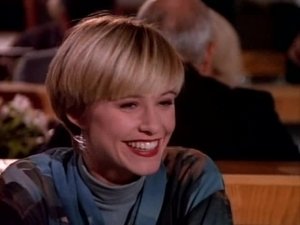 1x15 – Episode 15
Jo Reynolds, a mysterious photographer from New York City, arrives and moves into Rhonda's apartment for herself while Rhonda moves to a single apartment. Alison, still recovering from her breakup with Keith, befriends Jo in which the two ladies go out that night to Shooters, and end up scamming two bar creeps at billiards. Jake immediately takes a liking to her. Meanwhile, Michael and Jane become friends with another doctor and his wife, until Jane discovers the wife is being abused.
Gesehen von 3 Usern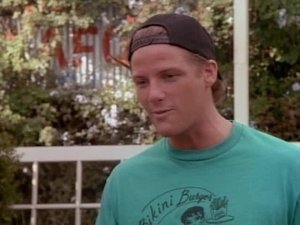 1x16 – Die ganze Wahrheit
When Jo hits financial hard times, Jake offers to help her. But she rudely blows him off and starts acting crazy when he asks too many questions. Things come to light when Jo tells him about her leaving her alcoholic husband in New York. Meanwhile, Jane loses her job when the boutique shop she works in goes out of business. But when she is hired as a clothing designer by Kay Beacon, the head designer at a prestigious company, Jane puts off getting pregnant again. Matt continues his legal threads and when he is offered a nice settlement and his job back, he drops the ...
Gesehen von 3 Usern
1x17 – Ohne Geld keine Heilung
Jake gets visited by Colleen, another former girlfriend, who informs him that she has a four-year-old boy that may be from him and wants his permission to get it adopted by her current husband. Meanwhile, Alison falls ill and it turns out to be a benign tumor on her uterus that needs to be removed. But she has no health insurance and not enough money to pay for herself. Jo learns about Alison's health problem and offers her a solution. Also, Rhonda meets a wealthy restaurant owner, named Terrance Haggard, and immediately starts dating him.
Gesehen von 3 Usern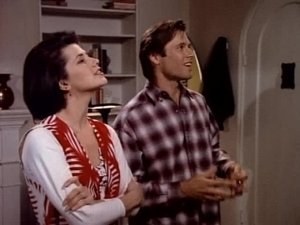 1x18 – Weihnachtsgefühle
Alison gets her operation and she goes home to recover while Billy takes care of her and becomes overprotective. While Jake tries to get intimate with Jo, she says that she needs time to think about it, while he helps her overcome her depressing past against Christmas. Rhonda decides to go on a skiing trip to Aspen with Terrance. Meanwhile, Matt prepares a holiday meal for the tenants, while trying to make up with his estranged father whom has always disapproved of Matt being gay and open about it. While Jane is out of town, Michael is divulged with hospital patients ...
Gesehen von 3 Usern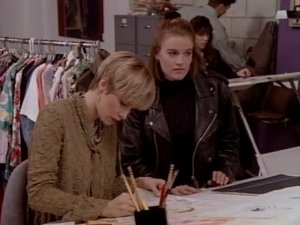 1x19 – Die Laus im Pelz
Sydney Andrews, Jane's wild and outgoing younger sister, arrives in town for a surprise visit and immediately gets on her nerves when Sydney (jealous of Jane's successful life) moves into her life and job. Meanwhile, Rhonda and Terrance have an argument about their social differences, but it ends when he proposes marriage to her. Jo and Jake have a crisis because she won't accept his motorcycle as a present, while she becomes nervous when she starts receiving phone calls and letters from her ex-husband who is in town trying to find her. Alison must find a date for an ...
Gesehen von 3 Usern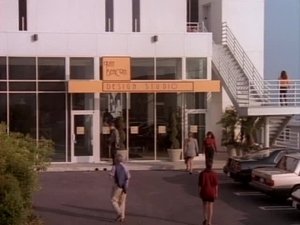 1x20 – Alles aus Eifersucht
Jo's ex-husband, Charles, arrives and tries to tell her that he has quit drinking, while Jake has problems keeping his distance from Jo while her husband is there. Meanwhile, Jane and Sydney's personal conflict escalates to Sydney almost ruining a surprise birthday party for Jane, causing Jane to ask Sydney to leave. Also, Billy ends up getting dumped after agreeing to escort Alison to an important business party when she leaves with another guy.
Gesehen von 3 Usern
1x21 – Heiße Bilder, kalte Duschen
Alison is promoted from receptionist to junior account executive and is aided by her new colleague Amanda Woodward, D&D's ambitious art director. Alison's first assignment is to find a photographer for an underwear account and hires Jo, who does a very professional job, but she shoots a few daring photos of the model which Alison knows won't please the client. Meanwhile, Michael sets Billy up on a blind date. But she becomes annoying and Billy tries to get rid of her. Terrence presents Rhonda with a house where he thinks they should live in after they are married. ...
Gesehen von 3 Usern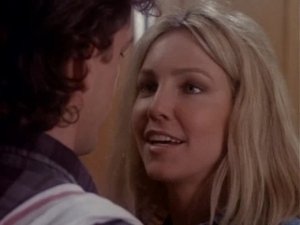 1x22 – Drei sind einer zuviel
Amanda invites Alison and Billy over at her father's lake house for the weekend where she and Billy are instantly attracted to each other, making Alison worry that Amanda's relationship with him could impair working conditions at D&D. Meanwhile, Rhonda and Terrance reconcile with a little bit of Matt's help. Also, Jo and Jake's relationship finally heats up.
Gesehen von 3 Usern
1x23 – Partnerschaften
Alison continues to be jealous about Billy seeing Amanda, until her old boyfriend Keith, now divorced, suddenly shows up to ask her to reconcile. Meanwhile, Jake is laid off when the motorcycle repair shop he works in goes out of business. He looks into buying the shop for himself when Jo offers to help him buy the place with her divorce settlement money.
Gesehen von 3 Usern
1x24 – Billy zieht aus
Alison seeks mental support from Keith after his car is hijacked from her at gunpoint. Amanda introduces Billy to her father Palmer, while Billy grows more distant from Alison and decides to move in with Amanda at her high-rise apartment in Marina Del Ray. Meanwhile, Rhonda becomes concerned after Terrence hires an interior decorator, who happens to be her ex-roommate Carrie, especially when she makes a move on him. Also, Jo shows Alison and Jake her special 9mm handgun she always keeps on her which makes them, especially Jake, uncomfortable.
Gesehen von 3 Usern
1x25 – Krieg der Geschlechter
Billy and Amanda's cohabitation is threatened by quarrels over their tastes, where as Billy is practical with their living arrangements, Amanda is possessive and is used to getting things done her way. Meanwhile, Alison decides to leave town and go live with Keith in Seattle after he takes a job there. Sam, an old friend of Michael's, makes a move on Jane, and when Michael accidentally finds out, he coldly blows off both Sam and Jane.
Gesehen von 3 Usern
1x26 – Alison kehrt zurück
After Billy's father suddenly dies from a massive heart attack, his older sister, Celeste, arrives in town and tries to convince him that his father really did love him. Alison arrives from Seattle for the funeral and finds that her home is in Los Angeles. Meanwhile, Rhonda is still steaming with envy when Carrie continues to try to win Terrence's affections. Also, Michael helps Kimberly with her plumbing problem in her apartment and must resist temptation to her.
Gesehen von 3 Usern
1x27 – Noch einmal gutgegangen
Jake gets visited again by his ex-girlfriend Perry, who tells him that she has AIDS. Jake panics and tells Jo so they can both take an AIDS test to make sure they don't have it. Meanwhile, Billy lies a little on his job resume and gets a job as a column writer at a prestigious magazine called Escapades. Alison asks Lucy and Amanda if she can have her old job back at D&D. A sympathetic Lucy agrees, but Amanda does not approve of Alison's presence because she thinks that Alison has feelings for Billy.
Gesehen von 3 Usern
1x28 – Es knistert an allen Ecken
Billy is quickly promoted to staff writer at Escapades Magazine and thinks that his boss and supervisor, Nancy Donner, is coming on to him. Amanda (jealous over Alison's blossoming relationship with Billy) starts to make Alison miserable at D&D by constantly putting her down and criticizing her work. Meanwhile, Michael finds himself drawn to Kimberly and considers something more than the friendship they have together.
Gesehen von 3 Usern
1x29 – Unflotter Dreier
Lucy announces that she is engaged to be married. During Lucy's office engagement party, Alison watches Amanda flirt with Billy and begins questioning her own feelings for him. Meanwhile, Michael and Kimberly continue their torrid affair, but when Alison accidentally finds out, she quarrels with Michael and herself over whether or not to tell Jane. Also, Jake has a problem with paying $8,400 to the IRS for his bike shop, until Jo offers him a less-than-legal shortcut.
Gesehen von 3 Usern
1x30 – Der Tag der Wahrheit
Alison is invited by Lucy to a business retreat in Palm Springs, where Billy follows her there wanting to end their platonic relationship with a hot night together. But the jealous Amanda learns of their plans and becomes determined to keep them apart... but fails. Meanwhile, Jake is upset when Jo has no time for him when she goes on more photo assignments and at nightclubs after work with a model named Karen and her friends. Also, Jane begins to suspect Michael's infidelity with Kimberly. But despite Jane's stern questioning about Michael if he's having an affair, he...
Gesehen von 3 Usern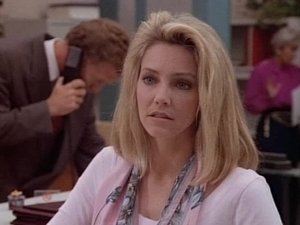 1x31 – Kein Glück in Sicht
Billy learns that Amanda is pregnant with his baby and is torn between his responsibility to her and his feelings for Alison. Meanwhile, Jo and Jake are persuaded by Karen to go out with her for a night on the town, where she gets drunk and makes a pass on both of them. After finding out of his infidelity, Jane throws Michael out of their apartment and forces him to see a marriage counselor with her. But the marriage counseling soon reveals Michael's long-repressed sociopath side when he denies having any problems with his marriage to Jane.
Gesehen von 3 Usern
1x32 – Psychoterror
In the ninety-minute season finale, Amanda's pending promotion to replace Lucy as vice-president of D&D is put in jeopardy because of her pregnancy, until she miscarries. Meanwhile, Alison's old boyfriend, Keith, inconspicuously returns to Los Angeles and when he sees her with Billy, he starts to send her threatening mail and attacks Billy. Alison starts drowning her fears and sorrows with hard liquor. Jo gets arrested for carrying a concealed weapon while she and Jake are trying to decide whether or not to live together after learning of the Melrose complex being put...
Gesehen von 3 Usern
Quelle:
themoviedb.org