1x1 – Die Castingshow - Teil 1
Pinkie Pie auditions for the TV cooking competition Royal Jelly Juggernaut, but her friends are unable to help her when they face problems of their own.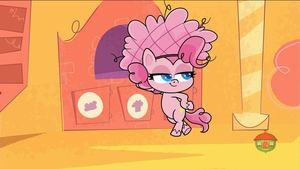 1x2 – Die Castingshow - Teil 2
Rainbow Dash's competitive spirit is put to the test when a new pony challenges her to a contest unlike any other. Rainbow Dash faces off against Dishwater Slog in a loser-take-all race to finally prove which pony is truly the worst.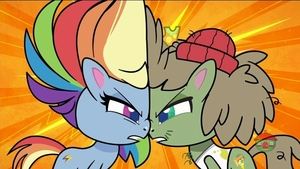 1x3 – Schlecht-schlechter-am besten - Teil 1
When Applejack's hat becomes a fashion craze, she turns to group of ponies that reject the norm to get a new look.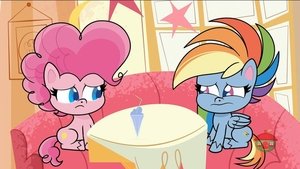 1x4 – Schlecht-schlechter-am besten - Teil 2
Fluttershy makes a new friend called Bubbles, but then realizes that he isn't all that he seems.
1x5 – Liebesgeschichte mit Hut - Teil 1
Rarity tries to get rid of her bad luck before it can ruin her relationship with a new friend. As Rarity continues to deal with her bad luck, she receives some much-needed advice.
1x6 – Liebesgeschichte mit Hut - Teil 2
Pinkie struggles to help out her friends as she prepares for the finale round of the Royal Jelly Juggernaut. As she enters the final round, her friends rally behind her.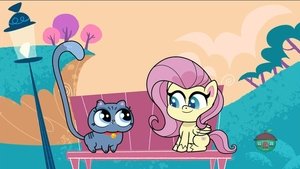 1x7 – Achtung niedlich - Teil 1
When Fluttershy's friends discover that they can't be a troop because of an age cut off they hide it from her fearing her reaction. It's cookie season and Fluttershy goes crazy, can her friends confront her before it's too late?
1x8 – Achtung niedlich - Teil 2
Fluttershy wants to find bighoof and earn a badge. Rainbow learns that she needs to take her time after seeing a dystopianish type future.
1x9 – Alle schlechten Dinge sind drei - Teil 1
Rainbow and Twilight get so competive that it effects the pets race. Rarity accidentally makes her best friends disapper.
1x10 – Alle schlechten Dinge sind drei - Teil 2
When the intrusions are too complicated can Twilight find away to build something and earn a badge. Fluttershy risks her friends lives in hopes of Discord tagging along.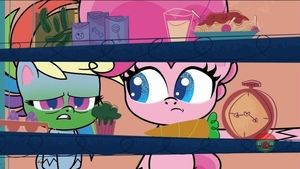 1x11 – Pinkie-Pie-Hyper-Helferin - Teil 1
Rarity goes camping with her friends and learns a lesson. The power goes off and the ponies realizes when telling a story that they remember it differently.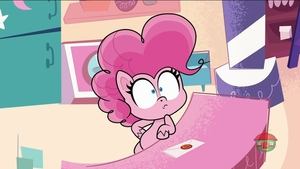 1x12 – Pinkie-Pie-Hyper-Helferin - Teil 2
Twilight, Fluttershy, Rainbow, Pinkie, Applejack, and Rarity teach someone about friendship. Secrets are revealed when Twilight, Fluttershy, Rainbow, Pinkie, Applejack, and Rarity meet a Dolphin.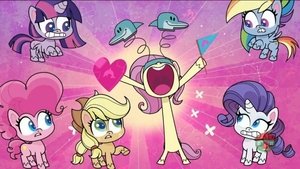 1x13 – Trab & Trott
Twilight, Rainbow, and Pinkie try to discover where the potions come from. With a sickness going around it's up to Rarity and Rainbow to create the cupcake order.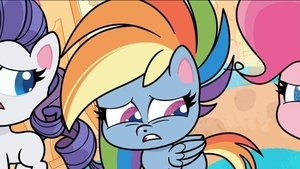 1x14 – Fluttershy im Keksfieber
The ponies meet the potion maker. Applejack wants to spend time with her friends and accidentally puts them into danger.
1x15 – Auf den Spuren Bighoofs
After getting stuck in a potion bottle Applejack and Twilight must learn to face their fears. Twilights very nervous about becoming Potion Novas assistant.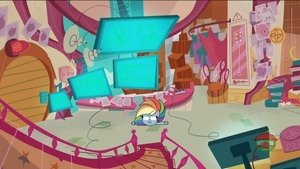 1x16 – Der Fluttershy-Effekt
When Pinkies friends are a way she learns a valuable lesson from an usual source. Pinkie wants to get Sugar cube Corner invested in.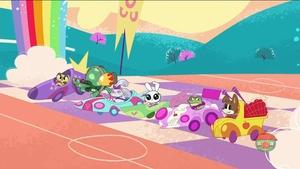 1x17 – Schnell mit Fell
Fame gets into Applejacks friends heads
1x18 – Abrakadabra
Rainbow wants to download a new app but has no stoage for it. Flutttershy tries to do an unboxing.
1x19 – Das Peinlichkeits-Abzeichen
Applejack struggles over what to get Pinkie as a present. Applejack is bored of everything being predictable.
1x20 – Trap & Trotter Discord
Spike wants to spend time with his friends. Fluttershy tries using her friends techniques but when that fails she must learn a lesson in being patient.
1x21 – Rarity in der Natur
Twilight wants her friends to play her game when they are trapped inside due to "bad weather". Spike wants to film his friends.
1x22 – Lagerfeuergeschichten
Rarity tries to find the owner of a visor. Applejack asks "Dear Tabby" how to rekindle her friendship with a friend after a fight.
1x23 – Freundschaftsperlen
Pinkie and her brother Octavio have a bake off. Pinkie and friends try to prepare Snips and Snails for the gala but lose track of the purpose of why they are helping them.
1x24 – Meet & Greeeeet
Rarity wants her friends to see her role in a tv show. Rainbow gets injured so Fluttershy replaces her in the competitions.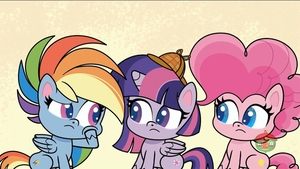 1x25 – Das Geheimnis um den Zaubertrank
Rarity worries that the Sportacular Spectacular is no place for an indoor pony. / It's the final match of the Sportacular Spectacular and the ponies face their biggest opponents, each other.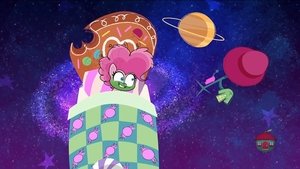 1x26 – Pinkie ist krank
The ponies face off in a friend versus friend matchup. / At the closing ceremonies of the Sportactular Spectacular, the Mane 6 are thrust into the spotlight.
Quelle:
themoviedb.org