1x1 – Come Honk Your Horn
While perusing the local car lot, Dave Crabtree discovers his mother's been reincarnated as a junkie old car, so he buys her and brings her home, much to the dismay of both his wife and eccentric car collector Captain Manzini.
1x2 – The De-Fenders
When Dave learns that there are local vandals who are stripping cars, he spends a sleepless night going to ridiculous lengths ensure his mother's safety.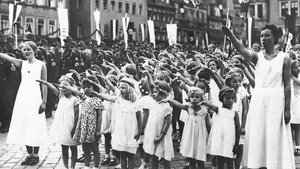 1x3 – What Makes Auntie Freeze
Dave is forced to drive his mother to a mountaintop wedding, but along the way she gets drunk on antifreeze.
1x4 – Lassie, I Mean Mother, Come Home
Gladys falls asleep and winds up on a truck bound for Mexico. When they discover she's missing, both Dave and Captain Manzini go into mourning.
1x5 – Burned at the Steak
When his mother encourages him to meddle in their quarreling neighbors' affairs, Dave inexplicably winds up breaking up their marriage.
1x6 – I'm Through Being a Nice Guy
Captain Manzini launches Operation Unscrupulous: he replicated the Porter, hires a trio of thieves to steal the original and establishes an airtight alibi for himself.
1x7 – Lights, Camera, Mother
An obnoxious neighbor petitions Dave to get rid of his "eyesore" car, but he changes his tune when a television executive announces plans to feature the Porter in a TV commercial.
1x8 – The Captain Manzini Grand Prix
Captain Manzini goads Dave into a race against a speed walker in an attempt to attain ownership of the Porter.
1x9 – TV or Not TV
Dave puts a TV in the garage for his mother, but confusion abounds when she wins a chance to appear on a game show.
1x10 – My Son, the Ventriloquist
With the help of his mother, Dave lands a new client by pretending to be a ventriloquist.
1x11 – My Son, the Judge
Dave is up for a job as a judge, but complications ensue when he gets a pair of roller-skates stuck on his feet.
1x12 – And Leave the Drive-In to Us
For his mother's birthday, Dave decides to take the family to the drive-in, but the evening is mostly a disaster.
1x13 – For Whom the Horn Honks
In order to get his mits on the Porter, Captain Manzini fakes a terminal illness.
1x14 – Hey Lady, Your Slip Isn't Showing
When Captain Manzini manipulates Barbara's mother, it results in the whole family treasure hunting for the Porter's registration slip.
1x15 – Many Happy No-Returns
Dave and Barb each decide to forfeit their own Christmas presents to bid on the other's work in a charity art auction.
1x16 – Shine On, Shine On, Honeymoon
Dave and Barb decide to finally go on their honeymoon, but Barb's mother goes to ridiculous lengths to ensure they don't leave.
1x17 – I Remember Mama, Why Can't You Remember Me?
Dave's mother gets amnesia following a fender bender.
1x18 – Goldporter
Captain Manzini uses a hypnotic drug on Dave to get him to agree to sell the Porter.
1x19 – The Incredible Shrinking Car
Captain Manzini uses a molecular compressor on the Porter to render it useless to Dave.
1x20 – I'd Rather Do It Myself, Mother
Dave hires a maid to help out with the housework, but she quickly takes charge of the house.
1x21 – You Can't Get There from Here
The Crabtrees get stranded in the backwoods when the local sheriff discovers Dave's driver's license has expired.
1x22 – A Riddler on the Roof
Dave and his mother try to thwart the assassination of a visiting dignitary.
1x23 – My Son, the Criminal
A nosy mailman convinces officials that Dave killed his mother and buried her under the floor of the garage.
1x24 – An Unreasonable Facsimile
Captain Manzini tries to steal the Porter away from the Crabtrees by hiring a Dave lookalike.
1x25 – Over the Hill to the Junkyard
Numerous complications ensue when Barbara wins a new car.
1x26 – It Might as Well Be Spring as Not
A handsome developer wants Mother for a promotion gimmick.
1x27 – Absorba the Greek
Dave is hired by a landlord keen on evicting a tenant running a Greek Tavern (with belly dancing!) in his building. When Dave and Barb check out the place, the landlord shows up, and they must avoid being seen.
1x28 – The Blabbermouth
Barbara catches Dave talking to the car and soon the news of the talking car is in the papers. Manzini then tries to convince the car to come away for fame and fortune. Dave stops them and then wakes up from a dream.
1x29 – When You Wish Upon a Car
When mom tricks Dave into buying a doll for Randy and Cindy after hearing Cindy wish for it, Cindy convinces the neighborhood kids that the 1928 Porter is a genie.
1x30 – Desperate Minutes
After returning home from a Bridge game, the arguing Crabtrees are held hostage by jewelry store robbers.