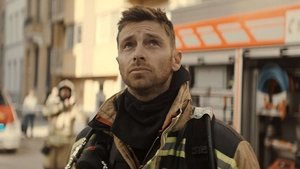 1x1 – Episode 1
Ostend's maverick fire station Oosetroever ('east bank') struggles to make ends meet, due to the tight budget and under-staffing. So adjutant Steve's regular absences due to hangovers aren't appreciated, but the sanction, suspension, makes it even worse. His colleagues learn only last minute, after another brave not quite by the book intervention saved everyone inside a burning flat building, that their boss, aging lieutenant Patrick, is about to leave, having accepted a HQ desk job. Hotshot sergeant Orlando Foncke keeps putting saving victims first, regardless of ...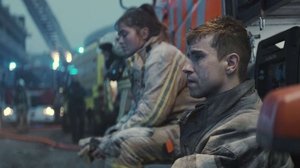 1x2 – Episode 2
Against the advice of his psychologist, Tom reports to Post Oosteroever as the new recruit. He is immediately put to the test, but does not make himself popular with everyone. Meanwhile, Dominique and Orlando try to work together despite a dispute from their past.
1x3 – Episode 3
Orlando is reluctant to apply for the upcoming adjutant exam, but accepts after enjoying some time with his kid son, who lives with his ex Maaike. Gio fears to be blamed for the hydrant failure, but major and captain defend the post brilliantly, despite doubts about the many mistakes. Nina vents her frustration over drinking, now fired partner Steve on Tom, thus nearly sabotaging another fire intervention, until Orlando pulls rank on her.
1x4 – Episode 4
The post's only IT-nerd is happy that new lieutenant Dominique agrees body-cam videos must be digitally stored, and surprises Orlando by announcing he's also entering the adjutant exam to succeed Steve, who angrily finds Nina unwilling to see him ever again. The seniors scold Nina for apparently scaring off Tom, who actually tries to cancel his therapy sessions, but is told the FD must then be informed of his past. He wins her respect by dealing with a mental patient. Accepting Nina's make up invitation to a bar, where he sticks to water, they are bothered by two of ...
1x5 – Episode 5
Orlando soon finds he's no match studying for the exam like IT man Vincent, whom he creams easily when they are called upon to chase a snake in a mall, which the expert Vince calls finds harmless after Orlando hooks it up. Lectured by veterans, Nina apologizes to Tom and finds him scoring great in the indoor simulator. However his two former trance buddies return, desperately indebted to drug dealers, who demand them the smuggle cocaine over sea, so they threaten to expose Tim's past unless he helps them by using a customs-check-exempted rescue boat.
1x6 – Episode 6
(TUSSEN WAL EN SCHIP) Orlando and Vincent study for the adjutant exam. Tom does an admirable job standing by a beneath-the-waist totally crushed young female francophone driver, nudging her to call her family before the expected fatal rescue attempt. Back home, Tom is beaten up badly, apparently by the jealous former adjutant he also was Nina's fiance. Ptarick press,ts his suspicions about the hydrant plans to the commander, who reluctantly promises 'last move' to present it to the sub-regional authorities, but returns with the message the brass decided to suspend ...
1x7 – Episode 7
Patrick's suspension is indefinite, a virtual dismissal, yet he refuses to think of his future and continues the search for the.falsified hydrant plans, turning in confidence to IT man Vince. Fireman Hneri mobilizes everyone day and night to continue beyond exhaustion the search for his irresponsible brother's daughter Emily, who turns out to have gone astray with a junkie boyfriend after discovering her adulterous father's brothel visit. Orlando's hotheaded liberation of a baby in a hot car, alas only to find the mother was just returning, in front off the jury, ...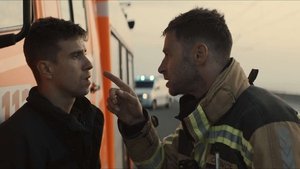 1x8 – Episode 8
Orlando forces Vince to admit he tipped off the press in a misguided effort to show the importance of body-cams, then is the only one not turning his back on the formal exam rival, who is formally appointed adjutant, but gets no respect, also leading to Gio dramatically failing a nasty rescuers alert test. Tom must be interim driver, arrives high, due to to Orlando's barking fails to see a car ignoring the Irene and feels guilty -not legally- for the crash killing a kid passenger. He agrees to help Gregoire, who handed him 'one off' cocaine, with a single rescue boat ...
1x9 – Episode 9
On his first official day as new adjutant, Vincent gets a cold reception and deliberate disrespect from Gio, whose refusal to lock away his smartphone even leads to a fight in a hospital corridor during an intervention to rescue a mental patient from a blocked elevator, with Gio refusing to feed his snakes. Orlando refuses to celebrate with his ex Maaike their dead baby's 'third anniversary'. Tom is scolded late again and under influence, preparing his resignation after blind car crash vucti Jitske tells him she couldn't face the guilty driver -him- ever. Orlando ...
1x10 – Episode 10
Know what this is about? Be the first one to add a plot.