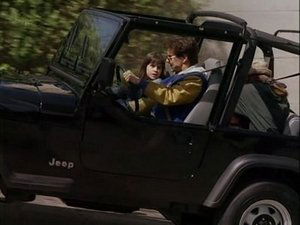 1x1 – Pilot
Six months after the tragic death of their parents in a car accident, the five orphans of the Salinger family are trying to keep the family together and make amends meet. The eldest, 24-year-old, immature Charlie feels saddled by his parental responsibilities, but the other siblings don't see him as an authority figure. But Charlie has other problems after he reveals to have lost $12,000 of the family's life savings as a result of a foolhardy business investment. So Charlie gets two jobs of bartender by day and carpenter by night in the restaurant 'Salingers' which is...
Gesehen von 1 User
1x2 – Homework
Bailey has the hots for Owen's babysitter Kirsten Bennett and brilliantly (over)plays the seduction tip -establishing a common interest- Charlie gave him before either brother realized both are interested in her. Charlie is the one who gets her interest, even though a handyman client offers him another project where the sex primes over work. A school genealogy project inspires Claudia to go looking for the kids' only possibly surviving grandparent, who left their (grand-mother twenty years ago, but Bailey establishes the Jack Gordon she befriends is just a namesake. ...
Gesehen von 1 User
1x3 – Good Sports
Bailey finally scores for his long-ailing school football team, but the bad losers start a fight which leads to vandalism on his school's grounds. Coach and principal demand that Bailey denounces his mate who was fighting or be expelled from the team. Seeking legal advice from Kirtsen's other boyfriend, Charlie discovers George lewis only pretends to be a lawyer, yet Kirsten dumps both of them. Although Charlie warns orphans can't afford to throw away scholarship chances and he won't sacrifice his whole future, Bailey sticks by his mates, however yellow and ingrate, ...
Gesehen von 1 User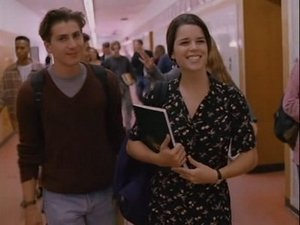 1x4 – Worth Waiting For
Bailey's hope to be asked back on the ailing football team are crushed when buddy Will reports his successor as quarterback made a smashing start. Bailey resolves to concentrate on his sports shop job instead, but chucks it when inflexible hours restrict his moves on a hot elder customer, only to find she has an adult boyfriend. Charlie meanwhile got Bailey's generous blessing to go all the way with Kirsten, but she feels an affair inappropriate while she babysits Owen. Jealous of dating classmates, Julia meanly gives admirer Justin Thompson false hope.
Gesehen von 1 User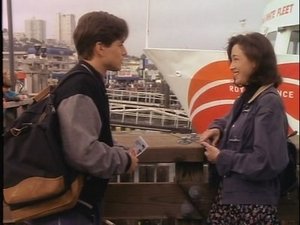 1x5 – All's Fair
Bailey tries again to win elder Kate by getting and using concert tickets together, but she keeps bringing in her unsuspecting boyfriend Tom, who actually establishes a friendship with Bailey, who nevertheless decides for once not to be the nice gay, steals a kiss and demands she makes up her mind. After Charlie's now married old friends Mike and Nina Mayor invite him for dinner, she implicitly seduces him to car sex, yet blames him for warning her not to break up for his sake, while she already gave up on Mike. Sanctiminious Julie fakes documents to steal a waitress ...
Gesehen von 1 User
1x6 – Fathers and Sons
Bailey studies for a new job, as San Francisco tour guide. Now Kate has dumped Tom for him, they try to get her wealthy father Elliott Bishop's approval, but the conservative city official clearly disapproves of the not ruthlessly ambitious, rather free-spirited commoner orphan knave. Bailey's attempt to portray Charlie as ideal father figure backfires when the Nishops come dine in the restaurant. There part-time barman Charlie resists manager Joe's efforts to train him as assistant manager, a discussion complicated by financial problems dating back to father ...
Gesehen von 1 User
1x7 – Much Ado
Bailey and his sisters scold Charlie for scaring off another good babysitter by confessing his stillborn affair with Rebecca to Kirsten. Charlie is furious to find out Julia lied and took an illegal waitress job, bitterly calling her an incorrigible ingrate. All fighting is interrupted when little Owen must be hospitalized with symptoms that suggest meningitis, luckily not the case. Claudia's violin tutor Ross Werkman is amused by her view sex messes relationships up when the others bail out on the Salinger family dinner he she invited him to, finds out about her ...
Gesehen von 1 User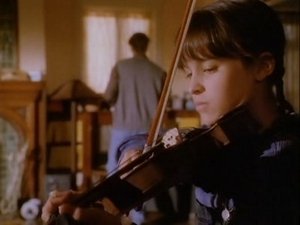 1x8 – Kiss Me Kate
Bailey was happy to grant Kate indefinite time to get ready for sexual intimacy, but when she demands he should 'forget about it', that blatant no spoils everything for him. Bruce Curran offers Charlie a one-shot opportunity to prove himself as master-carpenter. Having committed to a giveaway price and murderous deadline, a saw-breakdown means he must mobilize his siblings for back-breaking nocturnal toil against the clock. A newspaper listing her among the Bay's most promising musicians, Claudia assumes a grotesque lazy diva attitude, at home and even with tutor Ross...
Gesehen von 1 User
1x9 – Something Out of Nothing
Bailey hopes to cure his heart, broken by Kate, when mother Salinger's mature, sophisticated friend Greer Erikson pays a surprise visit and seems to desire him. She also sets up a modeling career launch photo-shoot with 'friendly photographer' Ed Brighton, but Charlie finds that's one of her many untruthful stunts, which makes Bailey doubt too, especially when she moves out. Charlie finally finds a new babysitter for Owen he can't fall in love with and manages to make Claudia realize Ross coming out as gay should not affect their fine tutoring and friendship.
Gesehen von 1 User
1x10 – Thanksgiving
Only five months after their parents' fatal accident, Charlie decides the siblings aren't ready to celebrate Thanksgiving. To their shock, the drunk driver Walter Alcott already makes parole for good behavior. Claudia breaks the agreement not to go see him and finds a rather charming book store owner. Bailey then consults a lawyer, goes vent his complex frustrations at the Alcott home and seeks comfort with Kate, who tells how her divorced mother's life was poisoned until she chose to accept her father's adultery. After Walter's adult daughter Annie is turned down ...
Gesehen von 1 User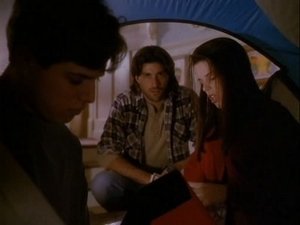 1x11 – Private Lives
Even Bailey's brilliant cover stories can't explain away his siblings' absence when bothersome social worker Jane Gideon pays an unannounced visit, especially as Claudia was even reported missing to the police as nobody minded her announcing a date with peer Artie. Afraid of being broken up, the kids must reconsider privacy and responsibilities. Bailey faces slipping grades and finds out Charlie secretly takes professor Dwight's architecture course. Bill is called on jury duty, so Kirsten is back, but already the fifth in nine months. Julia drives club manager Morgan ...
Gesehen von 1 User
1x12 – Games People Play
Bailey was looking forward to a forest camping trip to be alone with Kate, until he finds out from her mother that the plan to attend a Connecticut boarding school she blames on her domineering father is her own, as she admits to have a life of her own. Bailey is persuaded to go camping the last weekend she's in San Francisco after a promise of intimacy, but when the moment arrives her confession that was only a lure spoils it for the true romantic. When Charlie angrily calls a halt to Kirsten's mixed signals, she confesses to have pit them on hold because of cancer ...
Gesehen von 1 User
1x13 – Grownups
Bailey, left behind by Kate, is quickly seduced by schoolmate Jill Holbrook, his waitress, but quickly finds 'no strings' sex with her too meaningless. Charlie impulsively decides to propose to Kirsten, but her bossy, self-inviting sister calls that crazy and convinces her to visit their Chicago home and possibly move there. Morgan Lathem is all but amused that immature Julia, whose age lie cost him his liquor license and probably the club, keeps bursting in and meddling. Fired club employee Loren claims she was just an excuse, not the reason for Morgan to relapse in ...
Gesehen von 1 User
1x14 – Not Fade Away
The siblings are not amused when Charlie announces, without consultation, that Kirsten is moving in as his fiancée, so she's insecure, especially in the squeaking parental bed. Bailey is lured to repay immature lover Jill's 'favor' by shoplifting a return present for her, but gets caught and angrily dismisses Charlie's lecture. Bailey brings Jill along to the family dinner, scolding Charlie's objections absurdly sanctimonious given Kirsten's presence. She proves a welcome mother figure for Claudia, but that makes Julia jealous, leading to an absurd fight over her ...
Gesehen von 1 User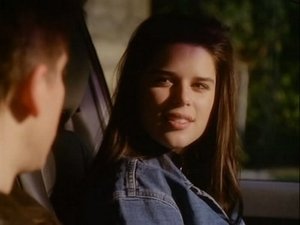 1x15 – It's Not Easy Being Green
Bailey breaks up with best mate Will just for loosing his patience with fickle Jill Always leading him astray, as from joint study, and changing their plans without consultation, the last straw being a school test cheating offer. Charlie's suspicions about Kirtsen's new academic adviser Ben are scolded 'mistrusting jealousy' even after they turn out correct and he resists temptation when a new waitress asks a ride home. Artie gets the lead in 'Oliver' which eternal understudy Claudia expected to be hers when the regular actor gets the flue, she acts like a jealous ...
Gesehen von 1 User
1x16 – Aftershocks
Even a sensitive earthquake can't out-stage the bickering at the Salinger home, except for Claudia, who gets frustrated to a paranoid degree after her siblings ignore her 'emergency plan'. Bailey is furious at Charlie for bursting in to stop his sex with Jill and warning she shows all the signs of drug addiction, but after finding it true and she systematically lies about it, Bailey is prepared to dump her but agrees to help her try rehab. Charlie looses his patience with Kirsten's meddling, not only in the carpentry business offer project she insisted to give him a ...
Gesehen von 1 User
1x17 – In Loco Parentis
Bailey finds out Jill's drug dealer still supplies her and seeks help with her mother, nurse Holbrook, who is rather inclined to believe her story he's a stalker. Artie Baum first tries to hide out, somewhat overstaying his welcome in the Salinger home, then admits he can't stand his parents fighting. Claudia convinces him to try getting the together, but that fails. Insecure Charlie builds up and comes to trust his fathering skills when pushed by Kristen to take a more active part in bringing up baby Owen, rewarded with his first 'dada' cries. Justin is not amused ...
Gesehen von 1 User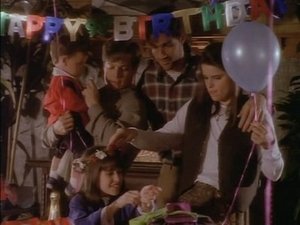 1x18 – Who Cares?
Angrily rejecting Charlie's advice, Bailey misses school to travel after Jill to retrieve her from LA. She keeps tempting him to turn the journey back along the coast into an adventurous holiday, but at the end she leaves him, claiming he turns boring and bothersome all over. Charlie is overstretched after his new carpentry partner commits them to a daring deadline. Danny presses Julia to write songs to render him immoral before AIDS kills him, but she can't handle the time pressure. Artie speculates with Claudia over her birthday presents, but nobody seems to have ...
Gesehen von 1 User
1x19 – Brother's Keeper
Bailey's LA trip made him fall behind in geometry badly enough to be temporarily assigned to Julia's (younger) class. Worse, her lazy teacher simply makes her his tutor, but all she can think about is Justin, a recipe for bickering. Charlie and his carpentry partner Gwen sign a dream contract. Only afterward he realizes it means moving to Seattle, a sacrifice none of his siblings is prepared to make. Julia's plan to move in with Justin falls trough. For Claudia it could be a way out of Ross insisting she needs a more qualified violin teacher, but she sabotages that. ...
Gesehen von 1 User
1x20 – The Trouble with Charlie
Bailey hopes to keep his affair with Jill secret when Kate arrives unannounced, but Jill sudden reemerges too and Kate, who already has an east Coast admirer, senses their log distance relationship can't be maintained exclusively. Bailey promises model nanny Bill the three months early raise he needs, yet Charlie explicitly refused, to pay his suddenly raised rent. Julia's teacher entered a short story of hers in a magazine contest, which she wins, but that means publication and exposing her mean caricatures of every sibling, and bribery to keep it hidden at least ...
Gesehen von 1 User
1x21 – All-Nighters
After a painstaking apartment hunt, Charlie finds a spot with his former party buddy, Dudly 'Dud', but Kirsten acts as party-pooper and having to get up not so young anymore changes things anyhow. Bailey finds Jill blindly hostile to all his sensible help when she flippantly accepts 'on therapy independence advice' organizing a school library benefit dance marathon, even after it goes wrong worse then he feared, finally bringing him to berate her inconsistent ingratitude. Will finds cheerleader Kiki as bad a date as Bailey warned. Artie enjoys their hero role after ...
Gesehen von 1 User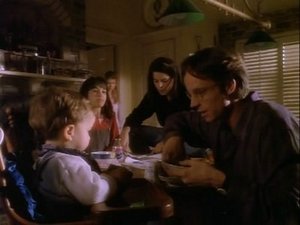 1x22 – The Ides of March
Bailey is god-struck when Jill's mother sends word his lover unexpectedly died of a cocaine overdose, even refuses to attend her funeral, as the pain is way beyond bearable, only Charlie can come close enough to offer some comfort after even Will wasn't allowed to stop Bailey getting drunk and driving as life seemed hopeless. Julia makes a pest of herself to Jill's poor brother Griffin, bugging him to accept the coat Jill wanted him to have as replacement for one she lost when stoned. Julian is far from pleased with her gift-masked meddling with his supposed lack of ...
Gesehen von 1 User
Quelle:
themoviedb.org