1x0 – Rugrats Pilot Episode
Tommy is curious about the toilet and thinks it's trying to speak to him, so he attempts to sneak into the bathroom to communicate with it.
Gesehen von 9 Usern
1x1 – Folge 1
It is Tommy Pickle's first birthday. Tommy wants some of Spike's dog food. He convinces his friends, Chuckie, Phil, Lil, and big cousin Angelica to try it.
Gesehen von 10 Usern
1x2 – Folge 2
Angelica hits Tommy's favorite ball over the fenceduring a Fourth of July picnic./Stu and Didi take Tommy to an important client dinner.
Gesehen von 10 Usern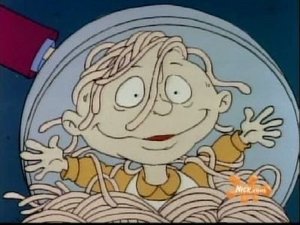 1x3 – Folge 3
The babies go to the movies./Tommy dreams that his family takes on the physical characteristics of the figures in the mobile that hangs over his bed.
Gesehen von 10 Usern
1x4 – Folge 4
Phil and Lil star in a diaper commercial, upset the crew and destroy the director's prized set./Didi brings Tommy to school where she teaches home economics.
Gesehen von 10 Usern
1x5 – Folge 5
First half: Grandpa and Stu dress Tommy in drag and enter him in a beauty pageant for little girls, to win the grand prize, a fishing boat. Second half: Tommy goes to a baseball game.
Gesehen von 10 Usern
1x6 – Folge 6
Two hoods mistake Tommy for a millionaire's kid and kidnap him./The Rugrats embark on a jungle adventure.
Gesehen von 10 Usern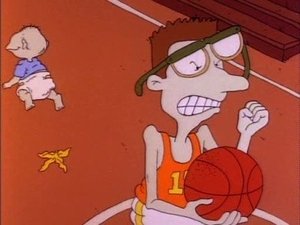 1x7 – Folge 7
Both Tommy Pickles and Chuckie Finster go on another adventure to try get Grandpa's teeth, who was told to never take them out. Along the way, the babies run into Geese who gets hold of Gradnpa's chompers.
Gesehen von 10 Usern
1x8 – Folge 8
While watching a scary show a kid discovers his dad is really a robot./Tommy climbs in a bag and ends up at the post office where he's mistaken for a piece of mail.
Gesehen von 10 Usern
1x9 – Folge 9
The adults blame Spike for mysterious accidents in the garage, but Tommy believes his pet is innocent. Convinced the accidents are caused by a monster, Tommy talks the other Rugrats into a garage expedition.
Gesehen von 10 Usern
1x10 – Folge 10
Tommy gets excited when he sees a pyramid display of Reptar cereal boxes at the supermarket. He hitches his cart to another with sausage links and takes a wild ride through the supermarket.
Gesehen von 10 Usern
1x11 – Folge 11
In one half of the this episodes, the grown-ups are ordered by Tommy's dentist must be weened: Taking off the bottle. However, Tommy does not want to at all. In the second half, Tommy's favorite clown lamp was broken. Angelica convinced the babies to have a trial to find out to whom just broke the lamb.
Gesehen von 10 Usern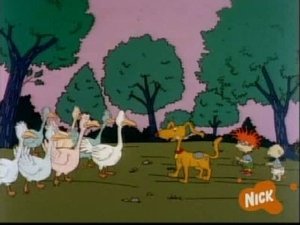 1x12 – Folge 12
Angelica's cat Fluffy breaks some pottery and Spike is wrongly accused./At the Sleazola Bros. Carnival, a guy in a rubber Reptar suit is giving out samples of Reptar cereal. Angelica runs off with his bag and everyone follows her on a wild chase.
Gesehen von 10 Usern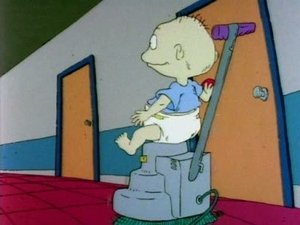 1x13 – Folge 13
Stu and Didi take Tommy and Angelica on a car trip to the Grand Canyon./Tommy and Chuckie accidentally toss their glider plane into the scary basement.
Gesehen von 10 Usern