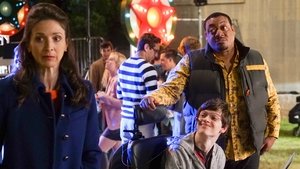 1x1 – Pilot
J.J. is a teen with special needs who uses a communication board device to "talk" since he is "Speechless", but gets nominated for President his first day at his new school.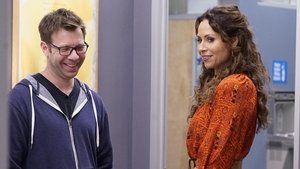 1x2 – N-E-NEW A-I-AIDE
Maya's fear about allowing Kenneth to be J.J.'s full-time aide is confirmed when J.J. misses a physical therapy appointment; Jimmy shows Dylan how to be un-neighborly.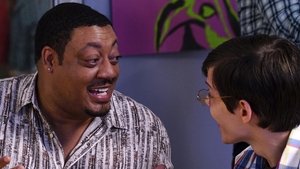 1x3 – B-O-N--BONFIRE
When Maya forces the cancellation of the homecoming bonfire because she doesn't believe the location is wheelchair accessible, J.J. suffers backlash at school.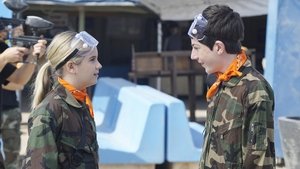 1x4 – I-N-S--INSPIRATIONS
Exploring the city on their own, J.J. and Kenneth realize strangers see them as inspirational. The two push their luck, receiving free food and admission to baseball games and things soon fall apart. Meanwhile, as the family usually can't do anything without having to worry about wheelchair accessibility, Dylan and Ray convince Maya to take them paintballing while J.J. is out. But can Maya let herself have fun without J.J.?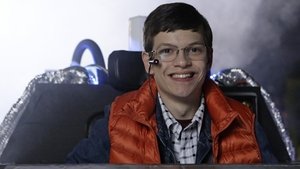 1x5 – H-A-L-- HALLOWEEN
Jimmy is upset the kids no longer want to participate in the family tradition of dressing up for Halloween. Maya tries to cheer up Jimmy by allowing him to do things he loves by taking things off the family "Dead to Me" list. Meanwhile, Ray recruits Dylan to help work the school's haunted mansion while Kenneth is scared of losing his job when JJ gets drunk at a party. Even though Maya is furious, she is thrilled to see JJ having a "normal" life.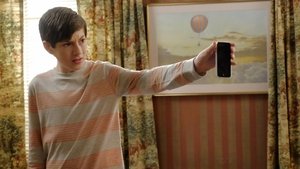 1x6 – D-A-T-E-- DATE?
JJ develops on a new girl at school who must adapt to life in a wheelchair after injuring herself in gymnastics.
1x7 – T-H-A-- THANKSGIVING
The DiMeos are forced to celebrate Thanksgiving with Jimmy's brother and family.
1x8 – R-A-Y-C-- RAY-CATION
Maya enlists the family to assist JJ in romancing a girl at school, but it backfires when JJ expresses his feelings to Claire, and they are not reciprocated. Meanwhile, as the DiMeos are always late, Ray has the family practice to get to school in time for his upcoming weekend field trip.
1x9 – S-L-- SLED H-O-- HOCKEY
JJ gets excited about a new sport he can get involved in, but he has to convince Jimmy that it's not going to kill him.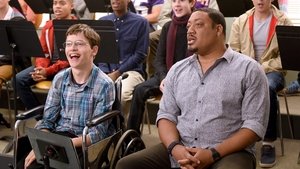 1x10 – C-H-O-CHOIR
Ray and JJ join the school choir to enhance thier resumes for college. The family has thier van stolen which leads to a Christmas miracle. Julianna Hough guest stars.
1x11 – R-O--ROAD T-R--TRIP
The Dimeos go on their annual family road trip.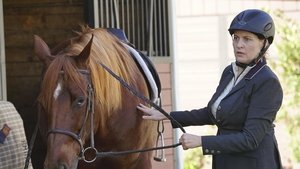 1x12 – H-E-R-- HERO
The Dimeos attempt to get on their insurance agent's good side, while Ray wants to use JJ as inspiration for an essay contest.
1x13 – S-I - SICK D-A-- DAY
Sick bay claims Maya and Kenneth, forcing Jimmy to take the reins of the DiMeo household as Dylan looks after JJ, who returns the favor by running interference between her and a boy she likes.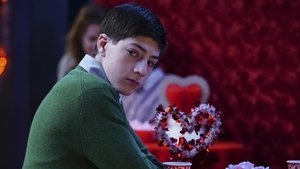 1x14 – V-A-L-- VALENTINE'S D-A-- DAY
Maya attempts to give Jimmy a Valentine's Day gift, with the help of his old roommate and her ex-fiance while Ray is elated to find out he has a secret admirer, but will he learn the truth of who it is? Meanwhile, JJ is in charge of distributing candy-grams, which proves challenging for both him and Kenneth
1x15 – T-H-- THE C-L-- CLUB
JJ and Kenneth get into an argument over their time together, while the family spends a week at a country club.
1x16 – O-S-- OSCAR P-A-- PARTY
Maya and Jimmy host a party to celebrate Hollywood's biggest night.
1x17 – S-U-R-- SURPRISE!
Maia throws a Birthday Party for Dylan against her wishes. JJ, Jimmy and Kenneth try and find something in common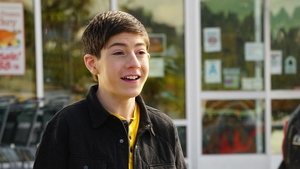 1x18 – D-I - DING
After leaving a note behind Maya's back, Ray takes sides against the family when Maya dings a nearby car. Following through on a promise, Jimmy and Dylan share a moment, as father and daughter are on a search in the back room at the local supermarket while JJ teaches a rude customer a lesson, and a moonlighting Kenneth hides his side job from the DiMeos.
1x19 – C-H-- CHEATER!
Maya and Kenneth work together to hold JJ accountable for his academic future when he cheats on an exam at school. Meanwhile, Ray gets into a get-rich scheme; but when Jimmy bails him out and teaches him an important lesson, Ray's motivation to make fast money is revealed.
1x20 – R-U-N-- RUNAWAY
When Maya learns JJ attempted to run away, she is determined to help him complete the task as any able-bodied person could, but her actions exasperate JJ, as he longs for independence. Meanwhile, Jimmy struggles to have hard talks with the kids without Maya, and Dylan tries to get Kenneth to revive his glory days as a high school sports star.
1x21 – P-R-- PROM
It's prom night, and all three DiMeo kids are going, which leaves Maya and Jimmy with a rare night to themselves. Kenneth is shocked to learn that they like to spend their nights without the kids to bring up past arguments they have bottled up or ignored in the past. Later at school, Ray thinks he is finally about to have his first make-out session with a girl, but learns differently when she uses the "R" word. Meanwhile, a wary JJ bonds with someone who is sick of being the center of attention at school functions.
1x22 – M-A--MAY-JAY
With the school year over, Maya is excited to spend the summer with JJ, but he and Kenneth have other plans. Meanwhile, Jimmy gets special treatment at the most unlikely of places while Dylan's identity in the family is threatened
1x23 – C-A--CAMP
Know what this is about? Be the first one to add a plot.
Quelle:
themoviedb.org