1x1 – Zwei Welten
When Emery Whitehill was 6-years old, an alien spacecraft filled with humanoid aliens from the planet Atria crash-landed in her Louisiana small town and she met Roman, a 6-year old Atrian boy, who sought refuge with her before being taken away by the authorities. Ten years later, the two are reunited as the first group of seven Atrian teens is about to enroll in high school in a widely scrutinized social experiment to see if humans and Atrians can live in peace. Both Emery and Roman are surprised at the small-mindedness of their respective communities. Roman's sister,...
Gesehen von 1 User
1x2 – Unter Menschen
Roman and Sophia prepare for a funeral. Roman is surprised and suspicious when his Uncle Castor shows up in the sector offering to help his family.
Gesehen von 1 User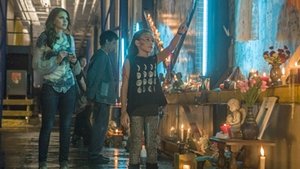 1x3 – Schwarzer Cyper
It's the tenth anniversary of "Arrival Day" and the town is preparing a commemoration for the fallen soldiers.
Gesehen von 1 User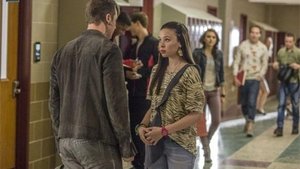 1x4 – Ein gefährliches Geheimnis
Sophia's desire to join the swim team stirs up some serious trouble.
Gesehen von 1 User
1x5 – Eljida
When Gloria tells the Atrian Seven they are allowed to spend some time outside their sector, Roman sees it as an opportunity to further investigate his father's mysterious past and makes a stunning discovery. Emery and Grayson go out on a date, but their night is ruined after Eric calls Grayson for help and ends up putting everyone in danger. Drake mistakes Taylor for an undercover Trag, and Lukas makes his move on Sophia. Meanwhile, Teri tries to take over Drake's mission.
Gesehen von 1 User
1x6 – Familienbande
When Emery is confronted by a tabloid photographer with video of her talking about cyper, she enlists Julia's help to find a replacement story for him. Meanwhile, Drake tells Roman that Grayson's parents are the leaders of the Red Hawks. When Grayson's parents throw a big charity ball at their house, Drake makes plans to go, at Vega's request, to undertake an important mission. Roman goes to the party to make sure Drake stays out of trouble, but gets caught in the middle of a kidnapping scheme.
Gesehen von 1 User
1x7 – Die Wurzel des Übels
Grayson continues to rely on Emery, which puts her relationship with Roman on hold. Elsewhere, Zoe sets a black-cipher trap for Taylor, but it backfires and harms Lukas instead, leaving Roman and Drake to find a cure for the poison before it kills him; and Eva continues her search for the truth about Julia's recovery.
Gesehen von 1 User
1x8 – Dinaskyu
Roman invites Emery inside the sector to celebrate Dinaskyu, an Atrian holiday that celebrates the family. Emery asks Sophia for tips on how to impress her mother. Vega tells Drake that with Zoe missing, they've tapped him to be their new undercover operative, which means he'll be leaving town and getting his markings removed. When Roman goes to Vega and asks her to reconsider sending Drake away, she offers him a way out. Meanwhile, Eva approaches Julia with an offer. When Julia refuses, Eva takes her mission to a dangerous place. Finally, Grayson confronts Emery ...
Gesehen von 1 User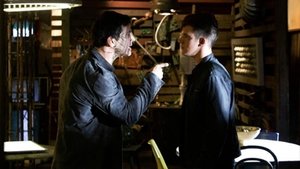 1x9 – Die Nacht der Sternschnuppen
Roman argues with Emery about whether he can trust his uncle Castor. However, when Roman asks his uncle about the day their spaceship crashed, Castor's reaction is far from what he expected. Meanwhile, Grayson tries to remember what happened the night he blacked out, and Taylor throws a "meteor shower" party to spend more time with Drake. Still unable to deny her feelings for Roman, Teri makes a decision that puts her in grave danger. Sophia finally makes her move on Taylor but she still has interests in Drake.
Gesehen von 1 User
1x10 – Entfesselte Gewalt
A hurricane suddenly hits the town and everyone is trapped inside the school. Teri drugs Roman, which leaves him very paranoid and very angry. While drugged he says some very hurtful things to Emery that alter their relationship. Taylor convinces Drake that they should go public as a couple. However, when Grayson overhears the couple talking, he blackmails Drake into breaking up with Taylor. Meanwhile, Julia turns to Emery for help after Eva threatens her.
Gesehen von 1 User
1x11 – In der Schusslinie
Pregnancy rumors swirl around Taylor, and a misinformed Vartan kidnaps Emery. Meanwhile, Vega asks Teri to find the Iksen's key; Roman and Castor testify about the spaceship crash; and Eric and Julia share a moment.
Gesehen von 1 User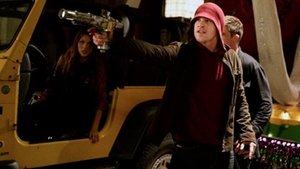 1x12 – Der Schlüssel des Iksen
After Roman and Drake discover the Trags are building a bomb known as a Suvec, they realize they need help and turn to an unexpected source - Grayson. Emery enlists Sophia and Lukas to help them smuggle the Suvek out of the sector, which ultimately puts all of them in danger. Meanwhile, Teri continues her mission.
Gesehen von 1 User
1x13 – Der letzte Angriff
After Roman is badly hurt, Emery turns to an unexpected ally for help. Meanwhile, Grayson, Drake, Sophia and Lukas race to find the stolen Suvek before the Trags can activate it. However, Vega is a step ahead of them and sets off the Suvek in the middle of a Marti Gras parade. Teri is shocked when she overhears Vega ordering the death of her friends. Gloria discovers Taylor's secret and shares one of her own.
Gesehen von 1 User
Quelle:
themoviedb.org