1x1 – Pilot - Die neue Frisur
While Bill and Judy's marriage seems threatened by the sudden introduction of unadorned honesty, Bill's fatherly advice to Brian for attracting girls gets Brian into trouble at school.
Gesehen von 9 Usern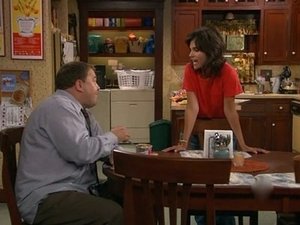 1x2 – Der Bücherzirkel
Who can be the more insightful at Linda's book club - Judy or Bill? Bill reads books?
Gesehen von 9 Usern
1x3 – Klassentreffen
Judy gets bent out of shape at her 20th class reunion over a classmate that's far more accomplished than she is, till Bill tells her this classmate's marriage is in trouble.
Gesehen von 9 Usern
1x4 – Das Geburtstagskonzert
Lauren likes classmate Alex, and Bill, against Judy's advice, interferes in the "romance". Lauren is humiliated. Judy gets tickets for all involved to see Blink 182 in concert. Inadvertently, Lauren gets even more humiliated, this time by her mother on the jumbotron.
Gesehen von 9 Usern
1x5 – Ehrenämter
Bill and Judy decide to get involved at Tina's school when another parent makes them feel guilty about not being good parents.
Gesehen von 9 Usern
1x6 – Footballträume
The high school football coach approaches Bill and Judy, because he'd like Brian to join the football team. He would be a place kicker and third string, but Bill is delighted, as he'll be on the football team like him. Judy doesn't know if Brian should play, because she's afraid he'll get hurt and she doesn't want Bill pressuring him into it. Brian isn't even sure if he wants to do it, so Bill talks to Brian and convinces him to play and says that he will always support whatever he decides to do. While at the football game, Bill discovers the perks of being a football...
Gesehen von 9 Usern
1x7 – Männerfreundschaft
Bill becomes inseparable best buddies with Linda's new boyfriend, which continues on the sly after she dumps him for cheating.
Gesehen von 9 Usern
1x8 – Familienabend
Know what this is about? Be the first one to add a plot.
Gesehen von 9 Usern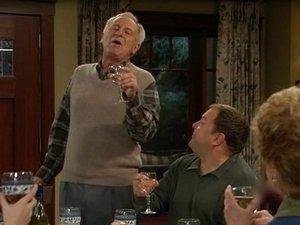 1x9 – Schwiegereltern-Alarm
Judy's parents, who don't get along, come to stay for a few days over Thanksgiving. But then Bill gives Judy's dad advice on how to handle Judy's mom.
Gesehen von 9 Usern
1x10 – Opernabend
To help Judy land a promotion, Bill schmoozes her boss, Dr. Nathan Gerber, by falsely sharing in the doctor's love of opera. When a schedule conflict prevents the doctor from enjoying his Friday night tickets to an upcoming opera, he happily passes them along to Judy and Bill, which Bill almost immediately exchanges for choice Friday night hockey tickets. The doctor subsequently asks them to report back on their opera experience, so Bill and Judy suffer through a Thursday night performance so they can report back accurately and not endanger her chance for the ...
Gesehen von 9 Usern
1x11 – Der Neue Fernseher
Know what this is about? Be the first one to add a plot.
Gesehen von 9 Usern
1x12 – Ein Kleid für Lauren
Bill comes down with a bad case of accumulated sick days, which he'll lose if he doesn't use them by staying home for a few days. Lauren is about to go to her first school dance, but bullying another girl at school gets her grounded. Judy tries to impress Lauren about the wrongfulness of bullying by telling her the story of her own bullied time with classmate Jeana Mirelli. When Lauren later confides to Bill that Judy told her about Jeana, Bill thinks Judy shared the real story, where Judy was the merciless bully and Jeana was her victim. Lauren is outraged at Judy ...
Gesehen von 9 Usern
1x13 – Good Cop – Bad Cop
Judy is upset at Bill because she always has to take the role of "bad cop" with the kids while Bill always gets to be "good cop." Bill feels Judy should lighten up. When the roles end up switched, Judy loves it, while Bill hates it. He has to clean up the messes the kids make while she gets to relax in the bathtub and get plenty of sleep for a change. When Bill concedes to Judy's point, Judy refuses to change back, so Bill drops the bad cop role and goes back being be the good cop as well. Now there are 2 good cops in the house, with Bill predicting Judy will "blink ...
Gesehen von 9 Usern
1x14 – Sport ist Mord
Linda brings over new boyfriend Trevor, a fit young man to whom she's only admitted being 27 years old. Showing off her catch, she has Trevor bare his sexy abdominal six-pack, prompting Bill to display his less-than-sexy middle-age kegger. Having a capable man about the house, Judy puts him to work handling chores Bill can't seem to manage. To show he can be at least the near equal of Trevor, Bill joins a roller hockey league, buying all new equipment for a sport he proclaims he's "born" to do. Judy must remind him of his closet of lost dream, wherein reside the ...
Gesehen von 9 Usern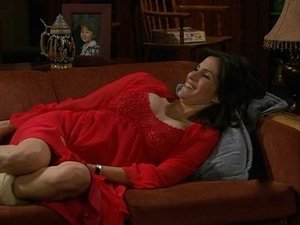 1x15 – Valentinstag
Know what this is about? Be the first one to add a plot.
Gesehen von 9 Usern
1x16 – Judys Friseur
Though Bill gripes about Judy's constant nagging and under-appreciation to his poker buddies, Judy's sudden arrival, happily serving them beer and pizza, proves how easy Bill really has it. Judy releases her well-founded frustrations over Bill to her sympathetic hairdresser, Gary, whom Judy's gone to for nine years. Bill's early arrival to pick her up invades "Judy time." While she's under the dryer, Bill offends Gary by telling him what a great "racket" this "rip-off" artist runs. Judy thereafter finds herself unable to book another appointment. Upon learning the ...
Gesehen von 9 Usern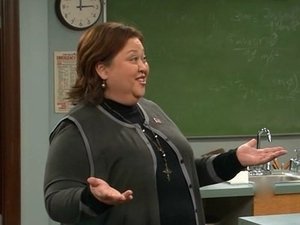 1x17 – Bastelstunde
Know what this is about? Be the first one to add a plot.
Gesehen von 9 Usern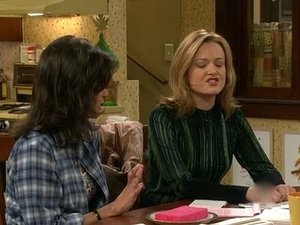 1x18 – Schwestern
Know what this is about? Be the first one to add a plot.
Gesehen von 9 Usern
1x19 – Der Männer-Bunker
Lauren has taken up the clarinet and she has a recital coming up; Problem is she isn't very good at it and Carl tells Bill that his old buddy Wheezer's in town. Bill's excited, because he hasn't seen Wheezer in a long time and when they meet, they find that he's married to a psychologist, Dr. Sarah Cunningham and this isn't the same crazy Wheezer he knew. Bill says that Sarah changed him and Carl says that Judy changed Bill as well. Bill upset about that, talks to Judy, but she denies that she has. Bill says she did, because he shaved his mustache for her and got rid ...
Gesehen von 9 Usern
1x20 – Untermieter
Judy's stuck doing overtime till her boss, Dr. Gerber, finds someone to replace Colleen. Gerber's life's been a mess since his wife discovered his affair with Colleen and kicked him out. Had it with the overtime hours, Judy finally confronts the doctor and asks if there's anything she can do. There is. She can take Schnitzel, Gerber's dalmatian, who otherwise has to stay in a kennel till Gerber finds an apartment that allows pets. Schnitzel is a well-trained dog, but living with Bill soon has him lounging on the sofa and ignoring commands. When Gerber visits, he's ...
Gesehen von 9 Usern
1x21 – Grandmas neuer Job
Something Bill dreads the most is about to happen. His mother, Louise, is coming for a visit. Bill's problem with his mother is that she "guilts" him into getting whatever she wants, to which Bill always complies. Judy suggests that the next time Louise makes him feel miserable, Bill should not take the bait and ignore her. Bill, instead, thinks he and Louise should try to have an adult conversation, because in her eyes, he's Billy. When Bill finds out it doesn't work, he goes to Judy and tries it her way. He puts Judy's method to use when he takes Louise to the bank ...
Gesehen von 9 Usern
1x22 – Partyalarm
Bill and Judy have tickets to the AC/DC concert, while Lauren is invited to a cheerleader party, where boys and beer will be there. Bill and Judy say no to her going and Brian has a problem. He wasn't invited. Bill tells Brian, when he was his age he wasn't invited to parties, but one party, he went with the football team, laid low in the kitchen so he wouldn't get booted out and made a pyramid out of empty beer cans. He became a legend because everyone thought he drank all those beers and from then on, he was invited to parties. Linda is at the house to make sure ...
Gesehen von 9 Usern
Quelle:
themoviedb.org