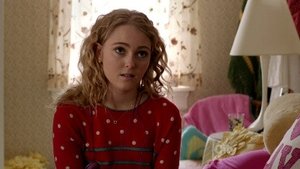 1x1 – Pilot
Recently, life hasn't been smooth sailing for 16-year-old Carrie Bradshaw – her mother just passed away, her rebellious younger sister Dorritt is acting out, and their father Tom is struggling to raise two teenage daughters alone. As Carrie begins the first day of her junior year, she can't help but feel as though all eyes are on her, and a pity party from rival Donna LaDonna doesn't help the situation. Even when surrounded by her group of friends, Mouse, Maggie and Walt, Carrie feels as though her life should be heading in a different direction. The arrival of new guy Sebastian Kydd brings Carrie some excitement, but it isn't until she accepts an internship at a Manhattan law firm that things begin to fall into place. In the city, Carrie meets Larissa Loughlin, a free-spirited, outgoing style editor at Interview magazine, who introduces her to a world she's only dreamt of.
1x2 – Lie With Me
New couple Carrie and Sebastian can't seem to catch a break. Between being grounded and rival Donna's sneaky attempts to break them apart, Carrie worries Sebastian will lose interest in her. Desperate for some alone time with him, Carrie must lie to her father and bail on plans with her sister Doritt Maggie's obsession with having sex drives a wedge between her and Walt Meanwhile, Larissa wants to do a photo shoot with Carrie's purse for Interview magazine forcing Carrie to scramble to make it work.
1x3 – Read Before Use
After Tom forbids Carrie to see Sebastian again, Carrie snoops through Tom's work files and uncovers some alarming information about Sebastian's past. Carrie decides to confront Sebastian about what she's discovered and is shocked by his reaction. Maggie deals with her breakup with Walt in the only way she knows how and finds some solace from Dorrit Meanwhile, Larissa takes Carrie, Mouse and Seth to an outrageous performance art club in New York City, which leaves them all feeling self-conscious.
1x4 – Fright Night
When Carrie is invited to a Halloween party in the city by Larissa, she decides to invite Walt to go with her to keep her company. It doesn't take long before the night goes awry and Carrie is forced to babysit Larissa, who has clearly taken too many drugs. Walt finds himself in an uncomfortable position after a party guest gets a little too close for comfort. Elsewhere, Maggie convinces Mouse to go with her to Sebastian's Halloween party at the diner to help keep tabs on him. After Doritt's attempt to sneak out of the house is thwarted, she discovers hanging out with her father isn't so bad.
1x5 – Dangerous Territory
Carrie runs into an old friend at her internship and gets invited to his mother's dinner soiree in Manhattan, but her feelings for Sebastian get in her way, until she see him with another girl. Mouse is excited about getting back together with Seth, but her worries about being bad at sex drive her to ask Walt for help. In order to hang on to a favorite spot at the diner, Maggie takes on Donna LaDonna and her friends. Meanwhile, Tom loses his wedding ring, which makes him realize that Harlan might be right about starting to date again.
1x6 – Endgame
Carrie gets in way over her head when she tries to cook the perfect Thanksgiving dinner for her family, her new boyfriend George and his dad Harlan, so she enlists Mouse's help. Tom is oblivious to the chaos going on in the kitchen, while Dorrit finds a new way to torture Carrie. Maggie is excited to have Thanksgiving with Walt's family, but when the topic of college comes up she realizes that she hasn't put much thought into her future. Elsewhere, Sebastian learns that his mother decided to fly out of town with her boyfriend, leaving him to fend for himself on Thanksgiving.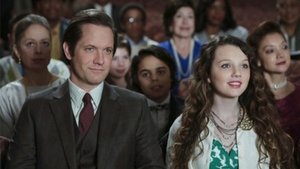 1x7 – Caught
Impressed with Carrie's creative prowess, Larissa offers her an internship at Interview, but Carrie is torn about whether she should take it. Carrie invites George to the school dance, but when she suggests they leave the dance early, George gets the wrong idea about her intentions. Dorrit, who used to go to the Nutcracker ballet with her mother every year, reluctantly agrees to go with Tom, but he has a hard time filling his wife's shoes. Mouse gets a B+ on an exam and blames it on her relationship with Seth Meanwhile, Donna LaDonna catches Maggie cheating on Walt and blackmails her into keeping Carrie away from Sebastian.
1x8 – Hush Hush
Carrie is thrilled when the junior-senior lock-in provides the perfect cover for a night out in Manhattan with Larissa and her Interview co-workers - until a surprising encounter turns her night upside down. Maggie and Mouse confront Sebastian about his feelings for Carrie and tell him he better make a grand gesture if he stands any chance of winning her back. Harlan finally convinces Tom to go on a double date, with surprising results. Meanwhile, Maggie tries to find the courage to tell Walt about Simon before Donna LaDonna does.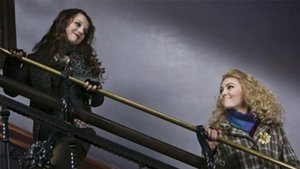 1x9 – The Great Unknown
When Dorrit goes missing under Carrie's watch, Carrie lashes out at Sebastian, the one person who can help her find Dorrit. Mouse butts heads with West, a popular jock who, much to her chagrin, stole her spot as number one in the class. Walt surprises himself when he confides in someone completely unexpected. Meanwhile, Tom finds himself in uncharted territory when it comes to women and turns to Larissa for advice.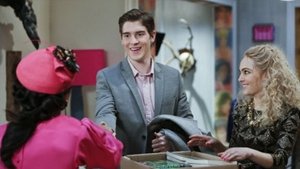 1x10 – The Long and Winding Road Not Taken
On her seventeenth birthday, Carrie torn between an opportunity to mingle with New York's literati and spending time with her friends and Sebastian. Mouse goes to extensive lengths to impress a Harvard alum who has her eyes set on West, with hilarious results. Walt starts taking responsibility for his previous actions. Elsewhere, Dorrit's search for the perfect gift for Carrie lands her in a sticky situation with romantic possibilities.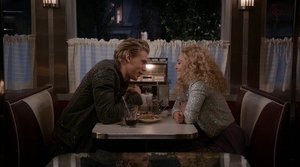 1x11 – Identity Crisis
Carrie jumps at the chance to a take on a fabulous new identity as Larissa, but gets more than she bargained for when Larissa's hijinks catch up with her. After a whirlwind day in Manhattan, Walt is forced to face the feelings he is desperately trying to hide. Sebastian and Maggie agree to keep a secret from Carrie. Mouse takes a page from Donna LaDonna's playbook. Meanwhile, Tom decides to take a meditation class, but finds himself surprisingly tense after a run-in with another attendee.
1x12 – A First Time for Everything
When Carrie inadvertently complicates things with Sebastian, she tries to fix it by taking him to Madonna's "The Virgin Tour" launch party - but in her quest for the perfect night, only makes things worse. Despite Mouse's best efforts to avoid West, she can't seem to deny the romantic sparks flying between them. Dorrit turns to Donna LaDonna for advice about her budding love life. Meanwhile, Tom has an awkward encounter when he spends the night somewhere new.
1x13 – Kiss Yesterday Goodbye
Carrie is happy going to her junior prom, but when hidden secrets are revealed plans begin to change. Dorrit is determined to take her relationship with Miller to the next level, but things hit a bump along the way. For the first time in her life, Mouse decides to defy her parents to date whom she wants. Tom begins to struggle with sneaking around, especially when he thinks someone might be on to him. Elsewhere, Larissa makes Carrie and Walt an enticing offer.
Quelle:
themoviedb.org