1x1 – Episode 1
Roy and Jon cook a Goop-friendly pepper pot with Pepper Potts herself, Gwyneth Paltrow. Then comic Bill Burr swings by to make some sandwiches.
Gesehen von 4 Usern
1x2 – Episode 2
Jon and Roy sample Atlanta hot spots Holeman and Finch as well as The Optimist to learn how to cook some of the signature food. Later they are met by the Avengers crew to share in some of the local cuisine.
Gesehen von 4 Usern
1x3 – Episode 3
Roy and Jon revisit some of the best dishes from the film 'Chef', including Scarlett Johansson's favorite pasta and the oft-misunderstood chocolate lava cake.
Gesehen von 4 Usern
1x4 – Episode 4
Late food writer Jonathan Gold's reviews helped many chefs, so Jon and Roy honor his memory with KCRW radio personality Evan Kleiman and Jitlada's Jazz Singsanong.
Gesehen von 4 Usern
1x5 – Episode 5
Roy and Jon make pizza and chat about creativity with Robert Rodriguez, before embarking on a food truck cooking and eating bonanza in Venica, California.
Gesehen von 4 Usern
1x6 – Episode 6
Jon and Roy head into the kitchen to make dueling fried rice recipes before welcoming in David Chang to cook and discuss classic Korean dishes.
Gesehen von 3 Usern
1x7 – Episode 7
Roy and Jon travel to Austin to grab tacos with Aaron Franklin, then learn the intricacies behind preparing his famous Franklin Barbecue brisket.
Gesehen von 3 Usern
1x8 – Episode 8
Aaron Franklin brings Jon and Roy to Hot Luck, Austin's 'anti-food-fest food festival', where they serve up Roy's iconic short ribs.
Gesehen von 3 Usern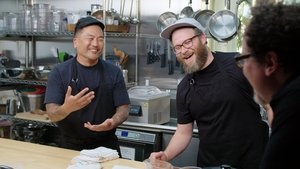 1x9 – Episode 9
Seth Rogen knows how to break down chickens, so Jon and Roy put him to work as they prep two distinct chicken dishes.
Gesehen von 3 Usern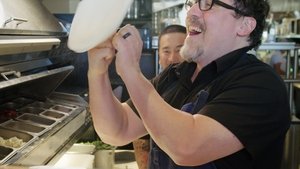 1x10 – Episode 10
Jon and Roy visit Chef Daniele Uditi at LA's Pizzana, where Jon tries his hand at making Neapolitan pizza and some meticulously measured meatballs.
Gesehen von 2 Usern
1x11 – Episode 11
Jon and Roy head to Guerilla Tacos, where they enjoy some off-menu breakfast burritos and help Chef Wes Avila prep his flagship tacos and tostadas.
Gesehen von 2 Usern
1x12 – Episode 12
Jon and Roy study, harvest and prepare oysters in Tomales Bay, California. Then, the two get in on a barbecue at Hog Island Oyster Co.
Gesehen von 2 Usern
1x13 – Episode 13
Jon's worked on amazing films at George Lucas' Skywalker Ranch. Now he works on dishes with Roy and Dave Filoni using fresh produce from the property.
Gesehen von 2 Usern
1x14 – Episode 14
Jon and Roy cook up some bonus recipes with Andrew Rea of "Binging with Babish" and "Ugly Delicious" host David Chang.
Gesehen von 2 Usern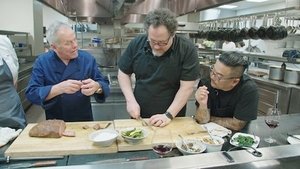 1x15 – Episode 15
In Las Vegas, Jon and Roy visit chef Wolfgang Puck at his steakhouse CUT to put Jon's omelet-making skills to the test and to prepare cuts of meat.
Gesehen von 2 Usern
1x16 – Episode 16
Jon and Roy stop at Border Grill in Las Vegas for a lesson in modern Mexican cuisine from co-owners Mary Sue Milliken and Susan Feniger.
Gesehen von 2 Usern
1x17 – Episode 17
Roy brings Jon into the kitchen at his Las Vegas restaurant, Best Friend, where they cook up some of chef Choi's favorite dishes.
Gesehen von 2 Usern
1x18 – Episode 18
Jon and Roy invite director Sam Raimi into the kitchen to bake sourdough bread and southern biscuits.
Gesehen von 2 Usern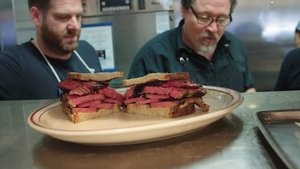 1x19 – Episode 19
Roy and Jon visit Wexler's Deli in Los Angeles to make traditional Jewish dishes and experiment with the cultural ingredients.
Gesehen von 2 Usern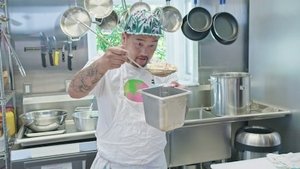 1x20 – Episode 20
Jon and Roy revisit some sweet and savory recipes from Pizzana chef Daniele Uditi and Sprinkles founder Candace Nelson.
Gesehen von 2 Usern
Quelle:
themoviedb.org