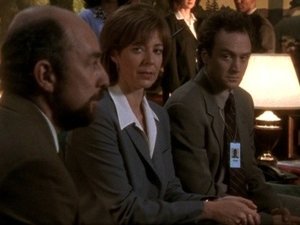 1x1 – Pilot
The West Wing staffers are introduced as each learns via phone or pager that the President was in a cycling accident. Josh faces the possible loss of his job after an on-air insult of a political opponent, which Toby tries to prevent by having Josh make a personal apology. Sam's fling the previous night with Laurie, who unbeknownst to Sam is a call girl, puts him in hot water, which he compounds when ineptly lecturing a class of 4th-graders about the White House and then asking their teacher which child is Leo's daughter. Leo must deal with the fallout from Josh's ...
Gesehen von 5 Usern
1x2 – Post Hoc, Ergo Propter Hoc
Josh trumps a potential Democratic challenger in a masterful political move and then hires the challenger's chief of staff and ex-girlfriend Mandy Hampton. Toby tries to warn Sam away from his friendship with the call girl, but to Toby's horror, Sam seems intent on reforming her. CJ tries to spin the latest clash between President Bartlet and Vice President Hoynes. After an American plane is shot down carrying Bartlet's physician, Bartlet's response leaves Leo worried about the President's response.
Gesehen von 5 Usern
1x3 – A Proportional Response
After being offered "a proportional response" to the Syrian military's downing of a U.S. military plane on a medical mission (and carrying his newly named personal physician), the president demands an option that will have greater impact. Leo gradually must talk him down, while Bartlet snipes at everyone, including Abby. The president ultimately agrees to the initial option, but is not happy about it. Charlie Young is introduced as an applicant for a messenger job whom Josh decides to hire as Bartler's personal aide (note: he mentions being sent to Josh by Mrs. De La ...
Gesehen von 5 Usern
1x4 – Five Votes Down
When an admittedly weak gun-control bill the White House has been backing turns out to be five votes short of House passage, Josh makes deals and threats to several Democratic reps, while Leo appeals to Hoynes for help. Elsewhere, while working the bill, Leo misses his anniversary, which he tries in vain to atone for, but eventually his wife Jenny decides to leave him.
Gesehen von 5 Usern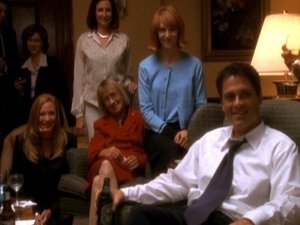 1x5 – The Crackpots and These Women
On the series' first "Big Block of Cheese" Day (nicknamed "Total Crackpot Day" by Josh), staffers meet with reps of various organizations causes, e.g., C.J. hosts a group that wants $900 million for a "wolves only" highway. The president has everyone to the residence for a homemade chili party, we learn about Mrs. Landingham's past, and Zoey is introduced to the group, including Charlie, for whom the intro soon becomes fateful (recurring romantic relationship throughout the series).
Gesehen von 5 Usern
1x6 – Mr. Willis of Ohio
In the first of several episodes throughout the series' run that portrays ordinary Americans and how they interact with and ultimately affect the W.H., an Ohio middle school social studies teacher, a widow who has recently filled the brief remaining term of his late wife in the House, joins two other reps to meet with Toby and Mandy about changes to unfair rules in the U.S. Census written into the latest federal budget. The other two, career politicians, are completely resistant to the changes, but Mr. Willis is swayed by a potent argument Toby makes regarding "strict...
Gesehen von 5 Usern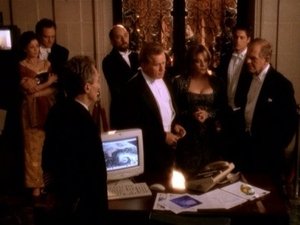 1x7 – The State Dinner
While preparing for (and enduring) a state dinner for the newly-elected president of Indonesia, staff deal with a multitude of other problems: Josh and Mandy argue over the best way to handle an FBI standoff with militants in Idaho; Leo (and eventually Bartlet) intervenes in a negotiations between the Teamsters Union and national reps for the trucking industry; Toby tries to convince an Indonesian cabinet member to release a friend of his, an activist or incites anti-government protests, from prison; Sam witnesses Laurie at work as a call girl, serving as the state ...
Gesehen von 5 Usern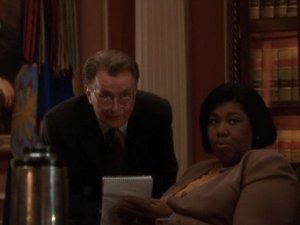 1x8 – Enemies
A crucial banking bill is at risk when political rivals of environmentally sensitive President Bartlet attach a land-use rider to it that would allow strip-mining some of the Montana wilderness. C.J. tries to stamp out rumors that the Chief Executive chastised the Vice President during a cabinet meeting. An overworked Leo isn't too keen on his independent daughter Mallory dating the handsome Sam. C.J. continues to fend-off the romantic charms of a perceptive reporter with a knack for sniffing out juicy stories. Former lovers Mandy and Josh clash over the ...
Gesehen von 5 Usern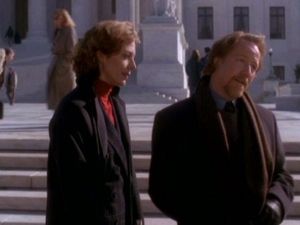 1x9 – The Short List
When a Supreme Court justice retires, President Bartlet has a golden opportunity to impact the court's composition by nominating a favorite judge but when further study reveals the candidate's conflicting ideology, the President might change his mind and opt for another judge. In addition, a headline seeking congressman on the House Government Oversight Committee accuses the White House staff of substance abuse -- a dicey issue for one important member.
Gesehen von 5 Usern
1x10 – In Excelsis Deo
When a homeless veteran dies on the National Mall and his body remains uncollected for hours, Toby becomes fixated on getting him a proper burial.
Gesehen von 5 Usern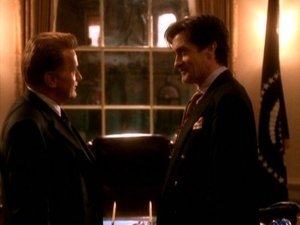 1x11 – Lord John Marbury
When India sends troops into Kashmir, President Bartlett calls for a British former ambassador to India to help out - over Leo's strong objections.
Gesehen von 5 Usern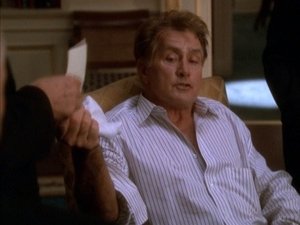 1x12 – He Shall, from Time to Time...
When the President collapses on the eve of his State of the Union, it's diagnosed as the flu. But when the First Lady cancels a trip and rushes home to look after him, Leo suspects the first family is hiding something about Bartlett's medical condition.
Gesehen von 5 Usern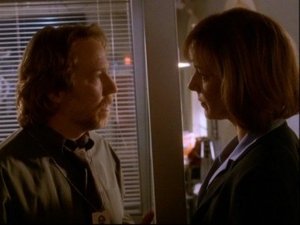 1x13 – Take Out the Trash Day
In preparation for the Friday night briefing for the Saturday papers and news broadcasts -- nicknamed "take out the trash day" because it disposes of all the stories the White House doesn't want heavy coverage on, and because Saturday is the least read paper of the week -- the staff take on a variety of chores: C.J. prepares to meet with the family of a Matthew Shepard-type victim of murder just because he was gay, and discovers something unexpected about the young man's reticent father; Josh and Sam contend with an angry Republican house committee leader who wants to...
Gesehen von 5 Usern
1x14 – Take This Sabbath Day
A drug dealer's appeal of the federal death penalty is rejected by the Supreme Court, which upholds the death sentence with execution scheduled for the following Monday. One of the defense lawyers on the case is Sam's old high school bully, and he appeals directly to Sam to involve the president. During a weekend in which he was supposed to be in a yacht race, Sam opts to stay at the W.H. and try to convince his fellow staffers and ultimately Bartlet that the president should commute the sentence. Meanwhile Josh, after a night of heavy drinking at a bachelor party, ...
Gesehen von 5 Usern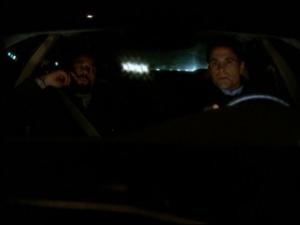 1x15 – Celestial Navigation
In a lecture at Georgetown, Josh recalls the previous week at the White House, during which he replaced a dentally impaired C.J. in the press room and gave a memorably disastrous briefing, responding to a reporter's question (sarcastically, although taken quite seriously) that the White House had a secret plan to fight inflation. Meanwhile, he's intermittently on the phone with Toby and Sam, who have flown to Connecticut and are now lost in a rental car on the Connecticut Turnpike. They've gone on critical business: the president's nominee for the Supreme Court, ...
Gesehen von 5 Usern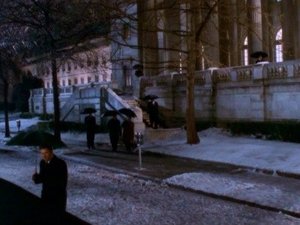 1x16 – 20 Hours in L.A.
The President meets Zoey's new bodyguard on a 20-hour trip to California; Josh tries to keep a fund raiser from being canceled; Leo needs the VP to break a 50-50 tie in the Senate.
Gesehen von 5 Usern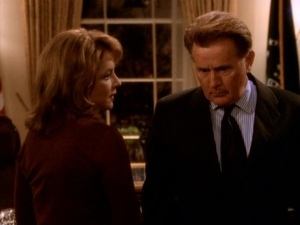 1x17 – The White House Pro-Am
When the Federal Reserve Chairmen dies, Bartlet must quickly choose a successor in order to avoid a financial chaos. However, he is reluctant to pick the obvious choice for Fed Chair, who used to be Abby's boyfriend. The matter is worsened when Danny Concanon receives a quote from the first lady saying she supports her ex-boyfriend, leaving Bartlett more irate. Meanwhile, Josh and Toby are courting congressman in order to get more votes for a bill they already won. However, a congresswoman, who felt 'betrayed' by Abby, poses a threat to the bill.
Gesehen von 5 Usern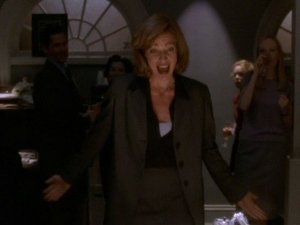 1x18 – Six Meetings Before Lunch
The morning after Mendoza's confirmation, various staff members are brought back to earth by difficult meetings.
Gesehen von 5 Usern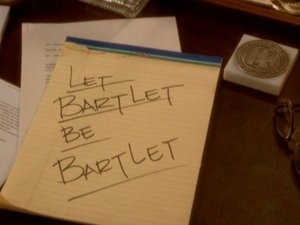 1x19 – Let Bartlet Be Bartlet
The West Wing staff are feeling malaise as it seems they never get anything accomplished. Meanwhile, a leaked memo is a land mine that could embarrass the administration.
Gesehen von 5 Usern
1x20 – Mandatory Minimums
A newly energized administration prepares to take on soft money, increase addiction treatment, and remove mandatory minimum sentencing.
Gesehen von 5 Usern
1x21 – Lies, Damn Lies and Statistics
The staff waits for a poll to tell them if their new, activist policies are moving them in the right direction. C.J. feels like her opinions are being discounted.
Gesehen von 5 Usern
1x22 – What Kind of Day Has It Been
A stealth fighter is shot down over Iraq, leading to Bartlet ordering a military rescue as Toby worries about his brother trapped on a space shuttle orbiting the Earth. CJ deals with the ramifications of misleading the press about the rescue as the staff prepares for a town hall meeting that night. The town hall meeting goes well until the President leaves...and shots ring out.
Gesehen von 5 Usern
Quelle:
themoviedb.org