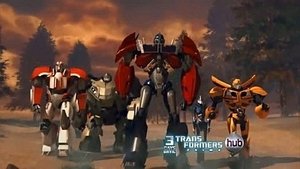 1x1 – Folge 1
The Autobots investigate the return of the Decepticons and must account for a group of young humans who become involved in their eons-old conflict.
Gesehen von 2 Usern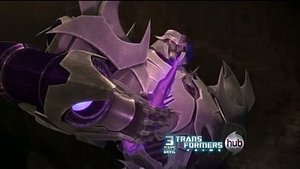 1x2 – Folge 2
When the Decepticons start experimenting on Cliffjumper's body with the fabled Dark Energon, the Autobots pick up the life signal of their lost comrade. They hurry to the site, where they find a huge Energon mine, under Decepticon control.
Gesehen von 2 Usern
1x3 – Folge 3
The Decepticons, in order to find the Autobot base, capture and torture Secret Agent Fowler, and it's up to Bulkhead and the three human kids to track him down. Meanwhile, Megatron raises an army of undead Transformers.
Gesehen von 2 Usern
1x4 – Folge 4
Megatron uses the Dark Energon to summon an army of undead warriors to battle Optimus, while the other Autobots launch a high-stakes rescue operation.
Gesehen von 2 Usern
1x5 – Folge 5
Through his Space Bridge, Megatron raises the dead Transformers of Cybertron, and summons them to Earth. The Autobots have to find a way to sabotage the Bridge, or else their new home will be destroyed by the legion of undead Decepticons.
Gesehen von 2 Usern
1x6 – Folge 6
Starscream frees the ancient warrior Skyquake from his tomb, with the hopes of recruiting him and making him his student. But Skyquake has his loyalties elsewhere, and clashes with Optimus Prime and Bumblebee for his own reasons.
Gesehen von 2 Usern
1x7 – Folge 7
While Optimus and Arcee are trapped in the Arctic, the base is invaded by deadly Scraplets.
Gesehen von 2 Usern
1x8 – Folge 8
Starscream, still in the command of the Decepticons, intercepts the signal of the Autobot warrior Wheeljack. Kidnapping him, he slips an impostor into the Autobot ranks. The impostor's goal: to locate the enemy base.
Gesehen von 2 Usern
1x9 – Folge 9
The Autobots help Agent Fowler escort a dangerous device known as D.N.G.S., but their convoy is soon attacked by the mysterious evil organization M.E.C.H., led by the crazy ex-military Silas.
Gesehen von 2 Usern
1x10 – Folge 10
The Autobots locate an ancient Energon Harvester in Greece, left there by their very ancestors. But so do the Decepticons who, with the help of Knock Out and Breakdown, manage to steal the device. Meanwhile, Miko has to learn a lesson about the importance of school.
Gesehen von 2 Usern
1x11 – Folge 11
Jack takes Bumblebee to an underground street race, and encounters among the competition the vainglorious Decepticon racer KnockOut.
Gesehen von 2 Usern
1x12 – Folge 12
Arcee and Jack go on a standard recon mission, but have an unexpected encounter with Airachnid.
Gesehen von 2 Usern
1x13 – Folge 13
When Optimus is infected with an ancient Cybertronian virus, the Autobots must infiltrate the Decepticon warship to find a cure.
Gesehen von 2 Usern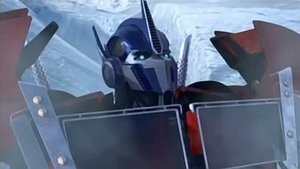 1x14 – Folge 14
Megatron gains control over Bumblebee's mind in an effort to revive his own comatose body, while Starscream, still preening himself as the Decepticons' supreme overlord, attempts to melt Earth's arctic icecap.
Gesehen von 2 Usern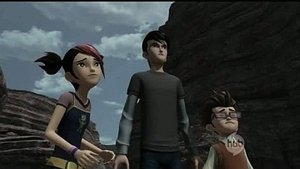 1x15 – Folge 15
Jack, Raf and Miko get trapped in-between dimensions, along with the revived body of the fallen Decepticon Skyquake. The Autobots have to figure out a way to save them. The battered and humiliated Starscream meanwhile tries to follow up on his latest scheme to overthrow Megatron.
Gesehen von 2 Usern
1x16 – Folge 16
M.E.C.H. capture Breakdown to take him apart and implement the gathered knowledge into their secret plans. The Autobots thus have to rescue their own enemy.
Gesehen von 2 Usern
1x17 – Folge 17
M.E.C.H. and Airachnid team up to kidnap Jack's mom, and Arcee has to offer herself as ransom. M.E.C.H. is after the Transformer technology, while the sadistic Airachnid simply wants to kill everyone involved.
Gesehen von 2 Usern
1x18 – Folge 18
Bulkhead, Arcee, and Miko clash with Airachnid and Breakdown over a weapon that can manipulate magnetic fields.
Gesehen von 2 Usern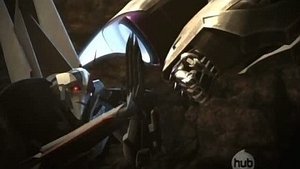 1x19 – Folge 19
Arcee, Bulkhead, Jack and Miko are out investigating a seemingly abandoned mining cave. However Megatron picked this very day and cave to execute the traitorous Starscream, and when the two factions clash, it results in a massive cave-in, trapping them under the rocks.
Gesehen von 2 Usern
1x20 – Folge 20
When Airachnid abandons Starscream on a mission, he takes revenge by offering to join the Autobots.
Gesehen von 2 Usern
1x21 – Folge 21
Miko accidentally downloads ancient knowledge stored on a data cylinder into Bulkhead's brain. The Autobot gains tremendous amounts of information, but it's threatening to delete his own personality if the data is not removed from his system.
Gesehen von 2 Usern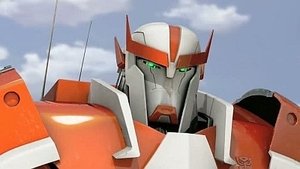 1x22 – Folge 22
Ratchet, having managed to recreate Synthetic Energon, tests the substance on himself, hoping to gain more power. However the formula is unstable, and his new-found strength causes Racthet to turn into a fierce killing-machine.
Gesehen von 2 Usern
1x23 – Folge 23
As an ancient Transformers prophecy is edging close to coming true, Megatron rushes to take matters into his own hands, answering the call of the mysterious Unicron. Thus Optimus Prime finally decides to put an end to Megatron's evil.
Gesehen von 2 Usern
1x24 – Folge 24
Unicron awakens, threatening to destroy the planet Earth, which is revealed to have formed around his very body in prehistoric times. He rejects Megatron as his servant, and decides to take matters into his own hands to finally fell the last of the Primes, Optimus.
Gesehen von 2 Usern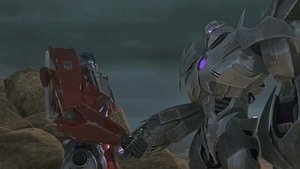 1x25 – Folge 25
Megatron joins with the Autobots to journey to the core of the Earth and vanquish Unicron with the Matrix of Leadership.
Gesehen von 2 Usern
1x26 – Folge 26
The Autobots and Megatron fight their way to Unicron's spark chamber. Meanwhile, Ratchet tells the kids about Cybertron.
Gesehen von 2 Usern