1x1 – Episode 1
Ostracized after coming out or being outed by someone, Cleve Jones, Ken Jones, Roma Guy and Diane leave everything they know behind to seek safe harbor in San Francisco, where they join the LBGTQ movement.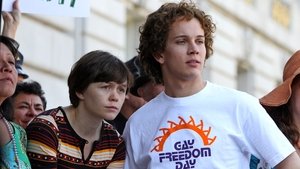 1x2 – Episode 2
Part II. 1977. Cleve is working on Harvey Milk's next bid for a city supervisor seat, they hoping it will be fourth time lucky. Roma and her associates are not officially supporting Milk as they see him as just another white male. Cleve is now a well known gay activist, he having mobilized the gay population in the city. With Scott having returned from Amsterdam, Cleve, Scott and Marvin look for a place in the city they can call home. Roma, now out to her Catholic parents who support but worry about her, has been able to open the Women's Building, a safe haven for women which is...
1x3 – Episode 3
Part IV. 1992. The gay male and lesbian movements are merging closer and closer to being one cohesive and supportive family. The AIDS epidemic has devastated the gay male community, with Cleve, Ricardo, Ken and Richard all having tested positive for the virus, some having been close to death, but all who have watched most of their gay friends die. Both Cleve and Ricardo, and Ken and Richard have vowed to each other that they will stay with each other to the end, through what will most likely be a painful death. Those vows may be difficult to keep if and when the time ...
1x4 – Episode 4
Part VI. 2008. The legalization of same-sex marriage has had a roller coaster of a ride. The latest victory was the California Supreme Court ruling that it is a constitutional right for people of the same sex to marry each other. That led to Proposition 8 on the November ballot in California, that proposition which would overturn the Supreme Court of California ruling if it passes, which it does by a narrow margin. While the younger generation of the LGBT community have a renewed energy in taking up the fight following the Prop 8 defeat, Cleve, who saw what happened ...
1x5 – Part V
Know what this is about? Be the first one to add a plot.
1x6 – Part VI
Know what this is about? Be the first one to add a plot.
1x7 – Part VII
Know what this is about? Be the first one to add a plot.
1x8 – Part VIII
Know what this is about? Be the first one to add a plot.
Quelle:
themoviedb.org