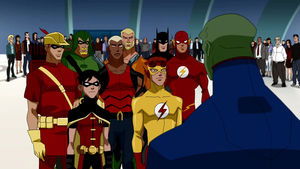 1x1 – Folge 1
Three teenage sidekicks decide to investigate a fire at a genetics laboratory... and discover a plot to create a clone of Superman.
1x2 – Folge 2
Robin, Kid Flash, and Aqualad are captured and only Superboy, the telepathically controlled clone of Superman, can free them. As they struggle to reach the surface, they must do battle with the transformed scientist known as Blockbuster.
1x3 – Folge 3
Batman has yet to assign the team a mission, and the team grows restless. A fire at a nearby power plant is the team's first mission or is it just a test?
1x4 – Folge 4
Batman sends the team on its first official mission - to observe and report on a Venom Factory. The team chooses its leader.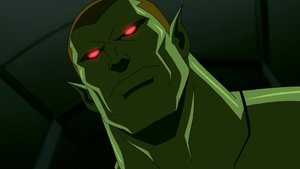 1x5 – Folge 5
Young Justice is assigned transport duty. To deliver parts of an android that has duplicated the powers of several Justice Leaguers. The creator of the android wants him back.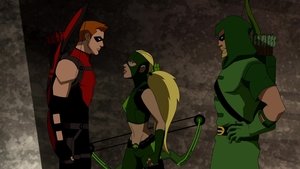 1x6 – Folge 6
Roy rescues a scientist from the League of Shadows. He asks Young Justice to protect her and neutralize the weapon that she was working on. Artemis joins the team.
1x7 – Folge 7
When the team investigates the disappearance of Kent Nelson (formerly Doctor Fate), the scientific-minded Wally West is forced to confront his disbelief in magic while battling Abra Kadabra and Klarion the Witch Boy for the ultra-powerful helmet of fate.
1x8 – Folge 8
After a poor performance during a mission, Batman gives the team some time off. Aqualad considers going back to Atlantis.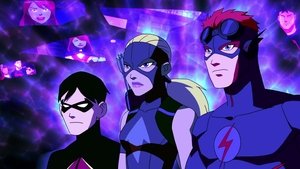 1x9 – Folge 9
The team awakens in the Biaylan desert with amnesia. Miss Martian tries to unite the team to restore their memories, and must find the cause of their amnesia.
1x10 – Folge 10
Red Arrow has to protect one villain from another in order to ensure that peace talks between two warring nations go well.
1x11 – Folge 11
Batman assigns Superboy and Miss Martian to go undercover inside Belle Reve, a federal prison designed to house the world's worst super-villains.
1x12 – Folge 12
When the cave is attacked, can Artemis and Robin - the two teens without super-powers - save the Team (or even themselves) from the unknown invaders?
1x13 – Folge 13
When Batman sends the Team and new "den-mother" Captain Marvel to India to investigate bizarre reports of armed animals attacking human beings, can Aqualad pull his fractured Team together?
1x14 – Folge 14
Batman assigns the Team to battle the Injustice League, when plant creatures they control begin a global assault.
1x15 – Folge 15
The Team is on the hunt for Red Tornado, and their friend Zatanna wants to come along for the ride.
1x16 – Folge 16
When the Justice League is defeated during an alien invasion, the Team has to step up and fill their mentors shoes.
1x17 – Folge 17
Superboy's "Sphere" goes through a surprising change, revealing a connection to the forever people of New Genesis.
1x18 – Folge 18
It's Halloween. Artemis and Zatanna are in Manhattan for a girls' night out. There, they encounter the deadly Harm, who has a secret.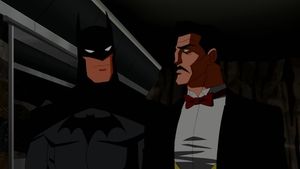 1x19 – Folge 19
When Earth's 5 most powerful sorcerers make all the adults on the planet disappear, it's up to the Team, Zatanna, and Billy Batson to stop them.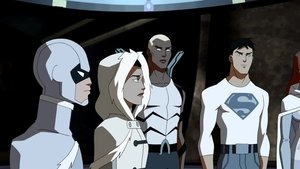 1x20 – Folge 20
On his birthday, Kid Flash must deliver a transplant heart in a race against time, artificial extreme weather conditions and supervillain opposition.
1x21 – Folge 21
A covert operation against Queen Bee in Qurac forces Miss Martian to finally face her greatest fears and her biggest secrets. But will she reveal those secrets to her friends - or allow what she's hiding to take down the entire team?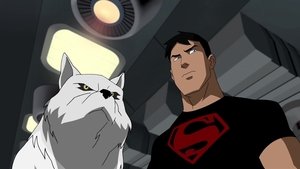 1x22 – Folge 22
Superboy returns to Project Cadmus, where he learns the top-secret genetics lab may have created another Super-clone...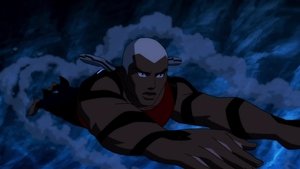 1x23 – Folge 23
Red Arrow's return undercuts Artemis' confidence, while the team's mission to track down Sportsmaster threatens to expose her darkest secrets.
1x24 – Folge 24
Robin, Artemis, Superboy, Miss Martian, and Red Arrow go undercover as the Daring Dangers to discover the link between Haly's circus and stolen weapon technology.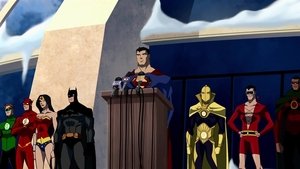 1x25 – Folge 25
The team gets a new member and a new mission - a mission that may finally expose all of the team's secrets ... and all of their lies!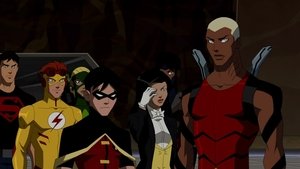 1x26 – Folge 26
The team finally learns the identity of the traitor in their midst, forcing a battle against an enemy more dangerous than any they've ever faced before!
Quelle:
themoviedb.org