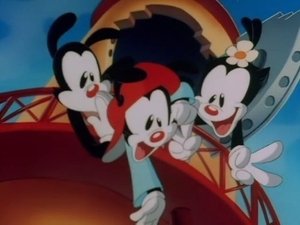 1x1 – Folge 1
In "De-Zanitized," frazzled Dr. Scratchansniff, the studio psychiatrist, uses every psychiatric technique he knows to "de-zani-tize" the Warners because the kids are just too zany. Next, as the Warners drive him crazy, Dr. Scratchansniff sings a song of woe "The Monkey Song" to a calypso beat, while the rest of the "Animaniacs" cast sings the chorus. Finally, in "Nighty-Night Toon," the Warners and company spoof a famous children's bedtime storybook.
Gesehen von 7 Usern
1x2 – Folge 2
The Warners help Albert Einstein discover the theory of relativity in "Cookies For Einstein." Then, to finance his latest scheme to overthrow the world, The Brain becomes a contestant on a game show, where he hopes to "Win Big." Finally in an upbeat ditty, Yakko sings the name of every country in the world ("Yakko's World").
Gesehen von 7 Usern
1x3 – Folge 3
"Slappy Goes Walnuts" as she and Skippy Squirrel gathers walnuts from the yard of their nemesis, Doug the Dog. Next, Yakko takes everyone on a trip through "Yakko's Universe," as he sings about the galaxies with the Warners. In "H.M.S. Yakko," a musical tribute to Gilbert & Sullivan, the Warners encounter the evil pirate, Captain Mel.
Gesehen von 7 Usern
1x4 – Folge 4
The Warners give unwanted help to Kirk Douglas-cum-Michelangelo as he tries to paint the Sistine Chapel. Squit tells the story of how he became a Goodfeather - a story that involves a discarded bagel on a busy street.
Gesehen von 7 Usern
1x5 – Folge 5
Mr. Plotz tasks Scratchansniff with bringing the Warners in line so they might appear at a huge gala to schmooze some Japanese investors.
Gesehen von 7 Usern
1x6 – Folge 6
The Warners fill in for Mr. Plotz' secretary when she is ill, making Plotz mentally ill; Buttons scrambles to protect Mindy as she hunts for her lollipop; the Warners sing about what they are.
Gesehen von 7 Usern
1x7 – Folge 7
A savvy cat and naive pooch join forces to escape the city pound in "When Rita Met Runt." Then, the wild Warner siblings disrupt a piano concert at staid Carnegie Hall in "Piano Rag."
Gesehen von 7 Usern
1x8 – Folge 8
Slappy Squirrel takes her nephew Skippy to see the film 'Bumbi.' Things seem to be going well, until the film gets to the part where Bumbi's Mom is killed. Slappy tries to calm Skippy down, but the little squirrel is traumatized. In desperation, Slappy takes Skippy to meet the actress who played Bumbi's Mom. Seeing that she's alright, Skippy finds closure...that is, until he watches the in-flight movie on the way home, which happens to be 'Old Yellow.'
Gesehen von 7 Usern
1x9 – Folge 9
The famed Wally Llama knows much, and can answer almost any question. But after being asked so many simple and mundane questions, the famous Llama has had it. But right about then, the Warner siblings show up with a very, very, very, important question-and they won't leave until they know the answer.
Gesehen von 7 Usern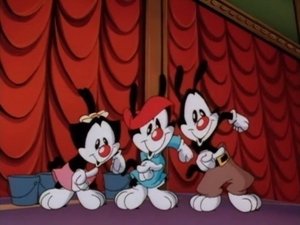 1x10 – Folge 10
The Warners arrive in Anvilania to take their rightful place as rulers - and annoyers.
Gesehen von 7 Usern
1x11 – Folge 11
The Warners help Pablo Picasso discover his new painting style, and modern art is born in "No Pain, No Painting." Then, in a musical parody of Victor Hugo's classic novel Les Miserables, Runt breaks out of Le Pound during the French revolution to save Rita and the Miserable Cats from being made into pastries.
Gesehen von 7 Usern
1x12 – Folge 12
In "Westside Pigeons," the Goodfeathers battle with the Sparrows as they fight over possession of a statue of Martin Scorsese in this musical spoof of "West Side Story." Then at the "Garage Sale of the Century," the Warners attempt to buy the seller's garage.
Gesehen von 7 Usern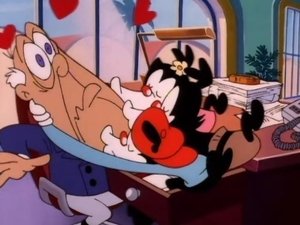 1x13 – Folge 13
Hello Nice Warners" tells the story of what happens when the Warners siblings are cast in a new film by the comedy genius, Mr. Director. Later, when their maid quits, the Hip Hippos try to cope on their own in "La Behemoth," a parody of a tragic opera. Finally, "Little Old Slappy From Pasadena" takes her powerful sports car for a drive around town, set to the tune of the classic rock and roll song, "Little Old Lady from Pasadena.
Gesehen von 7 Usern
1x14 – Folge 14
In "Cat on a Hot Steel Beam," Mindy pursues a cute kitty into a dangerous construction site and Buttons tries desperately to save her. Later, Dr. Scratchansniff gets a parking ticket, he's represented in court by the firm of Warner, Warner and Warner ("La La Law").
Gesehen von 7 Usern
1x15 – Folge 15
Aliens abduct Yakko, Wakko, and Dot. Inspired by the Orson Welles "War of the Worlds" radio drama, Brain stages a similar hoax on television, hoping to cause a nationwide panic.
Gesehen von 7 Usern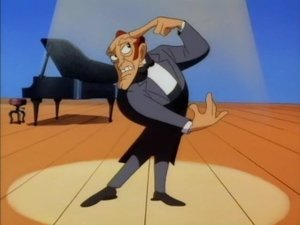 1x16 – Folge 16
In "Hooray for Slappy," Slappy Squirrel's old cartoon enemies, Walter Wolf, Sid the Squid and Beanie the Bison, attempt to ruin an award banquet given in Slappy's honor. It's the first day of school for the world's strictest teacher and her new students: the wild and wacky Warner siblings ("Chalkboard Bungle"). Finally, "The Great Wakkorotti: The Master & His Music" features Wakko's rendition of the classic waltz, "The Blue Danube."
Gesehen von 7 Usern
1x17 – Folge 17
Slight correction to the summary above: the segment "Roll Over, Beethoven" is followed by "The Cat and the Fiddle".
Gesehen von 7 Usern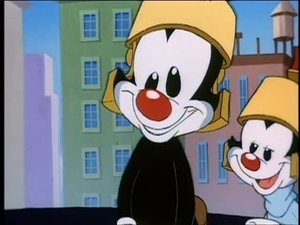 1x18 – Folge 18
First, Chicken Boo tries to pass himself off as world-famous ballet dancer, "Chicken Booryshnikov." Then, Pinky and The Brain attempt to steal the crown jewels of Russia in "Pavlov's Mice." Finally, in Czarist Russia, royal dentists Yakko, Wakko and Dot treat Rasputin's toothache in "Nothing But the Tooth."
Gesehen von 7 Usern
1x19 – Folge 19
The Hip Hippos have "A Moving Experience" as they move from the jungle to the city in pursuit of the latest fads.Then in a parody of the films of Swedish director Ingmar Bergman, the Warners compete against the grim reaper in a life-or-death game of checkers ("Meatballs or Consequences").
Gesehen von 7 Usern
1x20 – Folge 20
Wakko names all fifty states and their capitals in "Wakko's America." Next, Chicken Boo plays the famed frontiersman, "Davey Omelette." Later, "The Flame" of a candle comes to life and guides the audience through a special night in American history. Finally, President Abraham Lincoln attempts to write his Gettysburg Address with the "assistance" of the Warner siblings.
Gesehen von 7 Usern
1x21 – Folge 21
In "Hearts of Twilight," genius filmmaker Mr. Director goes over budget on his new film and the studio sends in the Warners to halt the project in their own inimitable fashion. Later, the Goodfeathers are cast as stunt doubles in a horror film entitled "The Boids."
Gesehen von 7 Usern
1x22 – Folge 22
A disgruntled businessman is irked even further when his flight has to move him from his usual 1st class accommodations to coach class. While one wouldn't assume it'd be so bad, the only seat left is near the Warner Brothers and Sister. In no time at all, the siblings have decided to make the fellow their 'special friend.'
Gesehen von 7 Usern
1x23 – Folge 23
Mindy travels "Up The Crazy River" in the Amazon rainforest, with Buttons once again protecting her from danger. Next, the Warners admonish viewers to "Be Careful What You Eat" in this song about nutrition. Then, Bobbie, Pesto and Squit go "Ta Da Dump, Ta Da Dump, Ta Da Dump, Dump, Dump." Coveting a culinary gold mine in the form of a garbage barge on the wharf, the three birds have their dinnertime delayed when Pesto becomes tangled in the plastic rings from a beverage six-pack.
Gesehen von 7 Usern
1x24 – Folge 24
In "Opportunity Knox," Pinky and The Brain travel to Fort Knox to steal the nation's gold supply. Later, a moth's love for a beautiful butterfly sweeps him away on an incredible and comic journey in "Wings Take Heart."
Gesehen von 7 Usern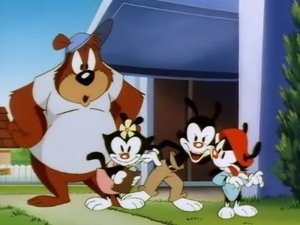 1x25 – Folge 25
First, in ancient Egypt, Rita and Runt find a "Home on De-Nile" in Cleopatra's palace until they discover that Rita is going to be Cleopatra's next sacrifice to the gods. Next, the Warners spoof the mystery novels of Agatha Christie in "Hercule Yakko," a story set aboard a luxury liner featuring the entire cast. Finally, Yakko performs Puck's famous monologue from "A Midsummer Night's Dream" which Dot translates for the Shakepeare-impaired.
Gesehen von 7 Usern
1x26 – Folge 26
The Warners wreak havoc at the movie theatre in a black and white cartoon from the 1930s. Then, Wakko has a "Potty Emergency" as he races against time and nature to find a bathroom.
Gesehen von 7 Usern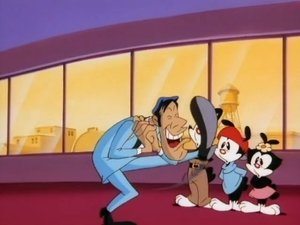 1x27 – Folge 27
Greek playwright Aristotle tries to win cash and prizes on "You Risk Your Life," a game show hosted by Yakko.
Gesehen von 7 Usern
1x28 – Folge 28
The Warner siblings save the great white whale, Moby Dick, from Captain Ahab. Next, in "Mesozoic Mindy," Buttons rescues cave girl Mindy from prehistoric peril.
Gesehen von 7 Usern
1x29 – Folge 29
In this Halloween episode, the Devil is "Hot, Bothered & Bedeviled" when the Warners visit Hades and torment him. Next, in "Moon Over Minerva," nerdy Wilford Wolf courts beautiful Minerva Mink.
Gesehen von 7 Usern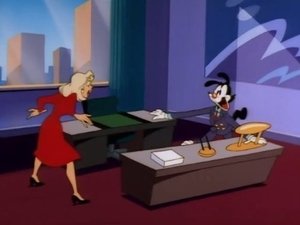 1x30 – Folge 30
In "Draculee Draculaa," the first cartoon in a special Halloween episode, the wacky Warner siblings spend the night at Dracula's castle in Transylvania.
Gesehen von 7 Usern
1x31 – Folge 31
A pompous opera divas tangles with the Warners in "O Silly Mio." Then, Rita and Runt help a young child escape the Nazis in war-torn Poland. Finally, "The Great Wakkorotti: The Summer Concert" features Wakko Warner's classic summer camp song.
Gesehen von 7 Usern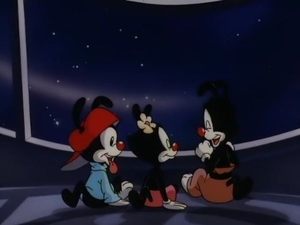 1x32 – Folge 32
At a Hollywood party, the Warner siblings meet the world's most boring man, who tells the world's most boring story in "Chairman of the Bored." Later, Mindy leads "Astro-Buttons" on a wild chase across a strange planet.
Gesehen von 7 Usern
1x33 – Folge 33
First, in "Noahs' Lark," the Hip Hippos board Noah's ark, much to Noah's chagrin. Then, "The Big Kiss" features Chicken Boo disguising himself as one of Hollywood's leading men.
Gesehen von 7 Usern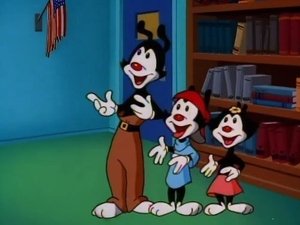 1x34 – Folge 34
On his birthday, a clown visits Wakko, who is terrified of clowns ("Clown & Out"). Then, in another ploy to take over the world, The Brain seeks adoration by becoming "Bubba Bo Bob Brain," a country music star.
Gesehen von 7 Usern
1x35 – Folge 35
This four-cartoon episode features the stars of the show appearing in each other's segments. First, The Brain ventures "In the Garden of Mindy" and enlists Mindy's help in his latest plan to take over the world.
Gesehen von 7 Usern
1x36 – Folge 36
When Slappy Squirrel's cartoons are reviewed negatively by a couple of critics, Slappy puts them in "Critical Condition." Then, in "The Three Muska-Warners," Yakko, Wakko and Dot defend the king and his castle in a parody of the famed Dumas tale.
Gesehen von 7 Usern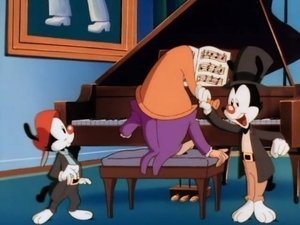 1x37 – Folge 37
In this three-cartoon episode with a wartime theme, "Dough Dough Boys" features the Goodfeathers as messenger pigeons sent on a mission during World War I.
Gesehen von 7 Usern
1x38 – Folge 38
Pinky and The Brain become "Spellbound" when they attempt to use Merlin's book of magic to take over the world in the Middle Ages.
Gesehen von 7 Usern
1x39 – Folge 39
Rita and Runt are "Smitten With Kittens" when they befriend three lost cats. Then, "Alas Poor Skullhead" features the Warners performing a scene from Shakespeare's "Hamlet.
Gesehen von 7 Usern
1x40 – Folge 40
First, in "Fair Game," the Warners become contestants on their favorite game show, "Quiz Me Quick." Next, Pinky and The Brain hope to become "Puppet Rulers" as the stars of a 1950s children's television show.
Gesehen von 7 Usern
1x41 – Folge 41
The Warner siblings deliver lunch to famed newscaster Dan Anchorman. However, the stuffed shirt is so egotistical that he refuses to tip the delivery persons. Needless to say, Dan's next newscast doesn't go quite according to plan.
Gesehen von 7 Usern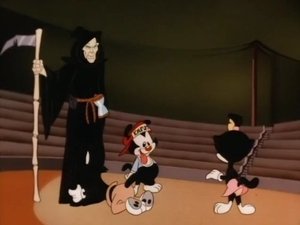 1x42 – Folge 42
In "Can't Buy A Thrill," Flavio and Marita decide to seek thrilling adventures, much to the horror of Gina Embryo. Then, a naive Kansas woodchuck who desires to become a "Hollywoodchuck" travels to Hollywood to seek fame and fortune.
Gesehen von 7 Usern
1x43 – Folge 43
At the mall, the kids are pestered by two "Survey Ladies" who ask inane questions. Later, in "Of Nice and Men," Rita and Runt lead a daring escape from a farm where rabbits are being raised for their pelts.
Gesehen von 7 Usern
1x44 – Folge 44
The Warners sing "The Senses Song," a ditty delving into the six senses and beyond. "The World Can Wait" when The Brain falls in love and enlists Pinky's help to woo the object of his affection.
Gesehen von 7 Usern
1x45 – Folge 45
Dot Warner parodies the classic opening theme from "The Mary Tyler Moore Show" in the "Mary Tyler Dot Song." Next, the wild Warners create a "Windsor Hassle" when they help the Queen refurbish Windsor Castle.
Gesehen von 7 Usern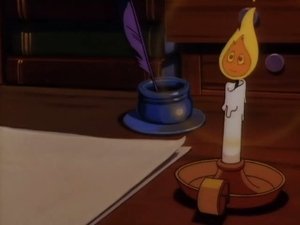 1x46 – Folge 46
A Thanksgiving cartoon, "Turkey Jerky," features the Warner siblings in Plymouth, Massachusetts, protecting their pet turkey from hunter Miles Standish.
Gesehen von 7 Usern
1x47 – Folge 47
First, in "Video Review," the Warners run amok in a video store late at night. Then, in another effort to overthrow the world, Pinky and The Brain use H.G. Wells' time machine to create an era "When Mice Ruled the Earth."
Gesehen von 7 Usern
1x48 – Folge 48
In "Mobster Mash," the Warners tangle with the head of the Mob while dining at a pasta restaurant. Next, the three zany siblings sing about the beautiful "Lake Titicaca." In the last cartoon, "Icebreakers," Runt becomes a sled dog in the Yukon.
Gesehen von 7 Usern
1x49 – Folge 49
On Christmas Eve, the Warner Bros. chief, Thaddeus Plotz, is subjected to a Dickensian nightmare provided by the Warners in "A Christmas Plotz." Later, the three Warners star in "Little Drummer Warners," a musical version of the nativity.
Gesehen von 7 Usern
1x50 – Folge 50
Warner CEO Thaddeus Plotz has had it with Ralph the security guard's inability to keep the Warner kids from running amok, and has him fired-on Christmas Eve no less. That evening, Plotz is visited by three spirits (who strangely resemble 3 familiar siblings!), that show him the error of his ways.
Gesehen von 7 Usern
1x51 – Folge 51
The Warner siblings confront Ralph the Giant in "The Warners and the Beanstalk," their own version of the fairy tale classic. Another disastrous confrontation occurs when legendary trailblazer Daniel Boone meets "Frontier Slappy" Squirrel.
Gesehen von 7 Usern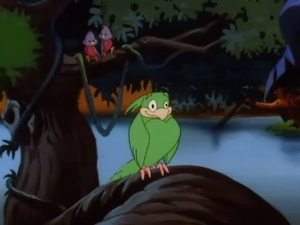 1x52 – Folge 52
Wakko and Dr. Scratchansniff have their "Ups and Downs" when they get trapped in an elevator together, for hours. Then, will a "Brave Little Trailer" survive when a fierce tornado tears through his trailer park? Later, in "Yes, Always," Pinky and The Brain demonstrate how voices are recorded for cartoons.
Gesehen von 7 Usern
1x53 – Folge 53
The Warners disrupt Dr. Scratchansniff's date in "Drive Insane." Then, the Goodfeathers chase their girlfriends, the "Girlfeathers," who are playing "hard-to-get." Later, Dot's sweet personality is analyzed in a musical number, "I'm Cute."
Gesehen von 7 Usern
1x54 – Folge 54
In their latest attempt to take over the world, "Brain Meets Brawn" when Pinky and The Brain meet Dr. Jekyll. Another meeting ends in disaster when a goofy dachshund is instructed to bring back the pelt of beautiful Minerva Mink in "Meet Minerva."
Gesehen von 7 Usern
1x55 – Folge 55
During the California "Gold Rush," the Warners confront, confuse and confound Claimjump Jake, the greediest gold prospector in the West. Another gold-related tale, "A Gift of Gold," follows the trials and tribulations of a piece of gold wrapping paper in a heartwarming story by Steven Spielberg. In a musical finale, "Dot's Quiet Time," Dot travels to the far corners of the globe seeking some peace and quiet. But once she finds a silent location, she realizes that it's just TOO quiet.
Gesehen von 7 Usern
1x56 – Folge 56
In the show's opening musical number, "Schnitzelbank," the Warners sing a song about international friendship. Then, in "The Helpinki Formula," Pinky and The Brain create their own infomercial in their latest scheme to conquer the world. The next segment, "Les Boutons et le Balon," features Mindy and Buttons creating havoc in beautiful Paris. And the final cartoon stars Chicken Boo, who disguises himself as karate champion "Kung Boo."
Gesehen von 7 Usern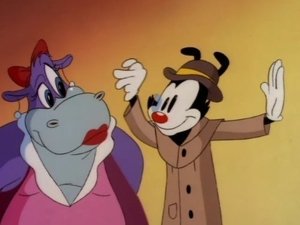 1x57 – Folge 57
The first segment of this three-cartoon episode stars the wonderfully weird Warner siblings in "Of Course You Know, This Means Warners," a parody of patriotic propaganda films of the 1940s. Next, when Rita is frightened "Up a Tree," she's too scared to climb back down. Then Wakko creates "Wakko's Gizmo," the ultimate Rube Goldberg device.
Gesehen von 7 Usern
1x58 – Folge 58
The episode opens with Slappy Squirrel's rendition of the silly song, "Oh Oh Ethel." Next, in "Meet John Brain," The Brain runs for President of the United States. Later, Slappy confronts her old foe, Stinkbomb D. Basset, the world's smelliest dog...
Gesehen von 7 Usern
1x59 – Folge 59
In "Ragamuffins," a black-and-white, 1930s-style cartoon, the Warners go to work, and create havoc, at a bakery. Then, Slappy and Skippy Squirrel attend the landmark rock concert of 1969 in "Woodstock Slappy."
Gesehen von 7 Usern
1x60 – Folge 60
In the first segment of this three-cartoon episode, "Karaoke-Dokie," the Warners compete for the microphone at a karaoke song festival on the studio lot. To achieve fame, fortune and global domination, Pinky and The Brain become nocturnal superheroes in "Cranial Crusader." Finally, Chicken Boo dresses up as secret agent "James Boo" in "The Chicken Who Loved Me," a parody of James Bond films.
Gesehen von 7 Usern
1x61 – Folge 61
Trouble occurs when the Warners meet the big, fat, purple dinosaur from the "Baloney and Kids" television show. Next, "Super Buttons" soars over the metropolis to rescue Super Mindy. And in "Katie Ka-Boom: The Driving Lesson," Dad gives Katie a driving lesson with the usual calamitous results.
Gesehen von 7 Usern
1x62 – Folge 62
In the first part of a Halloween episode, "Scare Happy Slappy," Slappy and Skippy Squirrel go trick-or-treating at the homes of Slappy's former cartoon foes. Afterwards, Rita is accused of being a witch in Salem, Massachusetts during the 1600s in "Witch One." Finally, the wacky Warners perform in a scene from William Shakespeare's famous play, "Macbeth."
Gesehen von 7 Usern
1x63 – Folge 63
In "With Three You Get Eggroll," Pesto baby-sits an egg that escapes and rolls through the city, with the Goodfeathers in frantic pursuit. Then, in a segment set under the sea, "Mermaid Mindy" leads Mer-dog Buttons on a wild oceanic chase. Finally, in "Katie Ka-Boom: Call Waiting," tensions mount when Katie uses the family telephone too long.
Gesehen von 7 Usern
1x64 – Folge 64
"Lookit The Fuzzy Heads," exclaims "Tiny Toons" star Elmyra when she visits "Animaniacs." Elmyra loves the Warner siblings in her own overbearing, and sometimes painful, fashion. Slappy Squirrel learns that there's "No Face Like Home" when she undergoes plastic surgery and discovers that the doctor is her old nemesis, Walter Wolf.
Gesehen von 7 Usern
1x65 – Folge 65
In "The Warners 65th Anniversary Special," the biggest stars in Hollywood celebrate the 65th anniversary of the Warner Brothers and their sister, Dot.
Gesehen von 7 Usern