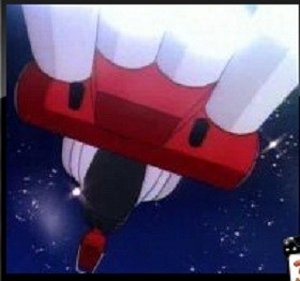 1x1 – Folge 1
After their planet Mars is taken by humanoid fish-aliens Plutarkians to plunder its resources, three warrior biker mice, Throttle, Modo and Vinnie, escape to Chicago, Earth, but Plutarkians masked as businessmen are already plundering it.
Gesehen von 4 Usern
1x2 – Folge 2
Limburger gets a big blasting from his Supreme Leader, Lord Camembert. To get back in the big cheese's good books, Limburger hatches a stinking plan - he kidnaps the Mayor of Chicago and frames the Biker Mice for the crime.
Gesehen von 4 Usern
1x3 – Folge 3
The Biker Mice have to work double time to clear their names in court to the judge and save the mayor before Chief of Police Greasepit captures and jails them. Limburger then enlists the help of Tunnel Rat, a repulsive rodent who enjoys tearing mice and the ground to pieces.
Gesehen von 4 Usern
1x4 – Folge 4
Limburger calls in the Loogie Brothers, also known as the "Scum of the Universe," to stink up Chicago badly enough to drive the citizens out.
Gesehen von 4 Usern
1x5 – Folge 5
Limburger hatches a plan to use a toxic substance to help take Chicago's dirt but he needs Modo's bike for the plan to succeed. Modo getting dipped in said toxic substance puts a slight dent in the Biker Mice's efforts to get his bike back.
Gesehen von 4 Usern
1x6 – Folge 6
Limburger hires three villains: Evil Eye Weevil and his aides, The Pukes of Hazzard. Evil Eye has the ability to induce hostility in people, and successfully drives the Biker Mice apart long enough for him and the pukes of hazard to capture two of them. But one's still on the loose..
Gesehen von 4 Usern
1x7 – Folge 7
A mysterious female biker helps out the Mice in battling against Corroder Cody, who Limburger's hired to purloin the oil refineries.
Gesehen von 4 Usern
1x8 – Folge 8
The Biker Mice realise that Limburger is not the only villain that dwells in town when they attempt to stop a bank robbery. Throttle and Modo take a leap into the Pits, a crater filled with some of the baddest scum and villainy, and are condemned to slave life. Now it's up to Vinnie to save his two brothers.
Gesehen von 4 Usern
1x9 – Folge 9
Two of the Biker Mice are injured when a gang called the Road Ravens steal oil from tankers. Throttle and Charley must do a bit of undercover work to bust the gang up from within, while Modo and Vinnie recuperate to prevent more oil stealing.
Gesehen von 4 Usern
1x10 – Folge 10
When Limburger disappears after the teleporter is damaged during his attempts to recruit new monsters to battle the Biker Mice, his unintentional replacements turn out to be increasingly more powerful and evil, forcing Charley to repair the teleporter to bring Limburger back in the hopes that he can reveal the new villains' weaknesses.
Gesehen von 4 Usern
1x11 – Folge 11
In order to ensure his scheme to grab all the steel from Chicago, Limburger tempts Modo away from his bros with a new metal arm.
Gesehen von 4 Usern
1x12 – Folge 12
The Biker Mice must stop Limburger's plan to steal all of Earth's water using his giant snow suckers which would ruin not only Christmas, but the whole of winter too.
Gesehen von 4 Usern
1x13 – Folge 13
Hard Rock, a rocker with a nasty guitar, is forced into working for Limburger. And it seems the Biker Mice remember this bad boy from when he was really working for Plutark and decimated Mars.
Gesehen von 4 Usern