1x0 – No Smoking
After Chicken is caught smoking by the Devil, he is taken to the underworld where Supercow must save him.
1x1 – Folge 1
While on a field trip to a local prison (where the Red Guy is the Warden), Chicken ends up switching places with one of the convicts./Chicken reluctantly accepts a dare set by Flem and Earl to see what the girls' bathroom at school is like.
Gesehen von 5 Usern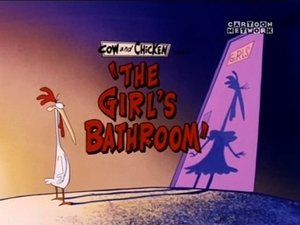 1x2 – Folge 2
Supermodel Cow/Part Time Job Supermodel Cow: Cow has her big break when she becomes a supermodel. However, she soon learns that fame doesn't last long. Part Time Job: Cow gets a part time job at a milk farm in order for her to get a Crabs the Warthog doll. However, when Chicken tries to apply for a part time job, he soon ends up in danger.
Gesehen von 5 Usern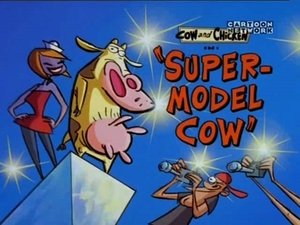 1x3 – Folge 3
The Red Guy wants to find out who is Supercow so he opens a dry cleaners to find Supercow's real identity.
Gesehen von 5 Usern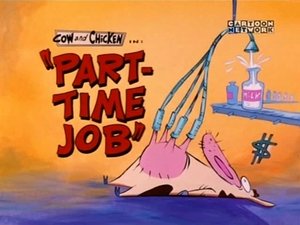 1x4 – Folge 4
Confused / The Molting Fairy Confused: After making a small mess, Cow and Chicken are sent to a military school, then are sent to sensitivity training. The Molting Fairy: Chicken wakes up one morning to find that he's molting. He soon uses this to his advantage when he learns that he can get paid for all the feathers he loses.
Gesehen von 5 Usern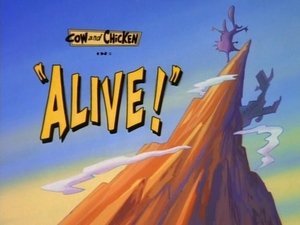 1x5 – Folge 5
Cow writes a play entitled "The Ugliest Weenie", which Chicken finds to be stupid, but the drama teacher, Mr. Fleur, finds it compelling and turns it into a play. Chicken's role in the play leads to love with a French student, and a feud with best friend, Flem. / "The Ugliest Weenie" is acted out in full, this time with the leading roles filled in by Cow and Chicken. By the end of the act, the stage catches on fire from a freak accident.
Gesehen von 5 Usern
1x6 – Folge 6
Crash Dive / Happy Meat Crash Dive: Chicken floats down stream in his new home-made submarine. However, knowing of a nearby waterfall, Cow attempts to save him. Happy Meat: Sick and tired of the ketchup-based meals being served at school by Mrs. Barederriere (The Red Guy), Cow and Chicken follow in their grandparents' footsteps and make a food stall that serves meat.
Gesehen von 5 Usern
1x7 – Folge 7
Chicken and Flem help their regular bully, Butch, after he is outshone by a meaner, stronger bully. / Cow and Chicken find a time machine and decide to travel in time. Things go wrong when the Red Guy shows up in an attempt to change the course of history for the worse.
Gesehen von 5 Usern
1x8 – Folge 8
Orthodontic Police / The Cow with Four Eyes Orthodontic Police: Cow and Chicken are given inhumane braces by an Orthodontic Police Officer (The Red Guy). However, they soon learn that they're not the only ones. The Cow with Four Eyes: Cow has become the most popular student in school thanks to her new glasses. Jealous of this, Chicken decides to get some as well, leading up to an attempt to destroy a new school dungeon (which was actually a new swimming pool).
Gesehen von 5 Usern
1x9 – Folge 9
Cow Instincts, Don't It? / Ballerina Cow Cow Instincts, Don't It? Cow believes that she has some form of herding instinct, which leads her to following a postman, ducks, fish and even soldiers! Ballerina Cow: Cow has started taking up ballet, but due to her weight, she brings the house down (literally)! Fortunately, she finds someone to help her find fame, in the form of home-wrecker, Mr. Slacks off (The Red Guy).
Gesehen von 5 Usern
1x10 – Folge 10
Chicken's First Kiss / Squirt the Daisies Chicken's First Kiss: After the girls beat the boys in a game of "Girls Chase Boys", Chicken is tormented by the claim that he's in love with a girl named Winy. This leads to Chicken having an anxiety attack over suffering from her "cooties." Squirt the Daisies: While getting money to play on the arcade machines, Chicken is brought in by The Red Guy to play on a Virtual Reality machine. Games include "Kick the Can," "Duck, Duck, Goose" and Cow's favorite game, "Squirt the Daisies." However, just because these look like ...
Gesehen von 5 Usern
1x11 – Folge 11
Lawnmower Chicken: Chicken tries to earn extra money by mowing the lawn of Mr. Devlin (The Red Guy). Cow Loves Piles: Cow is with her family at the fair, where she takes her new doll, Piles the Beaver with her. But when she loses Piles, Cow must chase after and recover him.
Gesehen von 5 Usern
1x12 – Folge 12
Cow wins an essay contest and goes into outer space while Chicken wins runner-up and works in marketing; on a camping trip, Flem's dad tells the legend of Sailcat.
Gesehen von 5 Usern
1x13 – Folge 13
The family head over to Oregon to find a tribe of head-hunters. Eventually, Chicken soon becomes the "hunted", especially when The Red Guy is their leader. The King & Queen of Cheese: Cow heads over to Cornflake, Arkansas, where she tries to help Larry Lackapants (The Red Guy) become The King and Queen of Cheese.
Gesehen von 5 Usern
Quelle:
themoviedb.org