1x0 – The New Love Boat - The Newlyweds/The Exchange/Cleo's First Voyage
Stanley and Joyce Adams are nervous newlyweds. Leonora and Ernie Klopman meet widowed tailor Morris Beekman and happy spinster Mae Allen. Merrill demands that Julie seat Cleo Bagby at his table, but she's Gopher's girl and a stowaway.
1x1 – Der Captain und die Lady / Hochzeit auf Raten / Das Poster des Monats
Stubing's ex-wife, who has remarried a cruise line exec, drives Stubing and crew crazy with demands. Former centerfold Sandy Rytell hides old nude photos from her fiancé. Jenny O'Brien tries to get her boyfriend Ron Baker to marry her.
1x2 – Oh Dale! / Das Geständnis / Scheidungsgrund: Würstchen
Dale Reinhart pursues the girl who dumped him and dresses in drag to get the only available cabin. Bickering Maury and Stella Marshall get stuck in a elevator. Janette Bradford is followed by the P.I. her husband hired to keep tabs on her.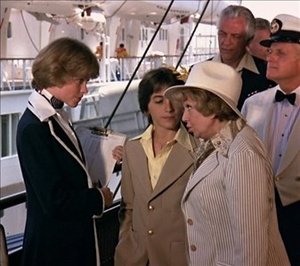 1x3 – Ex Plus Y/Graham and Kelly/Goldenagers
Barney Mason (Robert Reed) and his ex-wife Terry Larsen (Loretta Swit) meet on the cruise with their new spouses (Pamela Bellwood and Richard Mulligan); Julie's (Lauren Tewes) love interest Jim Wright's (Charles Frank) chaperoning of senior citizens leaves little time for them to be together; teenagers Graham (Scott Baio) and Kelly (Kristy McNichol) find puppy love, together.
1x4 – Wahre Liebe oder ein glücklicher Irrtum / Der Witzbold oder Zuviel des Guten / April oder das Show-T
Tennis pro Maureen Mitchell (Brenda Benet) runs into sportswriter John Ballard (Bill Bixby), who defamed her in his column. Cyril Wolfe (Milton Berle) annoys his wife Anita (Audra Lindley) and fellow passengers (Lynn Adams and Britt Leach) with constant practical jokes. Mexican April Lopez (Charo) stows away in a laundry hamper.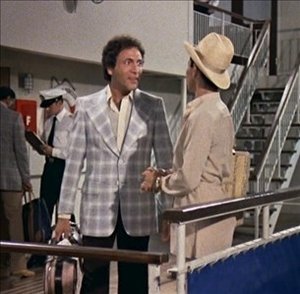 1x5 – Roxy Blue oder der Liebestraum / Leber mit Zwiebeln oder der Juwelendieb / Schießen oder schießen la
Isaac's (Ted Lange) favorite singer, Roxy Blue (Diahann Carroll), becomes his lover. Talky Robert Tanner's (Jim Nabors) popularity increases when fellow passengers think he may be a jewel thief. Bert Fredericks (David Groh) plans his wife Denise's (Michele Lee) birthday party, but she thinks it's a murder plot.
1x6 – Applaus bitte für eine Witzfigur / Erst 19 und schon ein bißchen weise / Wie wär´s mit meiner Enkeli
Has-been comic Barry Keys asks Julie to let him entertain on board to return a favor. Mrs. Warner is determined to marry off her granddaughter Shirley. College pals bet on whether virginal Dan changes his status before the cruise ends.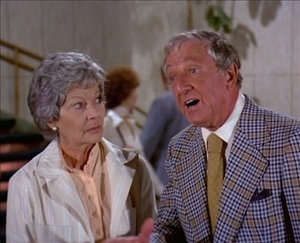 1x7 – Glückliche Unglücksboten / Wo ist die alte Flamme? / Ein Zwilling kommt selten allein
Identical twins share a ticket and confuse Doc. Julie's old heartthrob is on the cruise alone but no longer married. And an old couple who honeymooned on the Titanic are thought to be a jinx as strange things happen to crew members.
1x8 – Der Lehrling / Das Findelkind / Die Versicherung
Theo Denison Jr buys a cruise with his own money and doesn't tell his parents. Sharon can't release the pain of her son's death. Julie's protégé Connie is after Julie's job. Maisie and Durwood are a married couple traveling as singles.
1x9 – Der Captains Captain / Ein Hundeleben / Liebesroulette
The Captain's father drives Merrill nuts, then takes a liking to crew member P.J. Muldoon. Passenger Donald Flanders is trapped in his cabin by an attack dog. Three college friends play romantic games with the ship's repairman's feelings.
1x10 – Trotzdem erkannt! / Der Streik / Sonderkurier
Advice columnist Beverly Blanchard neglects husband Russ and drives him to another woman. Merrill wages war with chef Antonio Borga. Julie's friend Jeff Smith is separated from wife Gail, but doesn't know she's on board carrying his child.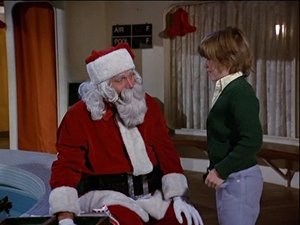 1x11 – Ein ganz krummes Ding / Der edle Spender / Wer sagt zuerst Scheidung?
At Christmas, lonely Merrill lacks holiday spirit. Ex-con Dan Barton meets cheating law partner Walter and plans revenge for being convicted of Walter's crime. Paul and Audrey Baines fantasize about divorcing each other.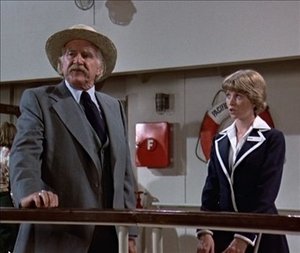 1x12 – Eine schöne Romanze
An older man finds a teenage stowaway in his bathroom. Julie falls for one of her brother's friends, whose cabin mate urges him to pursue her. Julie hires inept painters to paint the Captain's suite in his favorite color.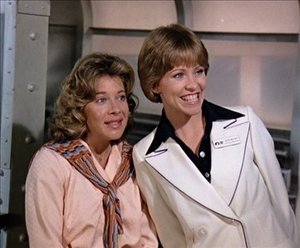 1x13 – Wiedervereinigung
Stories include: a reprobate steward (Bob Crane), cute honeymooners (Kathy Bates, John Rubinstein), and a financially strapped supermarket cashier (Bruce Solomon) posing as a wealthy, advertising executive.
1x14 – Immer die Zähne zeigen / Bitte noch einmal / Wer hat hier einen Affen?
Isaac's mom and her male companion share a cabin. Julie books divorced entertainers Lenny and Mitzy, who can't get along together. Gopher hides a thieving chimpanzee that brings him in contact with a nose job patient.
1x15 – Karneval an Bord, Teil 1
Former blind schoolmates reunite, but one has his sight. Hollywood couple Bill and Roz arrive with a big diamond that tempts crooks. Alan's wife Barbara and mistress Cathy are both on board. A masquerade night moves the plots along.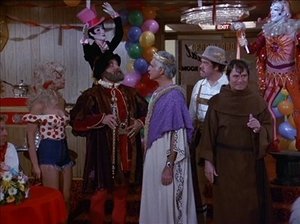 1x16 – Karneval an Bord, Teil 2
Blind Jenny wonders if she can be happy with Steve, who has regained his sight. Alan's wife Barbara and lover Cathy meet. The bumbling thieves figure out how to nab the diamond, even as Roz decides on its fate.
1x17 – Ballett mit zwei linken Füßen / Zuviel Geld schafft Probleme / Perfektes Happy-End
Rick imperils his girlfriend Suzy's chances of winning a beauty contest. Reporter Robin tries to write a story on scandal-tainted Congressman Whitcomb. Stephanie balks at fellow passenger Virgil's boisterous behavior.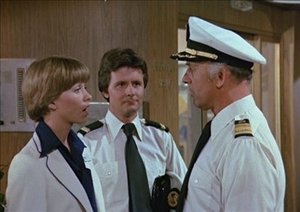 1x18 – 598 Passagiere, aber kein Inspektor / Kabinentausch mit Folgen / Der Abschiedstanz
Stubing's clumsy nephew comes on board to be trained to work on ships, but has a secret. Thief Bill hooks up with female passenger Stephanie, who's a cop. Rose Higby feels neglected when her sister Noreen meets a male passenger.
1x19 – Wer streitet hier denn? / Handbuch der Liebe / Ein Spielchen in Ehren
Melanie is popular with men while her friend Jane is ignored. Brian Sherwood spends a lot of time with a younger woman. The staff try to figure out which passenger is the Cruise Lines inspector. A Russian man repeats the same phrase.
1x20 – Computermann / Die falschen Französinnen / Mann ohne Gedächtnis
Passenger Lily is haunted by an amnesia victim. Computer-dating service manager Nick woos Julie and offers his matchmaking services for Valentine's Day. Americans Brigitte and Yvonne pretend to be French in order to get men and gifts.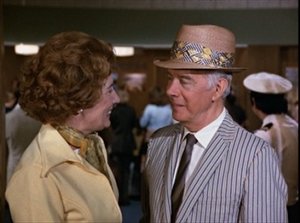 1x21 – Handbuch der Liebe
Older Max and Gladys turns newlyweds Scott and Denise against one another with bickering. Howard uses a dating manual to hit on young Sheila. Cardsharp Wendell cheats the crew to pay the passage for him and his wife Ida.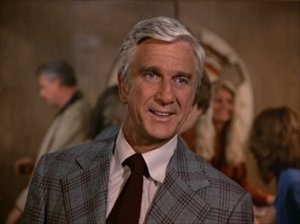 1x22 – Parents Know Best/A Selfless Love/The Nubile Nurse
Bruce's parents Harry and Phyllis want him to date women on the cruise and not settle for his girl back home. New nurse Dawn frustrates Adam by rejecting him. Dan has second thoughts about marrying young Laura.
1x23 – In Badewannen schläft man nicht
Spunky gossip reporter O'Rourke writes an expose of high seas lust. Shy Nelson has a week to marry or lose his inheritance. Didi moves out of her chauvinist fiance Curt's cabin. Widow Irene impersonates a socialite.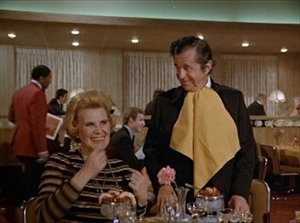 1x24 – Das Geschäft der Liebe
Ray Foster upsets his former call girl Jill Williams, who is starting a new life with a new love. Merrill crash diets for his high school flame Jocelyn Matthews. Depressed widowers Roberta and Nate comfort each other.
1x25 – Jeden Preis für ihre Firma! / Der Rausschmiß / Leere Scheidungsversprechen
An Asian businessman pushes his associate to loosen up a woman whose business he wants to buy. Rebellious Vanessa goads Gopher into standing up to bossy Stubing. Andrea wonders where she's going in her relationship with a married man.
Quelle:
themoviedb.org