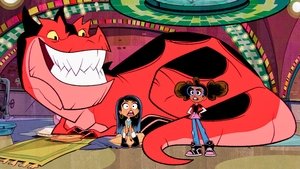 1x1 – Moon Girl legt los
When brilliant, altruistic Lunella Lafayette accidentally brings a dinosaur to the Lower East Side, she finally has the brawn to match her brains and protect her community.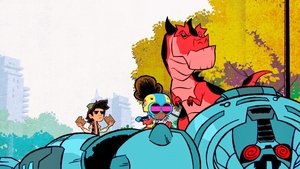 1x2 – Episode 2
When Lunella finds a nasty comment on her Moon Girl social media page, her fixation on the troll threatens to take over her life.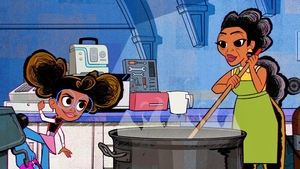 1x3 – Episode 3
When Lunella runs the rink for a night, she agrees to Casey's get-rich-quick scheme, which threatens Moon Girl's reputation and her family's beloved business.
1x4 – Episode 4
When Lunella loses a game of chess against a supercomputer, her obsession with winning drives the frustrated computer to program every device in the school to attack her.
1x5 – Episode 5
When Lunella creates a chemical to change her hair, she accidentally turns her mane into a vengeful villain that vows to ruin her.
1x6 – Episode 6
The Beyonder gloms onto Lunella to learn about humanity, just as she's struggling to win a big science competition.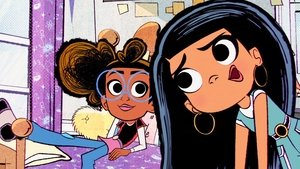 1x7 – Episode 7
Lunella tries to overcome her awkwardness about fitting in at a slumber party by creating a mind-reading device, but accidentally switches brains with Devil Dinosaur.
1x8 – Episode 8
When Devil gets jealous of sharing Lunella with her class hamster and accidentally sets the animal free, he must search New York City to bring the furry friend home.
1x9 – Episode 9
Lunella creates a device that allows her to fast forward through mundane chores and tasks, but she struggles to handle the unexpected side effects.
1x10 – Episode 10
When Lunella seemingly gets hurt and is stuck in bed, Casey must step in as Moon Girl for the day.
1x11 – Episode 11
Moon Girl becomes the face of a new initiative to revitalize the Lower East Side, but the effort starts to drastically change her neighborhood for the worse.
1x12 – Episode 12
Hoping to help Casey have an epic bat mitzvah, Lunella makes an appearance as Moon Girl, which ultimately brings out the worst in Casey and causes a rift in their friendship.
1x14 – Episode 14
Know what this is about? Be the first one to add a plot.
Inhalt
Quelle:
themoviedb.org