1x0 – Unaired Pilot
Know what this is about? Be the first one to add a plot.
Gesehen von 14 Usern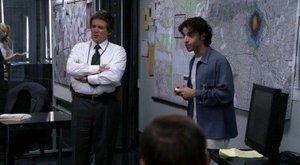 1x1 – Brandzeichen
When a rapist proves a little too difficult to find for the FBI, Agent Eppes and Agent Lake utilize Agent Eppes' genius mathematician brother, Charlie, to discover the rapist's point of origin.
Gesehen von 15 Usern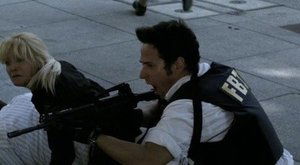 1x2 – Bankräuber
A pair of bank robbers are quietly taking LA by storm but Charlie delivers an equation that may predict their next location. But these bank robbers aren't as respectful as the bank videos reveal.
Gesehen von 15 Usern
1x3 – Vektor
A deadly virus is spreading through LA and only Charlie's equations can determine how far and where the disease is spreading.
Gesehen von 15 Usern
1x4 – Konstruktionsfehler
The mysterious suicide of a brilliant but unfocused CalSci engineering major leads Eppes and Charlie to the site of an iconic building.
Gesehen von 15 Usern
1x5 – Primzahlen
A genius' (Harris) daughter is captured by two men looking to use his possible solution to a 150 year old math equation for heists.
Gesehen von 15 Usern
1x6 – Sabotage
An unknown terrorist is mimicking horrible train accidents and leaving a number code at the scene.
Gesehen von 15 Usern
1x7 – Blütenzauber
When FBI agent Don Eppes finds several murders are linked to counterfeiting, his mathematically genial brother Charlie uses his skills to do what other investigating methods -as used by Agent Kim Hall, Don's colleague and ex in his Albuquerque days, a blank chapter in his past for Charlie- failed to, locate the forging and identify who did the graphical artwork required for his old-fashioned, relatively hard to detect fakes with real printing presses and watermark, not computer printing: it's a missing artist, who must be kidnapped and will probably by murdered as a ...
Gesehen von 15 Usern
1x8 – Identitätskrise
When Riley, who practiced an ingenious pyramid method of skinning numerous bank accounts for over half a million dollars, is strangled, exactly the same way -not revealed to the press- as Lisa Bayle, for whose murder Don Eppes' investigation once put Cliff Howard in jail after a plea bargain-confession, Don now fears the wrong man was arrested. Charlie helps him quantify the unlikeliness of a coincidence and seriously doubt the forensic evidence. Electrician Jose Salazar, whom Don suspects, still turns out to be innocent of Lisa's murder, but Charlie realizes that's ...
Gesehen von 15 Usern
1x9 – Hinterhalt
Sniper attacks are occurring across LA but are all the attacks the result of one inexperienced marksmen or is a fad of sniper killings infecting LA?
Gesehen von 15 Usern
1x10 – Radioaktiv
A truck of nuclear materials is stolen by terrorists who intend to use the materials to make a bomb which would then be used on the city of LA. Only Charlie and Charlie's father Alan can save the city from a small nuclear blast.
Gesehen von 15 Usern
1x11 – Chancengleichheit
Dr. Larry Fleinhardt's former college days friend Jonas Hoke, the Senior computer-science researcher, who develops for Robert Oliver's firm Lorman group with gifted college drop-out Scott Reynolds a classified program to evaluate government projects, is murdered in his Hollywood Hills home; data were stolen from his computer, which only contains a coded program for analysis of baseball statistics. Hoke's financial divorce complications seem irrelevant, although his wife had a relationship with their security system installer Lucas Grant. However Charlie finds that ...
Gesehen von 15 Usern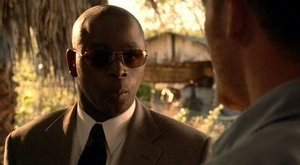 1x12 – UFO
A UFO is briefly seen flying through Los Angeles with no clear indication on what it is, but Agent Eppes discovers it was heading for the Staples Center and starts an investigation into the possibility of mass terrorism.
Gesehen von 14 Usern
1x13 – Menschenjagd
A prison transport bus crashes after maneuvers by two other vehicles, several inmates escape, including the dangerous McDowd. Charlie gets on well with CHP Officer Morris on the scene and works out mathematically it was no accident, both other drivers probably were in the game. Dad is worried Don might be returning to the period he regularly worked in fugitive retrieval, especially now a former colleague, burly federal marshal Cooper, is on the same case. After finding a lesser fugitive, Charlie's mathematical probabilities approach helps reconstructing the remarkable...
Gesehen von 14 Usern