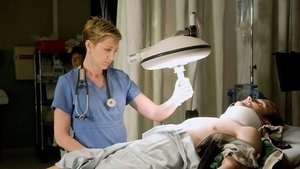 1x1 – Pilot
Nurse Jackie Peyton is a hard working and dedicated ER nurse. She has a bad back, is married with two kids, but fools around and puts altogether too many hours in at work. She also has good judgment and knows more than some of the residents. When she tells Dr. Cooper that she suspects a bicycle messenger brought in following an accident of having a brain bleed, he blows her off. She decides that something good will come out of the situation regardless. Similarly, when she learns that a diplomat who attacked a hooker will not be charged because of his diplomatic ...
Gesehen von 1 User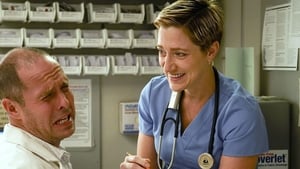 1x2 – Sweet-N-All
With a nursing student in tow, Jackie deals with the usual variety of emergency cases including a child who has an accident on his bike but wasn't wearing a helmet at the time and a woman whose oxygen tank exploded when she lit a cigarette. Dr. Cooper actually makes a correct diagnosis. Gloria Akalitus has an interesting day at work when she takes Jackie's coffee unaware it has been laced with pain killer. Student nurse Zoey Barkow is worried when she finds the diplomat's ear in the toilet and it's suggested she may have put it there.
Gesehen von 1 User
1x3 – Chicken Soup
Jackie and her husband fear that their daughter may be suffering from anxiety, and Jackie confides her concerns with Dr. O'Hara. An elderly man who has chosen to treat his heart failure with chicken soup comes to the hospital for his treatment. Also Jackie's pharmacist boyfriend lets her know he's being replaced by an automated pill dispenser.
Gesehen von 1 User
1x4 – School Nurse
Jackie and Kevin are summoned to their daughters' school for a parent-teacher conference, where they are told that their older daughter Grace is suffering from anxiety disorder. Jackie does not respond well to the news and attacks the school nurse. At the hospital, a young boy with a twin brother is brought in after an accident, and Mohammed confides to Zoey that he once had a twin. Zoey experiences her first death of a patient.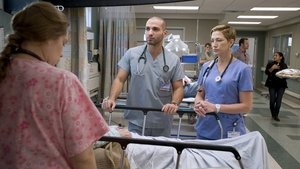 1x5 – Daffodil
Jackie and Zoey are working the night shift when a ten-year-old girl brings her lupus-stricken mother to the emergency room. A stroke patient needs Jackie's help in getting peace from his family, Dr. O'Hara takes Zoey out to dinner, and Mo-Mo plays games with his stalking admirer, Thor.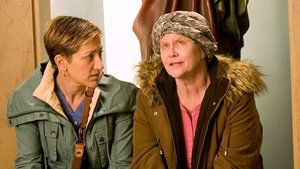 1x6 – Tiny Bubbles
A former nurse in the hospital returns, sick from lung cancer and with a favor to ask of her friend Jackie. Dr. Cooper's mother is wheeled into the ER with abdominal pains - with his other mom at her side. Mrs. Akalitus is once again on the hunt for any wrongdoing.
1x7 – Steak Knife
Eddie surprises Jackie with a present for their first anniversary. A woman brings her date to the emergency room after he has been stabbed by her ex-husband. Mrs. Akalitus discovers an abandoned baby. Dr. O'Hara is feeling miserable, and Jackie is her only refuge.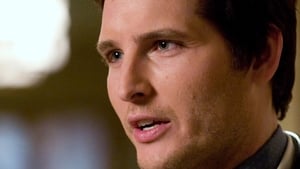 1x8 – Pupil
The emergency room is four nurses short, and Jackie runs a tight ship. A male temp seems to be unusually slow or dim until Zoey discovers that he may be on drugs. On top of everything, Grace has a panic attack at school, and Jackie accidentally lets it slip that she has a daughter.
1x9 – Nose Bleed
Jackie spends time with her family, but when she has to go to work her daughter Grace makes a scene. At the hospital Jackie helps a homeless who collapses on the sidewalk with a badly infected foot, and she makes sure a young man who is brought in brain-dead becomes an organ donor. Akalitus is considering adopting the abandoned baby she has been taking care of, but then the parents turn up.
1x10 – Ring Finger
Jackie forgets to remove her wedding ring before coming to work, and now she can't seem to get it off her finger. A young man is brought to the ER with cardiac arrest, and Jackie uses his cell phone to contact his girlfriend. Zoey walks in on Jackie and Eddie, and Dr. Cooper puts pressure on Jackie over paperwork for the organ donor she secured in the last episode.
1x11 – Pill-O-Matix
Jackie embarrasses her daughter by telling off another girl at mother-daughter tap class. An automatic pill dispenser replaces Eddie at the emergency room and leaves him hoping for a different kind of relationship with Jackie. Dr. Cooper, too, has fallen for Jackie after she kissed him. A well-known film critic is admitted with a broken arm, and Mo-Mo helps a young man with a spider trapped in his ear.
1x12 – Health Care and Cinema
The film critic remains in a coma, and Zoey is in a somber mood. Mrs. Akalitus launches an investigation, but only after she gets stuck in an elevator. Dr. O'Hara flies her sick mother in from London. After following Jackie after work, Eddie goes to her husbands bar to get a drink.
Quelle:
themoviedb.org