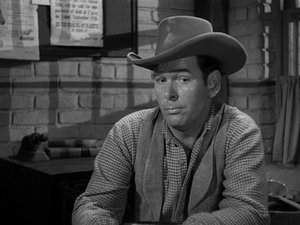 1x1 – Matt Gets It
Matt is critically wounded while attempting to arrest super-fast gunman Dan Grat. Grat runs rampant in Dodge while Matt recovers, but is unpleasantly surprised when the recovered marshal challenges him again.
Gesehen von 2 Usern
1x2 – Hot Spell
Temperatures are high, tempers are short, and Matt is unenviably duty-bound to protect despicable gunman Cope Borden from being lynched by a group of normally law-abiding and hard-working ranchers and cowhands.
Gesehen von 2 Usern
1x3 – Word of Honor
Doc is sworn to secrecy to protect a cruel gang guilty of murder.
Gesehen von 2 Usern
1x4 – Home Surgery
The frightened teenage daughter of a rancher enlists Matt to attempt to save her father's life by amputating his gangrenous leg.
Gesehen von 2 Usern
1x5 – Obie Tater
A old prospector marries a saloon girl, who like others wants to know where his gold from his prospecting days is hidden.
Gesehen von 2 Usern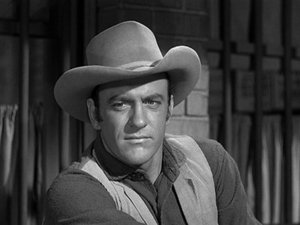 1x6 – Night Incident
Matt is dubious of young Timmy Wyatt's stories concerning nighttime robberies and assaults, but he agrees to investigate and is surprised by what he discovers.
Gesehen von 2 Usern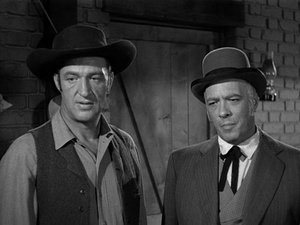 1x7 – Smoking Out the Nolans
Matt has the unpleasant task of evicting some squatters from a rancher's land, but the squatters claim the rancher sold the land to them legally.
Gesehen von 2 Usern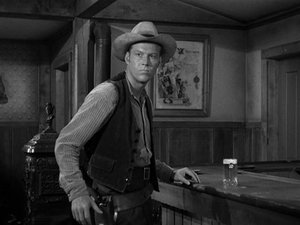 1x8 – Kite's Reward
Dillon takes away the gun of Andy Travis after he kills a man in self defense, figuring no one will challenge an unarmed man to a gunfight, but it's an action that might prove to be very costly.
Gesehen von 2 Usern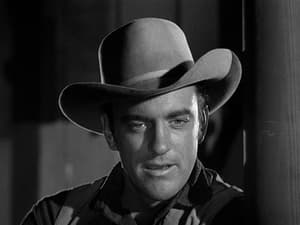 1x9 – The Hunter
Matt has to try to arrest his old friend, Jase Murdock, who lives in the hills, after he starts murdering homesteaders to try and stop the spread of civilization.
Gesehen von 2 Usern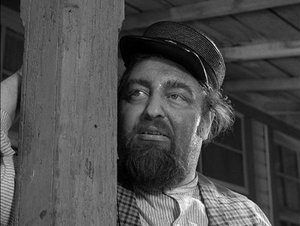 1x10 – The Queue
Two men cut off a Chinese immigrant's pigtail, and he tells Matt that he can return home to China only with the pigtail or by taking the lives of the men who stole it.
Gesehen von 2 Usern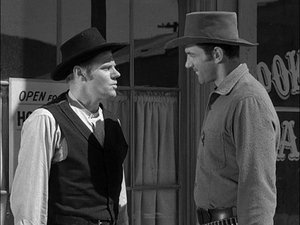 1x11 – General Parsley Smith
An inveterate liar is loudly insistent that Dodge City's new banker is a swindler who will abscond with the townspeople's savings at his earliest opportunity.
Gesehen von 2 Usern
1x12 – Magnus
Chester is concerned when his nomadic and "uncivilized" brother pays a Christmas visit to Dodge, but Magnus Goode proves worldlier and more adaptable to town life than anyone thought possible.
Gesehen von 2 Usern
1x13 – Reed Survives
Booth Rider is being played for a sucker by the wife of the ranch owner he works for, in the hopes that he will have to kill her husband in self defense.
Gesehen von 2 Usern
1x14 – Professor Lute Bone
Professor Bone is a well meaning medicine man who shows up in Dodge selling an elixir with potentially deadly side effects.
Gesehen von 2 Usern
1x15 – No Handcuffs
Hank Springer who claims the sheriff of Mingo framed him for murder, escapes from Matt's jail, wrongly believing he has killed a deputy in the process, and now has the intention of killing the apparently corrupt sheriff.
Gesehen von 2 Usern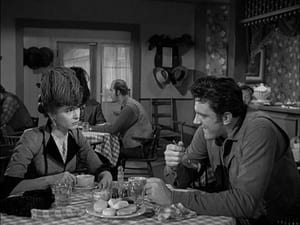 1x16 – Reward for Matt
A woman puts a price on Matt's head after he shoots down her husband.
Gesehen von 2 Usern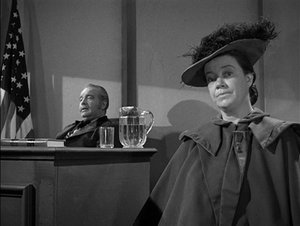 1x17 – Robin Hood
Holdup man John Henry Jordan repeatedly escapes conviction by robbing only the wealthy and sparing poorer persons who are potential witnesses against him. His luck runs out when Matt's efforts force him to victimize ordinary citizens.
Gesehen von 2 Usern
1x18 – Yorky
A young white boy, taken hostage years earlier by the Pawnee, must steal from or kill a white in order to be accepted by the tribe as a brave.
Gesehen von 2 Usern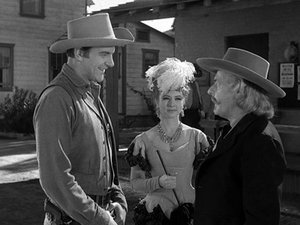 1x19 – 20-20
Troy Carver is an aging ex lawman with poor eyesight being chased by a dirt farmer who wants revenge for the killing of his brother 2 years before.
Gesehen von 2 Usern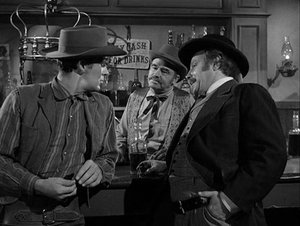 1x20 – Reunion '78
Long Branch hostess Belle Archer sees Jerry Shand shoot a former Quantrill Rader dead in self defense, but refuses to say so, and now he faces a murder trial.
Gesehen von 2 Usern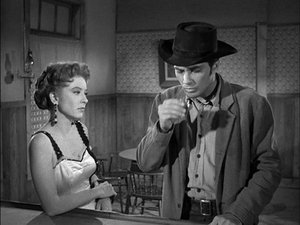 1x21 – Helping Hand
Matt saves suspected 18 year old cattle thief Steve Elser, from a would be lynch group, and tries to help him find a job, but discovers he might be a hopeless case.
Gesehen von 2 Usern
1x22 – Tap Day for Kitty
Matt suspects Kitty of shooting and wounding an old man who attempted to abduct her in hopes of forcing her to marry him.
Gesehen von 2 Usern
1x23 – Indian Scout
Amos Cartwright is an Indian scout for the army and is suspected of deliberately allowing his troop to be ambushed by the Comanches, and now the brother of one of the dead soldiers, is planning to kill him.
Gesehen von 2 Usern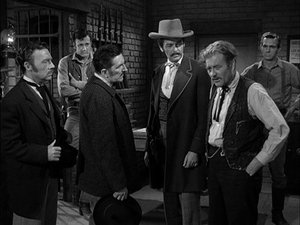 1x24 – The Pest Hole
When an epidemic of typhoid fever hits Dodge, some citizens want to take the law into their own hands against the person suspected as the carrier of the disease.
Gesehen von 2 Usern
1x25 – The Big Broad
A large woman and her small companion bring trouble to Kitty's saloon, as the woman has a way of causing guns to be drawn.
Gesehen von 2 Usern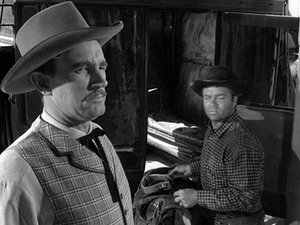 1x26 – Hack Prine
Far from Dodge and without a horse Matt Dillon still manages to bring in Lee Trimble...a man wanted for murder. Lee's brother Dolph swears that he'll get him out. Meanwhile, an old friend of Dillon's, Hack Prine, has arrived in Dodge to take a job. Happy to see each other they reminisce about old times both unaware that the job Hack is in Dodge for is killing Dillon.
Gesehen von 2 Usern
1x27 – Cooter
After Matt exposes gambler Ben Sissle as a cheat, Sissle attempts to extract revenge by giving brain-damaged Cooter Smith a gun and telling the marshal that Cooter plans to challenge him to a gunfight.
Gesehen von 2 Usern
1x28 – The Killer
Matt must go to extreme lengths to stop the killing spree of a psychopathic murderer who provokes gunfights with cowboys, farmers, and others whom he knows have no chance against him.
Gesehen von 2 Usern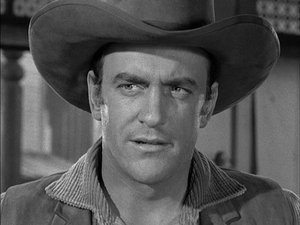 1x29 – Doc's Revenge
A stranger comes to Dodge, and Doc bewilders and dismays Chester and Matt by arming himself and vowing to kill the man.
Gesehen von 2 Usern
1x30 – The Preacher
The stage coach arrives in Dodge carrying two distinct personalities. Sam Keeler, a loud braggart of a man who boasts he can beat any man with his fists and Seth Tandy a quiet, meek man who refuses to raise his hands in violence. Keeler tries to provoke Tandy into a fight and Dillon is forced to intervene to prevent Tandy's beating. Soon Keeler has a grudge against Tandy and Dillon which will lead to an inevitable confrontation between Keeler and Dillon.
Gesehen von 2 Usern
1x31 – How to Die for Nothing
Trail herder Howard Bulow swears to shoot Marshal Dillon in the back after he kills his drunken brother in self-defense.
Gesehen von 2 Usern
1x32 – Dutch George
Dutch George runs a large horse theft operation. The law can't touch him because others take the risk. He makes a big mistake when he personally steals one horse for himself.
Gesehen von 2 Usern
1x33 – Prairie Happy
Matt tries to quell rumors of a planned Pawnee attack.
Gesehen von 2 Usern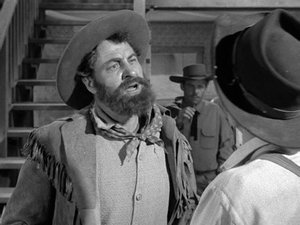 1x34 – Chester's Mail Order Bride
Chester has been writing to a mail-order bride who is now coming to Dodge to marry him. What Chester has neglected to tell Matt and Doc is that the picture he sent her wasn't his but the marshal's.
Gesehen von 2 Usern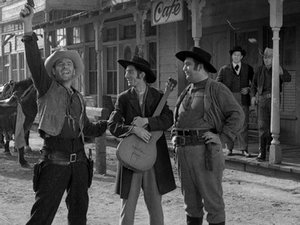 1x35 – The Guitar
Weed Pindle is a friendly guitar player in Dodge, but when certain cowboys find out he fought for a particular division of the Union Army, they become set on trying to hang him.
Gesehen von 2 Usern
1x36 – Cara
An old flame of Matt's comes to town, but her presence in Dodge may be motivated by more than sentiment.
Gesehen von 2 Usern
1x37 – Mr. and Mrs. Amber
A struggling prairie couple endures harassment and torment at the hands of the wife's self-righteous brother.
Gesehen von 2 Usern
1x38 – Unmarked Grave
A distraught middle-aged woman becomes determined to aid a young murderer in Matt's custody after she learns of her own son's violent death and unceremonious burial on Boot Hill.
Gesehen von 2 Usern
1x39 – Alarm at Pleasant Valley
While on the way back to Dodge, Matt and Chester help homesteaders besieged by Indians.
Gesehen von 2 Usern
Quelle:
themoviedb.org