1x1 – Beste Freunde
In the series premiere, Bugs and Daffy enter a game show that focuses on best friends, but Daffy's bottomless stupidity causes them to lose, which in turn causes him to try and be more like a friend to Bugs. But as expected, he tries way too hard.
Gesehen von 3 Usern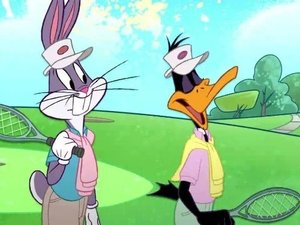 1x2 – Nur für Mitglieder
After falsifying his way into a country club, Daffy invites Bugs to it, where Bugs falls in love and goes on a date with a crazy, hyperactive bunny named Lola.
Gesehen von 3 Usern
1x3 – Einmal Knacki immer Knacki
Daffy littering the Grand Canyon ultimately sends him and Bugs to jail, which Bugs grows a liking to, but Daffy hates. This causes some conflict when they get the chance to escape.
Gesehen von 3 Usern
1x4 – Der ungebetene Gast
Bugs and Daffy's next door neighbor Yosemite Sam, installs some solar panels so he doesn't have to pay the electric company. But a heavy rain causes his house to lose power, forcing Sam to stay with Bugs and Daffy.
Gesehen von 3 Usern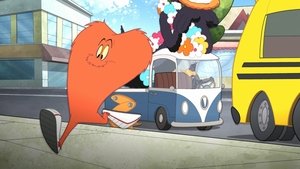 1x5 – Das Monstertalent
Gossamer, who it turns out is only a kid, isn't that popular at school, so Witch Hazel asks Daffy to help him after Daffy suggests that a "weirdo" like Gossamer can only be helped by another weirdo like himself.
Gesehen von 3 Usern
1x6 – Klassentreffen
Daffy is invited to his high school reunion, which he doesn't want to go to because he peaked in high school. But there's one sure-fire way of making an impression at the reunion: lying.
Gesehen von 3 Usern
1x7 – Haus der Ruhe
Bugs and Daffy take a vacation at a spa and resort where high jinks ensue, mainly revolving around a girl Daffy's attracted to.
Gesehen von 3 Usern
1x8 – Der Teufelshund
The Tasmanian Devil comes to Bugs's door, who mistakes him for a dog and keeps him. Antics ensue.
Gesehen von 3 Usern
1x9 – Kein Hahn im Korb!
Foghorn Leghorn is making a biopic about himself, and Daffy ends up being cast in the role, resulting in Foghorn finding a relic he's been looking for his whole life that the Tasmanian Devil just happened to dig up in Bugs's backyard.
Gesehen von 3 Usern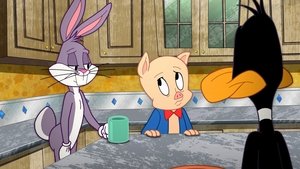 1x10 – Begehrte Junggesellen
At a bachelors auction, Bugs ends up with Lola, and is taken to Paris by her, and Daffy ends up with Granny, but gets to hear an exciting spy story told by her.
Gesehen von 3 Usern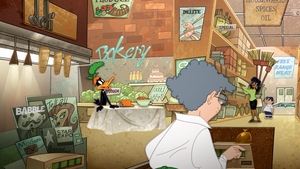 1x11 – Wie gewonnen, so zerronnen
After learning about the invention that got Bugs rich, Daffy produces an improvement on it that ends up defective, sending him and Bugs into a financial crisis.
Gesehen von 3 Usern
1x12 – Daffy und Tina
When Daffy, through a bit of sabotage, wins a romantic dinner at a high end place, he must get advice from Lola in order to pick up another duck he met at the copy shop. This accidentally gets Lola to fall for Daffy.
Gesehen von 3 Usern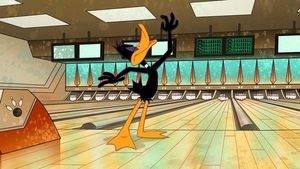 1x13 – Bowlen oder nicht Bowlen
Daffy has found some bowling friends: Marvin, Pete, and Porky, who look up to him because of their stupidity. Bugs threatens to end that, which means problems when they enter a bowling tournament, which Bugs joins after Porky is hospitalized.
Gesehen von 3 Usern
1x14 – Der Zeitungsdieb
Daffy has caused so much destruction in the neighborhood, that Bugs has thrown a dinner party so Daffy can say sorry. This won't be easy, as Daffy suspects one of the neighbors of newspaper thievery.
Gesehen von 3 Usern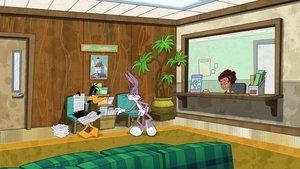 1x15 – Bugs und Daffy besorgen sich einen neuen Job
Bugs gets a job alongside Porky at a boring office to cheer him up. Daffy also gets a job, but not one where he has to work. He gets a nose job.
Gesehen von 3 Usern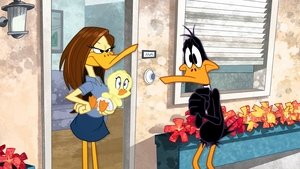 1x16 – Mutterglück und Dummchen Dick
When Tina asks Daffy to babysit her nephew, Daffy discovers the unexpected joys of motherhood. Meanwhile, Bugs discovers how gullible Porky can be.
Gesehen von 3 Usern
1x17 – Und ewig lockt die Pizza
When Bugs and Daffy's favorite pizza joint closes, Bugs reopens it ... and gets in way over his head.
Gesehen von 3 Usern
1x18 – Keine Pappe - Große Klappe
After they all get ticketed for moving violations, Daffy, Lola and Porky have to apply for new licenses at the Department of Motor Vehicles while Bugs can't get a lift home.
Gesehen von 3 Usern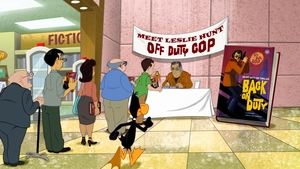 1x19 – Spargelzeit
Daffy takes on the persona of his television hero, tough off-duty cop Steve St. James, while Bugs takes on his caffeine addiction, by switching to energy drinks.
Gesehen von 3 Usern
1x20 – Blaubeer-Muffins Working Duck
When Foghorn Leghorn takes a liking to Daffy he makes him the CEO of his company ... with disastrous results.
Gesehen von 3 Usern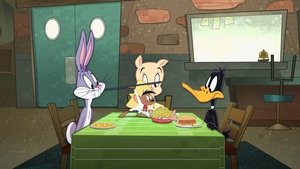 1x21 – Bringen Scherben Glück?
A plate of French fries threatens to ruin Daffy and Porky's friendship, as well as Bugs' chance to see a playoff game. Plus, Lola sings about her favorite holiday of the year.
Gesehen von 3 Usern
1x22 – Um Haaresbreite
Daffy helps Tina earn her cosmetology license, while Bugs helps Porky learn to dance. Plus, in a Merrie Melodies video, Daffy explains the meaning of love to Porky.
Gesehen von 3 Usern
1x23 – Wer solche Freunde hat
The destruction of his float causes Daffy to take all of Porky's money to buy a luxury boat.
Gesehen von 3 Usern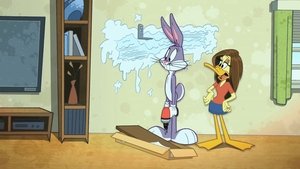 1x24 – Alles hat seinen Preis
Bugs tries to hang a shelf to display his Nobel Prize, but the project gets complicated. In the Merrie Melodies video, Daffy explains to Porky why a birthday gift was "chintzy."
Gesehen von 3 Usern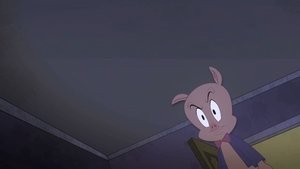 1x25 – Dickies Geheimnis
Daffy suspects that Porky is a killer, and Bugs has to take care of Lola when she breaks her leg.
Gesehen von 3 Usern
1x26 – Sylvester sieht rot
Sylvester becomes obsessed with a laser toy. And in "Shut Your Trap," the Coyote orders the ultimate trap, and actually catches the Road Runner ... now if he could just get him out!
Gesehen von 3 Usern
Quelle:
themoviedb.org