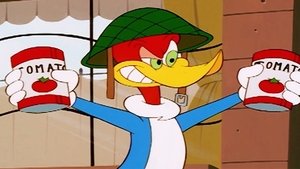 1x1 – Episode 1
Woody Woodpecker and Buzz Buzzard battle each other for control of the hot dog street vendor./Chilly Willy wants to stay warm with an electric blanket and watch TV at the same time but have only one electrical outlet./Woody uses a termite to help catch up on his quota of holes Woody needs to create in trees.
Gesehen von 3 Usern
1x2 – Episode 2
Cable Ace: When Woody tries to steal cable from Wally Walrus to watch the Highland Games, he finds himself in jail where the only game played is "What are you starin' at?" Medical Winnie Pig: Winnie goes to see Dr. Nutts to learn how she can enter the medical field. He tries to con her, however, into being a subject in his cloning experiment. Fake Vacation: When Woody decides he needs a vacation, Buzz, a scam artist, sells him a trip to the German-Polynesian islands. When Woody discovers it is a fraud, he cons Buzz right back.
Gesehen von 2 Usern
1x3 – Episode 3
Temper, Temper: Woody tries his hardest to aggravate Ms. Meany who is working with a doctor to improve her temper problem. A Classic Chilly Cartoon: An old fisherman recounts the Legend of Rockabye Point, the story of a polar bear who can be heard singing Rockabye Baby on the Treetop in the distance. Crash Course: When Winnie sells her big screen TV to take flying lessons, Woody does all he can, including impersonating a flying ace, to get her to buy the TV back.
Gesehen von 3 Usern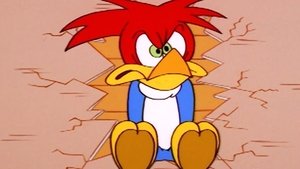 1x4 – Episode 4
Woody's Ship of Ghouls: Woody stows away on a pirate ship for the free food. When he discovers they are not too friendly, he talks them into a mutiny allowing him to arrive home safely but hungry. Bad Hair Day: Buzz slips hair removal cream into the shampoo bottles at Winnie's beauty salon to lure some of her customers over to his wig shop. When they discover what he has done, they give him a haircut he'll never forget. Downsized Woody: When Woody can't fill his wood-pecking quota, Mother Nature demotes him to a pigeon.
Gesehen von 3 Usern
1x5 – Episode 5
Woody Woodpecker tries to mooch from Wally Walrus... A cockroach tries to mooch from Woody... Chilly Willy wants to snuggle up with a vegetarian polar bear.
Gesehen von 3 Usern
1x6 – Episode 6
Woody looks forward to Father's day, when his Scottish dad visits. But his father always wins their golf duel cup. This time Woody prepares to win, at all costs.
Gesehen von 3 Usern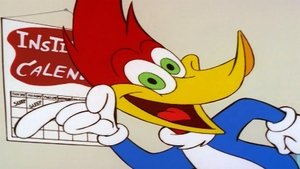 1x7 – Episode 7
Wally's Royal Riot: When Wally will not serve Woody, a common woodpecker, at his restaurant, Woody poses as the queen to get all the food he wants. Mexican Chilly: Smedley's attempts to banish Chilly from his cruise ship cause him to be demoted several times by the captain. Sleepwalking Woody: Woody terrorizes Wally's attempts at sleep.
Gesehen von 3 Usern
1x8 – Episode 8
Pinheads: Woody attempts to win at bowling against Buzz Buzzard but loses his car to him instead. Woody gets him back, however, when he tells the police that Buzz is parked in a red zone. The Chilly Show: Monty uses Chilly as bait to steal away the wilderness TV show from Hollywood Helga. Silent Treatment: Wally uses the silent treatment to get rid of Woody but just when he thinks he has succeeded, Woody breaks his silence by enticing him with knock knock jokes.
Gesehen von 3 Usern
1x9 – Episode 9
Over The Top: Woody and Wally race down a mountain slope to prove which is better: skiing or snowboarding. In the end, however, Badger shows them both up by winning the contest in his toboggan. Chilly & The Fur-Bearing Trout: Doctor Nutts and a film crew seek out the legendary fur-bearing trout but what they discover instead is an imposter trout who uses Chilly as his scapegoat. Painfaker: When Woody takes Wally to court for injuring him, the judge orders Wally to nurse Woody back to health. After Woody completely takes advantage of Wally, Wally is injured and the ...
Gesehen von 3 Usern
1x10 – Episode 10
Tee Time: The competition never ceases as Woody, while practicing his golf to earn a free membership at the club, disrupts Wally's tuba playing. S & K Files: In thier childish efforts to rid the world of space aliens, Splinter and Knothead unknowingly end up ruining Buzz's plans to rob the house. Goldigger: When Woody gets his grandfather's secret gold mining map, the sneaky Buzz offers to be his guide on the expedition.
Gesehen von 3 Usern
1x11 – Episode 11
Mirage Barrage: When Woody finds a magic lamp, he and Wally fight over who is to be the genie. Queen of De-Nile: While Wally searches an ancient tomb for hidden treasure, Winnie, pretending to be an expert, finds it thus striking Wally with the "laughing curse." Party Animal: When Meanie forbids Woody to throw a party, he poses as the noise police. He convinces her to catch Woody in the act thus allowing him to party as loud as he wants.
Gesehen von 3 Usern
1x12 – Episode 12
Know what this is about? Be the first one to add a plot.
Gesehen von 3 Usern
1x13 – Episode 13
[I- Spy-Guy] A spy confides a top-secret briefcase to Woody, offering a free cruise provided he keeps handcuffed to it till he can give it to a red-haired contact (Winnie). Buzz Buzzard oversaw them, but finds stealing it from Woody extremely dangerous. [II- Ye Old Knothead & Splinter] The Woodpecker rascals try to win the royal titles in a tournament against two canine curs at Chester's Old Time Fair. [III- Life in the Pass-Lane] Woody enters a Scottish formula 1 race where the mist of the moors proved fatal for every McPecker ancestor. Buzz Buzzard intends to make ...
Gesehen von 3 Usern
1x14 – Episode 14
Woody hopes to enjoy a day at a spa. Winnie tries being an astronaut. Meany teases Woody.
Gesehen von 3 Usern
1x15 – Episode 15
Knothead and Splinter's mischief tried Woody's patience one too often, so hen sends them to military academy. After a TV program on over-)strict parenting, he gets remorse and wants to take them back. Once on academy grounds, he finds the rascals took to military training like ducks to water, and hunt him down like a duck.
Gesehen von 3 Usern
1x16 – Episode 16
Buzz Buzzard runs a ski resort with only one assistant, Tweaky. That proves painfully dangerous with customers like Woody and his rascals Knothead and Splinter, whom he signs up for lessons.
Gesehen von 3 Usern
1x17 – Episode 17
Woody has mail-ordered a divining wand, to search for oil. Instead of gushers, the thing points at most inconvenient places on Wall Walrus's property. When it points elsewhere, they both follow it, competitively, with even worse results.
Gesehen von 3 Usern
1x18 – Episode 18
Knothead and Splinter have new toys, ghost-study-equipment, and come to use it on an old mansion. Two canine crooks there want to scare them off, but only arouse growing interest.
Gesehen von 3 Usern
1x19 – Episode 19
Gesehen von 3 Usern
1x20 – Episode 20
Woody and wally picnic in their neighboring gardens, but voracious ants from a tree keep raiding Woody's goodies. A bitter food-war ensues, which Woody seems to loose, until he devises a craft diversion.
Gesehen von 3 Usern
1x21 – Episode 21
Woody visits Bavaria; Winnie makes taffy for the queen; Woody wants to see the game.
Gesehen von 3 Usern
1x22 – Episode 22
Woody discovers a bus-load of bird-watchers after a fat prize for spotting a rare, speckled woodpecker species in the forest, no matter how. So Woody decides to impersonate one, which actually attracts a real one.
Gesehen von 3 Usern
1x23 – Episode 23
Know what this is about? Be the first one to add a plot.
Gesehen von 3 Usern
1x24 – Episode 24
Baby Buzzard: Buzz poses as an infant to steal from Woody's allegedly lucrative baby-sitting business. Bait & Hook: Chilly abuses the bait shop's return policy. Bad Weather: Wally buys a weather control shack with hopes that it will help him to throw a better party than Woody.
Gesehen von 3 Usern
1x25 – Episode 25
Woody discovers a bus-load of bird-watchers after a fat prize for spotting a rare, speckled woodpecker species in the forest, no matter how. So Woody decides to impersonate one, which actually attracts a real one.
1x26 – Episode 26
A Very Woody Christmas: In an effort to win over Santa, Woody videotapes himself doing good deeds. It's A Chilly Christmas After All: Smedley vies to be Santa's #1 elf, but Chilly sabotages his plans. Yule Get Yours: With their gift-wrapping sham, Buzz and Tweaky turn Woody's sentiments into stones