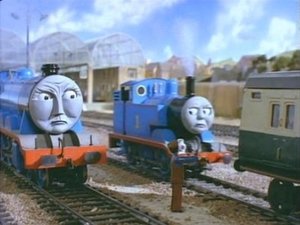 1x1 – Thomas und Gordon
Thomas, a small steam-engine, loves to brag to and tease Gordon about how hard he works, but strong, powerful, self-important Gordon decides to take him on a ride he'll never forget.
1x2 – Hilfe vom kleinen Edward
Gordon gets stuck on the hill and old Edward proves that he can still be a really useful engine when he comes to Gordon's rescue.
1x3 – Die traurige Geschichte von Henry
Henry, a big green engine, doesn't want to risk paintwork being ruined by rain, so refuses to leave a tunnel he enters on a trip. But he may end up being there longer than he wants as he ends up being bricked up.
1x4 – Gordon in Not
When Gordon is involved in a bigger incident than Edward can help him out of alone, it happens near the tunnel Henry wishes to be released from.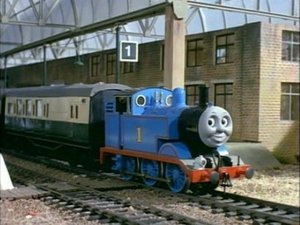 1x5 – Thomas Zug
Thomas is jealous of those who get to pull coaches so jumps at the chance when Henry is sick, but ends up starting up unattached in his hurry.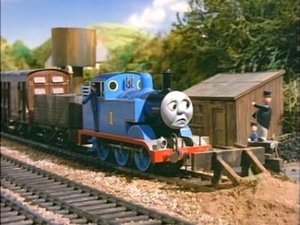 1x6 – Die Güterwagen
Thomas is offered to switch jobs with Edward for a day since he wants to do more important things, but doesn't take the warnings seriously that freight-trucks are troublemakers.
1x7 – Der Unfallzug
James' brakes catch fire and his freight-trucks push him out of control, forcing Thomas to use a breakdown-train to help him and to deal with the trucks that he has gotten used to.
1x8 – James und die Personenwagen
James' showing off results in anger and others avoiding him, but he thinks he's being put below Gordon and takes out his frustration on the freight-cars...and ends up stuck when they can't run anymore.
1x9 – Die Güterwagen machen Ärger
James wants to be able to prove he's still a good worker once he's released from the shed, but it won't be easy since the freight-trucks he's been given are determined to ruin his plans.
1x10 – James und der Schnellzug
Gordon loves to tease James like Henry does, and to brag about how he knows the rails so well, until he and the express are put on the wrong route by mistake and James gets his wish to pull it instead.
1x11 – Thomas und der Schaffner
Thomas is so impatient after waiting for Henry's train that he leaves without his guard.
1x12 – Thomas geht angeln
Thomas always dreams of going fishing - until river-water is forced to be used to refill him.
1x13 – Terence, der Traktor
Thomas meets Terence, a tractor, but doesn't see the point of his way of doing things. In the winter they meet again when Thomas purposely damages his snowplow then gets stuck in a drift.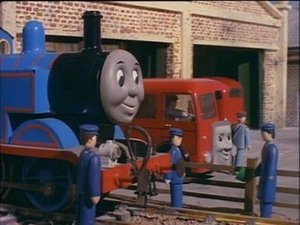 1x14 – Bertie, der Bus
Thomas strikes up a good-natured rivalry with a bus named Bertie who remembers how much Thomas relies on others and they decide to have a race to see who's faster.
1x15 – Kohlewagen und Drehscheiben
Gordon, Henry, and James hate the extra work without Thomas and they decide to rebel after Gordon and James each have an embarrassing experience with the turntable their size requires them to use.
1x16 – Ärger im Depot
With the biggest three engines going on strike, the Fat Controller gets Edward to help out and hires a new tank engine, Percy. But with Gordon, James, and Henry giving the others a hard time, they remain the biggest problem to the railway.
1x17 – Percy läuft weg
Percy, Thomas, and Edward enjoy some free time for helping out, but Percy enjoys himself too much to be careful and is almost run into by Gordon - then has a delayed reaction and takes off backward.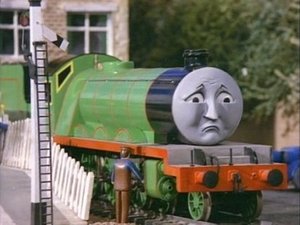 1x18 – Kohle
The other engines don't believe Henry when he says he's sick, but soon even the crew notices and try to figure out what to do for him. It turns out the problem can be solved if a special kind of coal can be gotten for him.
1x19 – Der fliegende Bückling
Henry collides with a goods train while pulling "The Flying Kipper". The Fat Controller sends him to Crewe for repairs and he comes back with a new shape and a larger firebox meaning that he no longer needs special coal.
1x20 – Pfeifen und Niesen
Gordon is jealous of Henry's restructure so tries to spoil his good mood by saying he shouldn't whistle. He also has to put up with a group of children attacking him.
1x21 – Toby und der elegante Herr
Toby, a tram-engine with little work, gets a chance to spend time with people who truly appreciate him, like the Fat Controller whom he doesn't know, but soon faces his railway's closing down.
1x22 – Thomas in Not
Thomas has unknowingly been illegally going down the public quarry way without equipment, so is considered a problem. But it may be a second chance for Toby, the unused tram.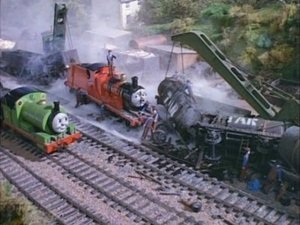 1x23 – Dreckige Dinger
James calls Toby and Henrietta "dirty objects" because of their shabby look. He tells them that you will never see his paint dirty. However, it's Toby who has the last laugh when James collides with some tar wagons.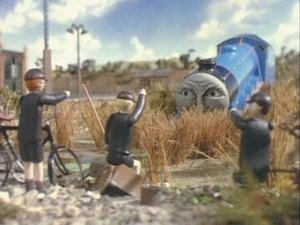 1x24 – Entgleist
Gordon scorns Henry for the accident that wasn't his fault, but Henry still gets to pull the Express, to his jealousy. Gordon doesn't want to pull freight-cars, so tries to jam the turntable, and sinks himself.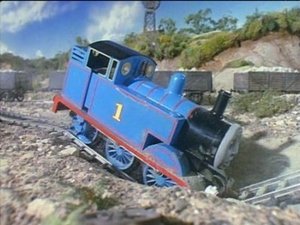 1x25 – In der Mine
Thomas still likes to tease Gordon for forcing himself into the ditch. When he disobediently decides to explore a mine past the Danger zone and falls, Gordon is called in to dig him out.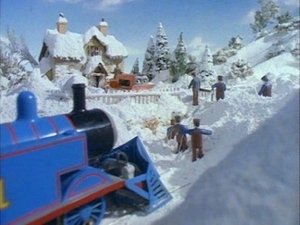 1x26 – Die Weihnachtsfeier
At Christmas, Thomas remembers a friend who saved him and Toby a year ago, so decides with the others to throw her a party in return. But he and Toby have the hard job of trying to help her out of her snowbound house.