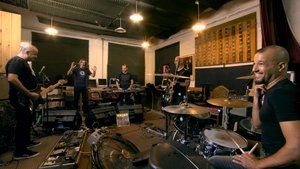 1x1 – Folge 1
Becker treats an HIV-positive child and is shocked to find that Reggie has inherited his favorite diner from her father.
Gesehen von 3 Usern
1x2 – Folge 2
Becker makes a house call after a patient reacts to his rude bedside manner. Jake takes a sculpting class to meet women.
Gesehen von 3 Usern
1x3 – Folge 3
As the day progresses, Becker is faced repeatedly with reminders him of his sex life, or lack thereof.
Gesehen von 3 Usern
1x4 – Folge 4
Becker and Jake pressure Reggie to tell them what's bothering her-with varying responses.
Gesehen von 3 Usern
1x5 – Folge 5
Becker and Reggie each have blind dates that disintegrate-Becker because he didn't listen to his own instincts and Reggie because she did listen to Becker's.
Gesehen von 3 Usern
1x6 – Folge 6
Becker's attempt at friendship is short lived. With Margaret at home with the flu, Linda is left in charge of the office. Reggie receives an unwelcome visit from a former high-school classmate.
Gesehen von 3 Usern
1x7 – Folge 7
Becker's mood is worse than ever when a flickering street light keeps him awake. Margaret agrees to let Linda bring one personal item into the office.
Gesehen von 3 Usern
1x8 – Folge 8
The arrogant Bronx doctor is once again complaining about the shortcomings of society, sparking another verbal sparring match with Reggie. But when his back goes out, he has no choice but to call her for help.
Gesehen von 3 Usern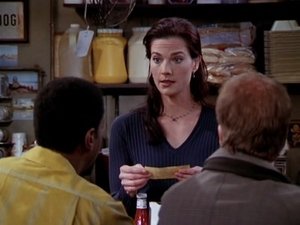 1x9 – Folge 9
When Reggie announces that she has an extra ticket to a Rangers-Flyers hockey game, Jake and Becker each makes it his primary goal to be chosen as the lucky recipient.
Gesehen von 3 Usern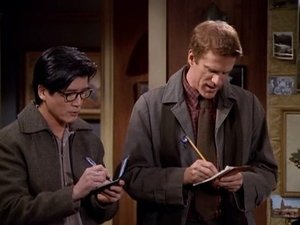 1x10 – Folge 10
Becker's heated remarks to someone make for equally heated discussion on a radio show.
Gesehen von 3 Usern
1x11 – Folge 11
Becker has difficulty finding five minutes to finish an article for a fellow doctor's medical journal before the submission deadline.
Gesehen von 3 Usern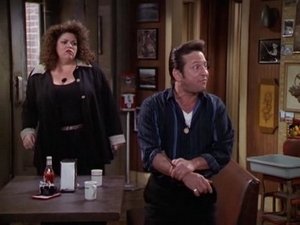 1x12 – Folge 12
Becker deals with a series of Valentine's Day issues with his usual cynical approach, but a late night hospital visit abruptly softens his perspective as he begins to understand why this holiday can be so important to others.
Gesehen von 3 Usern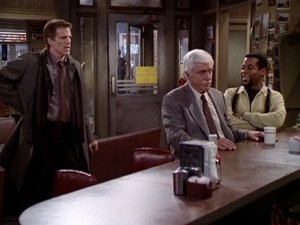 1x13 – Folge 13
Becker's father comes for a visit and they are surprised that he is nothing like Becker. They like him and Becker doesn't think much of him. When he tells Reggie what happened between them. She tells him that he should try and talk to him.
Gesehen von 3 Usern
1x14 – Folge 14
Becker treats a patient who claims he can talk to God. Linda decides to keep a jacket accidentally returned to her by her dry cleaner.
Gesehen von 3 Usern
1x15 – Folge 15
Becker's ex-wife writes a book called "Angry Man" obviously about John. When Becker confronts Sondra at her hotel, it is obvious that she retains a strong emotional hold on him.
Gesehen von 3 Usern
1x16 – Folge 16
Becker reluctantly agrees to babysit a mother's young son and daughter for a day. His attempts to create order meet with limited success.
Gesehen von 3 Usern
1x17 – Folge 17
Becker's computer is stolen from his apartment. When he learns that his insurance policy proceeds are decidedly less than market value, he decides on a replacement through shady sources.
Gesehen von 3 Usern
1x18 – Folge 18
An alley cat finds its way into his office and refuses to leave. Margaret attempts to help Becker plan a trip she knows he'll never take.
Gesehen von 3 Usern
1x19 – Folge 19
During dinner with his cousin Barry and his wife who are having marital difficulties, Becker lets it slip that Barry once had an affair.
Gesehen von 3 Usern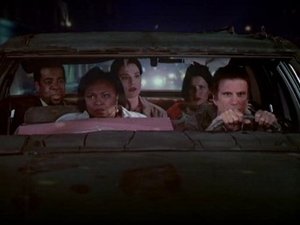 1x20 – Folge 20
Becker reluctantly agrees to chauffeur Reggie, Margaret, Jake and Linda to various engagements in Queens. Becker returns to his office waiting room to find Hilton Lucas, Doug Heffernan and Ray Barone waiting.
Gesehen von 3 Usern
1x21 – Folge 21
Among other things, Becker gets an excellent parking space, an unexpected tax refund, and a fruitful trip to the post office. Despite his good fortune, he remains convinced his luck will change-for the worse.
Gesehen von 3 Usern
1x22 – Folge 22
Becker fears that Reggie may get the wrong idea if he asks her to be his date at a medical fund-raising dinner.
Gesehen von 3 Usern