1x1 – The Froggy Apple Crumple Thumpkin/Chowder's Girlfriend
If Chowder can survive making a very complicated dish, he's on his way to becoming a chef. But the last step may be the one that finally breaks him./When Panini sets her love-struck eyes on Chowder, he tries every trick he can think of to convince her he's not her boyfriend.
Gesehen von 2 Usern
1x2 – Burple Nurples/Shnitzel Makes a Deposit
Mung Daal must stop Chowder from selling a dish with rat poison in it. Elsewhere, Schnitzel has trouble making a deposit at the bank.
Gesehen von 2 Usern
1x3 – Grubble Gum/The Cinnamini Monster
Chowder makes the big mistake of not sharing his gum with Truffles, and soon all of Marzipan City ends up in a huge wad of gum.
Gesehen von 2 Usern
1x4 – The Sing Beans/Certifrycation Class
The Sing Beans: In order to cook the performing food Sing Beans, the gang has to stay up all night as the dish cooks. But Chowder takes it upon himself to finish the process with wildly musical results. Certifrycation Class: When Mung is forced to spend a day in Chef Certifrycation school, he butts heads with the instructor. Mung must decide to stay true to his instincts or swallow his pride in order to pass.
Gesehen von 2 Usern
1x5 – The Wrong Address/The Wrong Customer
The Wrong Address: Chowder leads Mung through an unfamiliar part of Marzipan City. The Wrong Customer: An outlaw uses the catering company as a hideout.
Gesehen von 2 Usern
1x6 – Mahjongg Night/Stinky Love
Chowder learns that messing with Truffles' game night means certain doom. But he's willing to risk it all for a taste of the Mevilled Eggs she's serving./Kimchi falls in love with one of Mung's smelliest dishes, whisking it away to a romantic setting atop the catering company. Chowder goes against Mung's wishes and stands up for his pet's right to happiness.
Gesehen von 2 Usern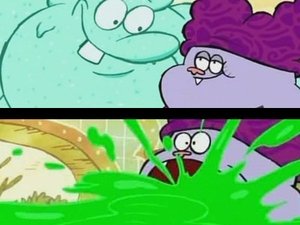 1x7 – The Thrice Cream Man/The Flibber-Flabber Diet
Mung Daal creates a man from the Thrice Cream dessert to satisfy Chowder. Elsewhere, Truffles goes on a diet and forces everyone else to share it.
Gesehen von 2 Usern
1x8 – Gazpacho Stands Up/A Taste of Marzipan
Chowder helps Gazpacho prepare for his comedy debut; Mung and Ms. Endive unveil the same dish at Marzipan City's biggest food fair.
Gesehen von 2 Usern
1x9 – The Puckerberry Overlords/The Elemelons
When a powerfully sour berry sends Chowder on a strange journey into his own mouth, he finds himself on a mission to save his beloved taste buds from some very tart invaders./When Truffles' short temper causes Mung's fruit creatures to stop producing juice, he locks her in the garden with an ultimatum: Either she makes friends with them or she never gets out.
Gesehen von 2 Usern
1x10 – Sniffleball/Mung on the Rocks
Mung Daal sends Chowder outside to learn sports, which Chowder finds unbearable. Elsewhere, Truffles ignores Mung after he forgets their wedding anniversary.
Gesehen von 2 Usern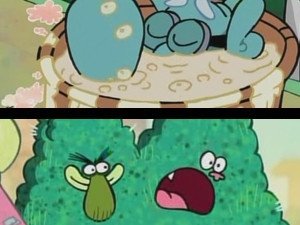 1x11 – The Heavy Sleeper/The Moldy Touch
Chowder finds a devious mold which tricks him into an alliance. Elsewhere, Mung Daal is accidentally drugged to sleep and no one can wake him up.
Gesehen von 2 Usern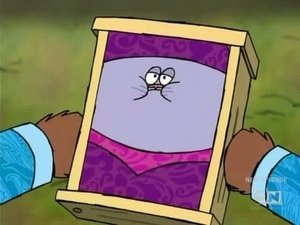 1x12 – At Your Service/Chowder and Mr. Fugu
Gesehen von 2 Usern
1x13 – The Vacation/The Sleep Eater
Chowder, Mung and Shnitzel just want to spend a nice day at the beach. But when they all get trapped in the bathroom, it becomes a race to escape before Chowder explodes from having to go number one./When Chowder knocks his internal clock out of whack, he becomes an unstoppable Sleep Eater! Now in order to return himself to normal, he must stay up all night without eating - a task that is easier said than done for the hungriest kid in Marzipan City.
Gesehen von 2 Usern
1x14 – The Bruised Bluenana/Shnitzel and the Lead Farfel
Panini tricks Chowder into caring for a wounded fruit... as her husband. Elsewhere, Schnitzel has lost his strength and must regain in a tournament.
Gesehen von 2 Usern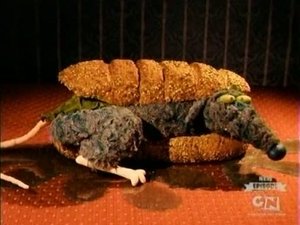 1x15 – The Thousand Pound Cake/The Rat Sandwich
Chowder and Schnitzel deliver a cake to a client who lives in a giant's scalp. Elsewhere, a rat is discovered in Mung's kitchen and the gang gets blackmailed.
Gesehen von 2 Usern
1x16 – Chowder Loses His Hat/Brain Grub
Chowder loses his hat and sets off on a quest to recover it. Elsewhere, Mung Daal cooks up a meal to make Chowder smarter.
Gesehen von 2 Usern
1x17 – Shnitzel Quits
Shnitzel quits Mung's Catering Company for good and goes to work for their rival, Endive. But he soon discovers that his old friends mean more to him than he realized.
Gesehen von 2 Usern
1x18 – The Broken Part/The Meach Harvest
Chowder is sent to find a spare part for a machine he broke. Elsewhere, Mung Daal has to deal with a traumatic experience in his early years.
Gesehen von 2 Usern
1x19 – Banned from the Stand/Creme Puff Hands
After an argument with Mung leaves him drunk with power, Gazpacho must choose between being right or winning back his friends./Chowder becomes unusually useful after his hand accidentally becomes inflated. But when that usefulness starts turning dangerous, Mung is forced to take matters into his own inflated hand.
Gesehen von 2 Usern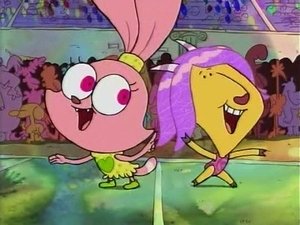 1x20 – The Apprentice Games
When Chowder and Gorgonzola are unwillingly paired up at the annual Apprentice Games competition, they discover their opposing personalities lead to a winning formula.
Gesehen von 2 Usern
Quelle:
themoviedb.org