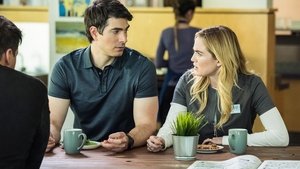 3x1 – Cäsar und die Zeitreisenden
When the Time Bureau relieves the Legends of duty, they must steal back the Waverider when Julius Caesar is spotted in Aruba.
Gesehen von 3 Usern
3x2 – Der Zirkus der wahren Wunder
The Legends attempt to fix the anachronism in 1870 that happens to be P.T. Barnum's circus.
Gesehen von 3 Usern
3x3 – Zari
The Legends try to protect an outlaw named Zari in order to capture a rogue time traveler.
Gesehen von 3 Usern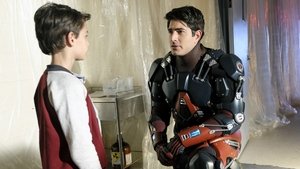 3x4 – Gumball, der Außerirdische
The Legends go back to 1988 to save Ray when they realize he'll die because of their breaking time.
Gesehen von 3 Usern
3x5 – Der Vampir von London
The Legends run into Rip in 1897 London where they attempt to hunt down a time-traveling vampire.
Gesehen von 3 Usern
3x6 – Helena in Hollywood
The Legends track down an anachronism in 1930s Hollywood, where Helen of Troy has started a war between two film studios.
Gesehen von 3 Usern
3x7 – Willkommen im Dschungel
The team trace a new Anachronism to the jungles of Vietnam. Rory and Nate bump into someone from Rory's past.
Gesehen von 3 Usern
3x8 – Krise auf Erde X
The gang comes together for Barry and Iris's wedding, but the ceremony is crashed by villains from Earth-X.
Gesehen von 5 Usern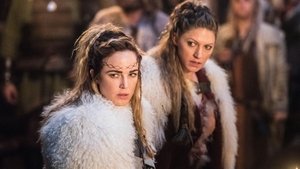 3x9 – Beebo, der Kriegsgott
The Legends investigate an Anachronism in a Viking settlement in the New World and realize the Norsemen are worshiping an artifact as their god.
Gesehen von 3 Usern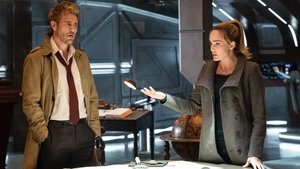 3x10 – Ihr Auftritt, John Constantine!
John Constantine pays the Legends a visit; they agree to accompany him to a present-day psychiatric hospital and are surprised to discover who Constantine is trying to help; Amaya and Nate once again come face-to-face with Kuasa.
Gesehen von 3 Usern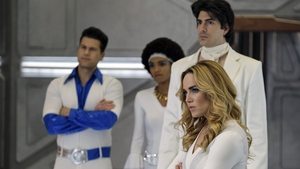 3x11 – Gefangen in der Zeitschleife
Zari finds her place on the team when she gets caught in a time loop that results in the Waverider blowing up over and over again.
Gesehen von 3 Usern
3x12 – Legenden der Karibik
While Sara takes some private time, the Legends follow a lead on the whereabouts of the Earth Totem and find themselves in 1717 on the hunt for Blackbeard's treasure.
Gesehen von 3 Usern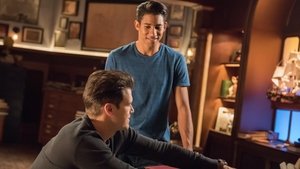 3x13 – Einsatz in Berlin
After being taken hostage by the Dahrks, Ray teams with Nora to fix the Fire totem in 1960's East Germany and come face-to-face with a younger and deadlier version of Damien.
Gesehen von 3 Usern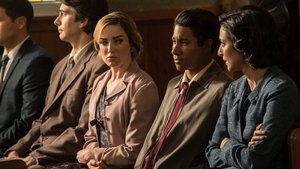 3x14 – Elvis lebt!
The Legends embark on a mission to save music when they learn that a tragedy destroyed Memphis in 1954.
Gesehen von 3 Usern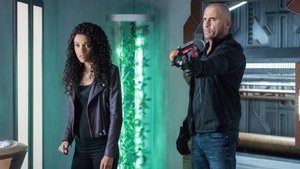 3x15 – Kampf mit dem Dämonen
When Mallus' power over Sara resurfaces, she unwittingly becomes the bearer of one of the Totems. Rory must conquer his dark side in order to wield his own Totem power to help save the crew. Meanwhile, Agent Sharpe notices that something is wrong and recruits someone unorthodox to help.
Gesehen von 3 Usern
3x16 – Ein Klon kommt selten allein
Sara and Ray set out to find Ava when she disappears and Time Bureau agent Gary reveals a disturbing truth about her.
Gesehen von 3 Usern
3x17 – Guest Starring John Noble
Die Legends müssen diesmal mit gleich zwei Anachronismen parallel umgehen, um Mallus im Zaum zu halten. Sara und Rip Hunter wollen gemeinsam gegen Grodd vorgehen, während Nate und Wally Amaya aufhalten wollen. Außerdem ist das Team gezwungen, sich mit einem ihrer Feinde zu verbünden, um Mallus endgültig zu vernichten.
Gesehen von 3 Usern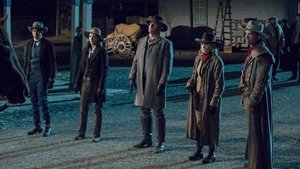 3x18 – Die Macht der sechs Totems
Der Zeitreisende Rip Hunter kennt die Zukunft und will ihren Lauf um jeden Preis verändern. Er stellt eine Gruppe zusammen, mit denen er eine bislang unbekannte Bedrohung bekämpfen will. Diese Helden und Schurken kämpfen zusammen gegen Vandal Savage, der nicht nur die Erde sondern die Zeit selbst zerstören will, und werden dadurch zu Legenden.
Gesehen von 2 Usern
Quelle:
themoviedb.com