1x1 – Folge 1
Released from prison after three years, "Ace" Bernstein plots revenge against the colleagues who betrayed him. With his trusted aide/chauffeur Gus Demitriou acting as a front for his race horse investment, Ace seeks to reverse the sagging fortunes of a famous racetrack. Meanwhile, four dissolute gamblers at the race track - Jerry, Marcus, Renzo and Lonnie - pool their meager resources to make a Pick Six bet that could be worth millions. A key to their fortunes is a long-shot horse trained by Turo Escalante, a self-made success story with loads of talent and few ...
Gesehen von 3 Usern
1x2 – Folge 2
Chafing under his parole conditions but eager to move forward in the racetrack deal, Ace shows off his famous temper during a contentious meeting with one-time colleague Nick DiRossi and a possible investor, Isadore Cohen. Although Marcus is wary about flaunting his newfound Pick Six wealth, his three partners have no such qualms, as Jerry sits in at higher-stakes poker games, Renzo sets his sights on claiming one of Escalante's mystery horses and Lonnie parties with two unscrupulous women. Uncertain that fledgling jockey Rosie Shanahan is seasoned enough to ride...
Gesehen von 2 Usern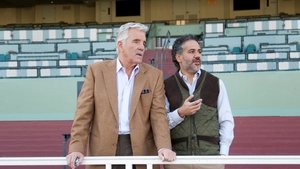 1x3 – Folge 3
Ace enlists Nathan Israel, a cocky, young whiz kid, in his plans. Walter decides to enter his colt, Gettin'up Morning, in his first race, but loses Ronnie as his rider when the jockey takes a tumble. Burned by Mulligan at the claiming race, Marcus, Renzo and Lonnie send Jerry to buy the horse back - and then return him to Escalante to train.
Gesehen von 2 Usern
1x4 – Folge 4
As Chan challenges Jerry to his limits in a private poker game, Jerry's pals look to pry him away from his gambling nemesis. Ace takes a meeting with Claire LeChea, an activist who hopes to rehabilitate prisoners through their work with broken-down racehorses. He then visits his one-time partner Michael Smythe to discuss his participation in Ace's racetrack venture. With Ronnie out of commission and surrendering to old vices, Walter settles on Rosie as his jockey, but her euphoria is tempered by Leon's not making weight.
Gesehen von 2 Usern
1x5 – Folge 5
After learning that Pint of Plain, Gus' Irish horse, has been tentatively scheduled to race the next day, Ace forces Escalante to swap out Leon for a more experienced jockey, to Joey's chagrin. Marcus fears for his health and wonders why he's so attached to Jerry, while Kagle, who's been fired from the racetrack, returns from a bender looking for a handout. Ace gives Claire a lucky check, and the two head to the track with Gus to watch Pint of Plain's memorable debut.
Gesehen von 2 Usern
1x6 – Folge 6
As Ace pitches his deal to buy a piece of the racetrack, Israel visits Smythe, DiRossi and Cohen onboard Smythe's yacht, where he's offered a "second salary" as an informant. An earthquake spooks many of the horses at Santa Anita, but Escalante decides to go ahead and race Mon Gateau. He and the Degenerates end up sweating the outcome when Leon bumps another horse in the stretch, triggering an official review. Rosie endures her own missteps in her race with Gettin'Up Morning, vexing Walter and inviting fresh scrutiny of the old trainer and his prized horse. Joey reaps...
Gesehen von 2 Usern
1x7 – Folge 7
While Ace tours a prison outreach horse retirement farm with Claire, Israel tries to convince Smythe that his boss is on the level. Jerry and his erstwhile card dealer, Naomi, try to win their way into a poker tournament. Lonnie decides to "go it alone" by putting in a claim for another horse, a filly named Niagara's Fall. Walter meets with Hartstone, a lawyer, to defend his ownership of Gettin'Up Morning, and has to make a decision about which jockey will ride him next. Rosie asks Joey to be her advocate; Ronnie attends AA in an attempt to get his life, and career, ...
Gesehen von 2 Usern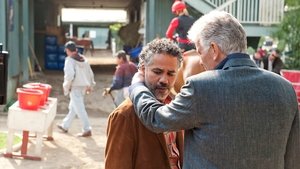 1x8 – Folge 8
Ace ices out Smythe, DiRossi and Cohen as partners in the racetrack deal, but Smythe has other ideas. Weathering the ownership claim, Walter enters Gettin'Up Morning in the $1 million Western Derby - head-to-head against Ace and Gus' Pint of Plain. Unable to make weight, Leon loses his mount; Joey comes through for Rosie; a stable accident jeopardizes Jo's pregnancy.
Gesehen von 2 Usern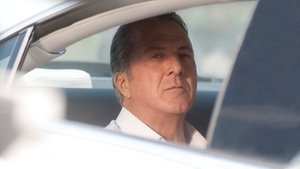 1x9 – Folge 9
Gus takes extraordinary precautions to protect his boss. As Jerry maps out a strategy for another big score, Escalante preps his race-day horses while keeping an anxious ear out for news about Jo, who's still in the hospital. Renzo welcomes his mother to town. Mon Gateau runs his biggest race yet. Later, Ace and Gus join an expectant crowd for the epic showdown between the two stars of Santa Anita, Ace and Gus' Pint of Plain and Walter's Gettin'Up Morning.
Gesehen von 2 Usern
Quelle:
themoviedb.org