1x1 – V.I.P.
erste Folge der neuen Netflix-Serie
Gesehen von 9 Usern
1x2 – Mannschaft
Grimmer's neo-Nazi links spur a search for a case partner of Turkish descent. Grimmer's wife suffers a trauma that puts her kids in questionable care.
Gesehen von 9 Usern
1x3 – Begegnung
A Tariq-Amir member set on stealing the clan's throne makes a gruesome bet on the match to secure an ally. Erol ensures the clan sees him with Murad.
Gesehen von 9 Usern
1x4 – Heimspiel
A second murder sends Grimmer scrambling to cover his tracks. Bou'Penga hides from the world and visits a lair that his late teammate took him to once.
Gesehen von 9 Usern
1x5 – Schiebung
A reporter presses Erol for dirt on Grimmer. Kareem blackmails Bou'Penga. Grimmer talks his way into leading a raid of Kovac's betting shops.
Gesehen von 9 Usern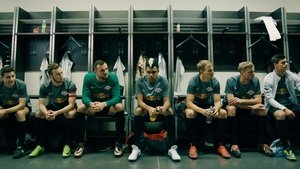 1x6 – Abseits
Murad gets his chance onstage. Blackmailed Bou'Penga plays against Leipzig. Kareem turns Hakim against Kovac. A jealous Bine sneaks into Grimmer's home.
Gesehen von 8 Usern
1x7 – Derby
The police search for Erdem's Lamborghini. Bou'Penga makes Kareem an offer. Erol ventures into the no-cops zone. Trinity tracks down Schmaus in Chile.
Gesehen von 8 Usern
1x8 – Länderspiel
Conflicting clans show up for Erdem's funeral, as do the cops, who are looking for a new lead. Erol receives a horrifying message. Bine finds a job.
Gesehen von 8 Usern
1x9 – Verlängerung
Erdem's killer is revealed. Trinity breaks into Laubach's home to look for evidence confirming Schmaus's claims. Murad confesses a lie to his sister.
Gesehen von 8 Usern
1x10 – Siegerehrung
A tip on the location of Hakim's cache of contraband spurs Grimmer and Erol to use shady tactics to get authorization for a raid in the no-cops zone.
Gesehen von 8 Usern
Quelle:
themoviedb.org