1x1 – Night of the Sentinels: Part 1
A young teenager has been rejecting her mutant powers ever since she discovered them. But when giant robots track her down, it's up to the X-Men to save her.
Gesehen von 5 Usern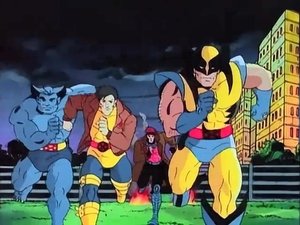 1x2 – Night of the Sentinels: Part 2
After breaking into the headquarters of the newly discovered government branch called The Mutant Control Agency, the X-men lose two of their own members in a battle with the Sentinels.
Gesehen von 5 Usern
1x3 – Enter Magneto
As the Beast waits for his arraignment in court in front of an anti-mutant public, Magneto tries to break Beast out of jail, only to receive resistance from Beast. An old enemy of Wolverine's pops up, and the X-Men take him in. Magneto then attacks a military base, trying to bring mutants together against the oppression brought upon.
Gesehen von 5 Usern
1x4 – Deadly Reunions
Professor Xavier and Magneto confront each other for the first time in years, meanwhile Wolverine and Sabretooth come face to face. Professor Xavier tries to examine Sabretooth's mind to figure out his rage problem. After his last terrorist action failed, Magneto plots a new one to bring Professor Xavier out into the open. Sabretooth and Wolverine confront each other in the mansion's war room.
Gesehen von 5 Usern
1x5 – Captive Hearts
Wolverine has strong feeling for Jean Grey, but she's with Cyclops. Storm has a paralyzing case of claustrophobia and must overcome this as the X-Men venture into the New York sewers to rescue Jean Grey and Cyclops from a deformed race of mutants called the Morlocks. Storm confronts the leader of the Morlocks, Callisto, who wants Cyclops to rule beside her as king.
Gesehen von 5 Usern
1x6 – Cold Vengeance
After leaving the X-Men, Wolverine looks for solitude in the arctic, but comes across Sabretooth, who's been tracking him. When the safety of a local tribe is threatened by Sabretooth, Wolverine must defeat him. Meanwhile Jubilee, Storm and Gambit do some investigating at an island resort called Genosha that seems to be a safe haven for mutants.
Gesehen von 5 Usern
1x7 – Slave Island
Gambit, Storm, and Jubilee head to the island resort of Genosha... and end up as mutant slaves.
Gesehen von 5 Usern
1x8 – The Unstoppable Juggernaut
The X-Men discover their home destroyed and Professor X missing. Their search leads them to a titanic mutant who can become an unstoppable force.
Gesehen von 5 Usern
1x9 – The Cure
Rogue seeks a scientist who claims to be able to "cure" any mutant of their powers. But is he for real?
Gesehen von 5 Usern
1x10 – Come the Apocalypse
An ancient and immensely powerful mutant called Apocalypse plots to destroy the world to bring in a newer more world.
Gesehen von 5 Usern
1x11 – Days of Future Past: Part 1
The mutant travels back in time to avert a future catastrophe.
Gesehen von 5 Usern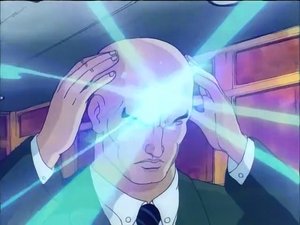 1x12 – Days of Future Past: Part 2
Gambit sets out to prove his innocence by thwarting an assassination he supposedly caused. Can he succeed?
Gesehen von 5 Usern
1x13 – The Final Decision
Senator Kelly has been abducted by Magneto and given the facts about Magneto's goals of superiority of mutants over humans, the X-men's beliefs of peaceful co-existence between both races, and the Sentinel's plans of global domination. And must make a decision of his future plans in politics based on this information.
Gesehen von 5 Usern
Quelle:
themoviedb.org